Uribe has nothing but love for Chicago, fans
Indians third baseman won World Series ring with White Sox in '05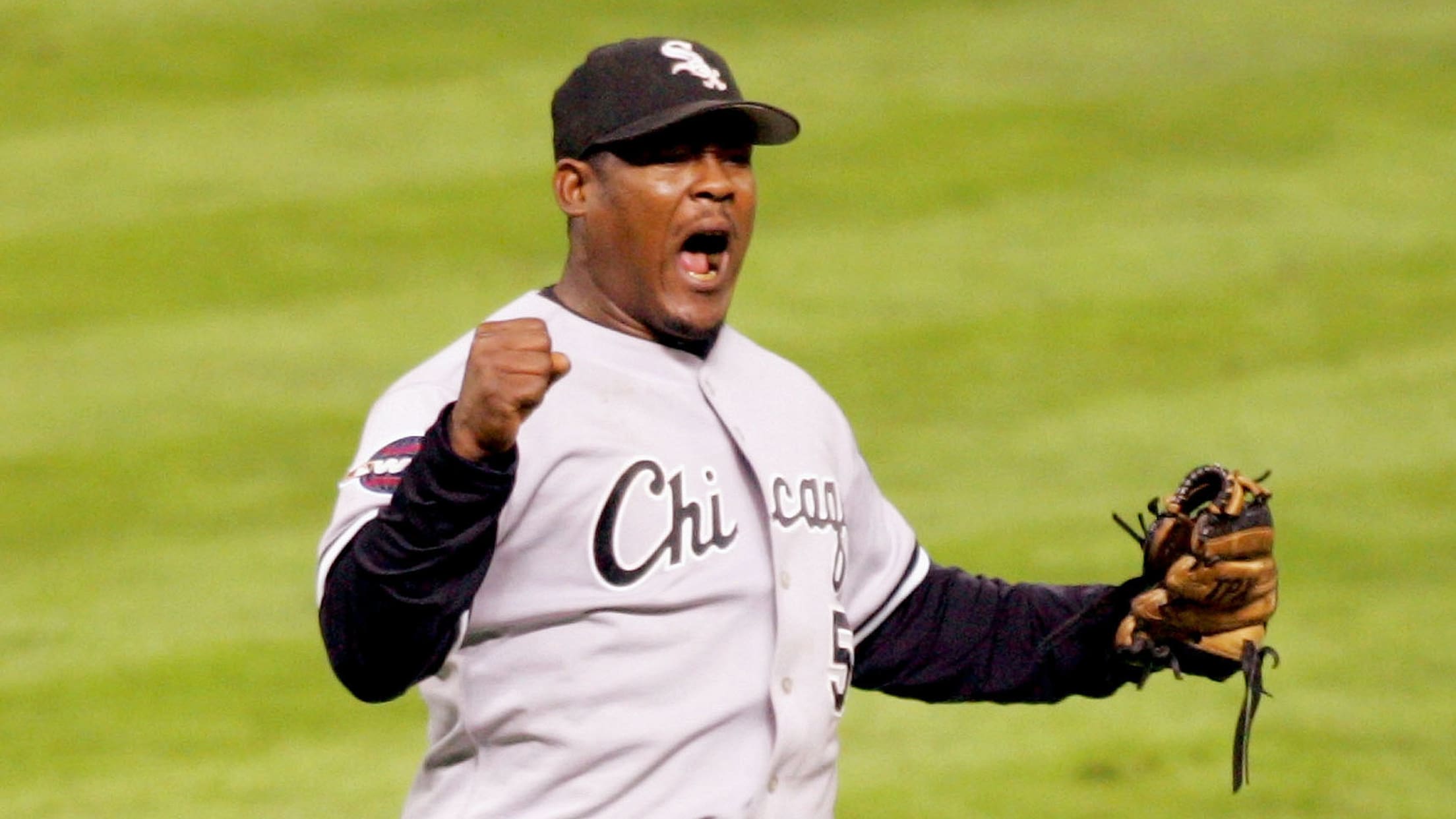 Juan Uribe celebrates after recording the final out of the 2005 World Series. (Getty Images) (Ronald Martinez/Getty Images)
CHICAGO -- Juan Uribe has never forgotten the White Sox, and White Sox fans certainly haven't forgotten the always engaging shortstop from the 2005 World Series champions.Uribe, 37, returned to the South Side of Chicago this week with the Indians, his fifth team since a 2004-08 stint with the White
CHICAGO -- Juan Uribe has never forgotten the White Sox, and White Sox fans certainly haven't forgotten the always engaging shortstop from the 2005 World Series champions.
Uribe, 37, returned to the South Side of Chicago this week with the Indians, his fifth team since a 2004-08 stint with the White Sox. Two characteristics always seem to define Uribe's stay with a particular squad: He's one of the more popular players in the clubhouse and he makes said team better.
But Chicago holds a special place for Uribe, who fielded Orlando Palmeiro's pinch-hit grounder up the middle to record the final out of a four-game World Series sweep against Houston. He also made a ninth-inning dive into the Minute Maid Park stands to catch Chris Burke's foul popup for the second out.
"That's what I tell a lot of my team players. My guys, I tell them try to win the World Series," Uribe said before Tuesday's 6-2 Indians win over the White Sox. "Some people think, 'I need to hit .300 or I need to hit .400,' and then they are looking to win the game.
"When you do win, the city never forgets. The people never forget. The money, you can have it. But the win, you always remember. The people always remember what you do for this city.
"Look at what happened. I go to Chicago, I got to the Giants and they know me," Uribe said. "A lot of people, they know Uribe for the World Series. They don't know Uribe for how much money he's making. That's what I tell a couple of guys, try to win the game. Try to be a good teammate, too. You win the game and a lot of people want you."
A leadoff homer in the seventh inning of Monday's doubleheader nightcap marked the first Uribe hit against the White Sox. He has 26 career plate appearances against his former employer.
During this four-game series, Uribe has caught up with some old friends, including White Sox pitching coach Don Cooper. Uribe is one of three active players from the '05 team, along with A.J. Pierzynski and Brandon McCarthy, and admitted Tuesday that he often comes into U.S. Cellular Field through the 35th and Shields entrance to see his part of the World Series tribute statue.
"For me, you know, I never forgot what it meant to play here," Uribe said. "They see me, and for me, it's a lot of happy. I'm just comfortable when I play in Chicago. I say thank you to the fans who call me Uribe all game and they talk good about me.
"I love the fans here. I love the fans here. You play and the fans they never forgot what you do here. For me, it's unbelievable."