Falcons WR Julio Jones 'mixes it up' on TD 
All of Atlanta is behind the Braves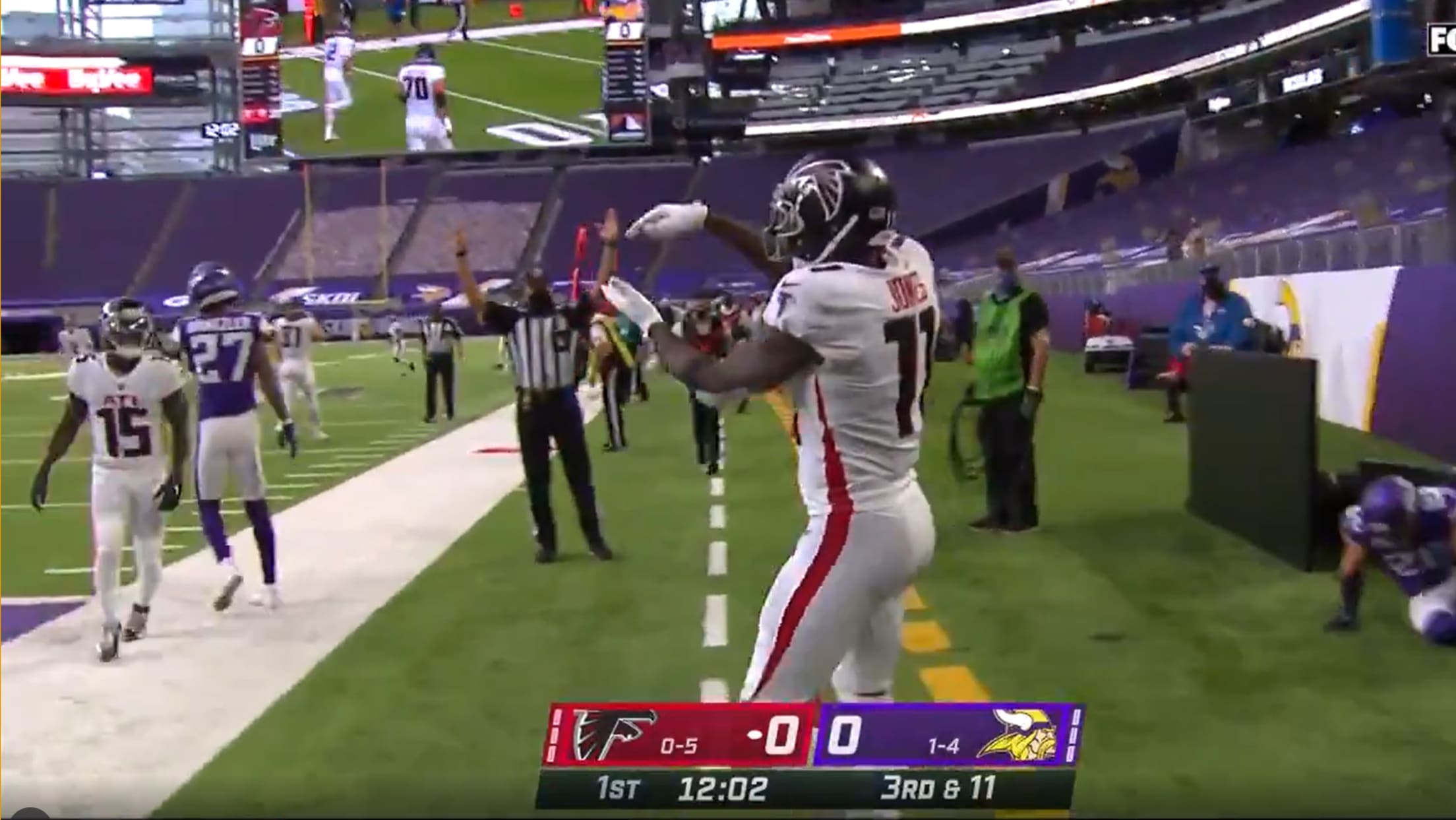 The Braves may not be in Atlanta for Sunday's do-or-die game 7 against the Dodgers, but the city of Atlanta is behind the team. That extends to the NFL's Falcons, who took on the Minnesota Vikings on Sunday afternoon. When Falcons wide receiver Julio Jones caught a touchdown pass in
The Braves may not be in Atlanta for Sunday's do-or-die game 7 against the Dodgers, but the city of Atlanta is behind the team. That extends to the NFL's Falcons, who took on the Minnesota Vikings on Sunday afternoon. When Falcons wide receiver Julio Jones caught a touchdown pass in the first quarter, he decided to show his support for the hometown nine as he "mixed it up."
#MixItUp in the end zone, Julio!

📺 Watch now on FOX pic.twitter.com/OdBMKZadIC

— Atlanta Falcons (@AtlantaFalcons) October 18, 2020
While not a difficult move, he managed to pull it off pretty well. Compare:
Circle, with the music, the flow. All good things. pic.twitter.com/MGRFGpiS3X

— Atlanta Braves (@Braves) October 17, 2020
Should the Braves want to pay back the gesture, perhaps we'll see Marcell Ozuna celebrate with "The Dirty Bird." He already busted out seemingly every celebration but this one in his Game 4 dinger.
The Big Bear strikes again. pic.twitter.com/e0EqDHn1Mn

— MLB (@MLB) October 16, 2020
The Braves are 4-2 in Game 7s in franchise history, but haven't played in one since their 15-0 victory over the Cardinals in 1996. They'll try to repeat that when the game begins at 8 p.m. ET on FOX and FS1.
Michael Clair writes for MLB.com. He spends a lot of time thinking about walk-up music and believes stirrup socks are an integral part of every formal outfit.