Kang has wrist surgery, out until mid-September
Pirates infielder last played with Indianapolis affiliate on June 24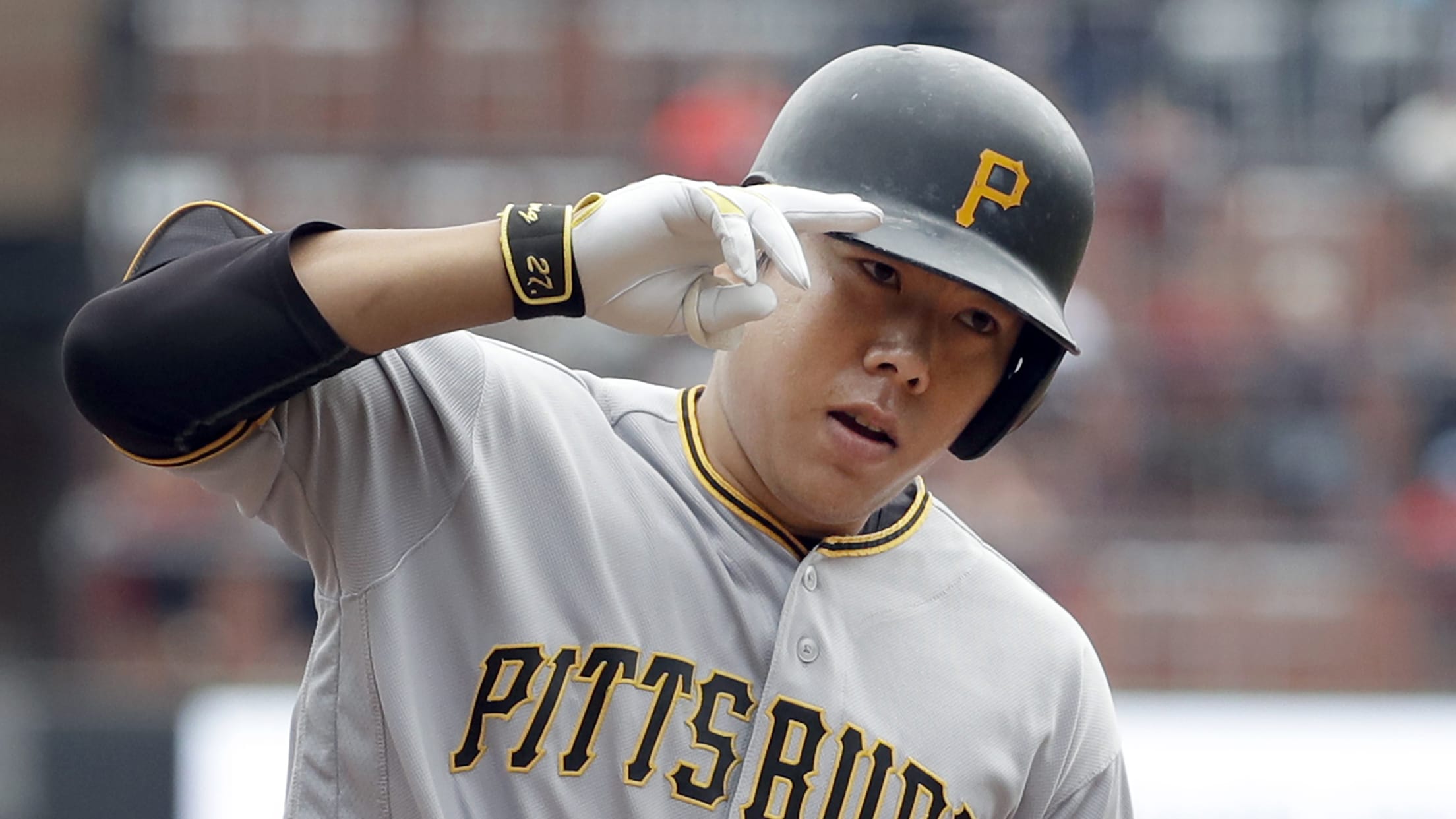 FILE - In this Oct. 1, 2016 file photo, Pittsburgh Pirates' Jung Ho Kang rounds the bases after hitting a three-run home run during the first inning of a baseball game against the St. Louis Cardinals in St. Louis. Pittsburgh Pirates infielder Jung Ho Kang has been left off South Korea's roster for the World Baseball Classic while he remains subject to a criminal investigation into allegations that he fled the scene after crashing a car into a guardrail while driving under the influence of alcohol. (AP Photo/Jeff Roberson, File) (Jeff Roberson/AP)
PITTSBURGH -- After being shut down from baseball activities, Pirates infielder Jungho Kang underwent surgery on his injured left wrist on Friday morning.Kang was scheduled to start a Minor League rehab assignment on Tuesday in Bradenton, Fla., but Pirates director of sports medicine Todd Tomczyk said on Wednesday that Kang
PITTSBURGH -- After being shut down from baseball activities, Pirates infielder Jungho Kang underwent surgery on his injured left wrist on Friday morning.
Kang was scheduled to start a Minor League rehab assignment on Tuesday in Bradenton, Fla., but Pirates director of sports medicine Todd Tomczyk said on Wednesday that Kang was dealing with "recurrent" symptoms in his left wrist. Tomczyk added that the Bucs were discussing Kang's next step. Kang decided to have surgery on Thursday, and the Pirates expedited the process to have it done on Friday morning.
The operation was performed to debride cartilage in Kang's left wrist, the Pirates announced. The surgery was performed by Dr. Ed Birdsong at Allegheny Health Network. Kang first reported the discomfort on June 20, and doctors recommended conservative treatment but left open the possibility that surgery may be necessary. Kang felt the symptoms flare up while taking batting practice on Tuesday. He and his representatives met with the Bucs' medical team and surgeons, and Kang chose to have surgery. The typical recovery time from Kang's operation is four to six weeks, according to the Pirates, so he could return to the field as soon as mid-September.
Kang was not able to enter the United States last year after a December 2016 DUI arrest in South Korea, later revealed to be his third such charge since 2009. He acquired a work visa in late April, went through a modified Spring Training program in May and began playing Minor League games on June 1. Kang played a total of 16 games for Class A Advanced Bradenton and Triple-A Indianapolis, batting .310 with three home runs.
Kang's last game with Indianapolis was on June 24. He was placed on the Minor League disabled list on June 27 with a left wrist sprain. Last month, Tomczyk said Kang was dealing with a soft-tissue injury caused by a "build-up over time," not one specific swing or play.
The Pirates were not counting on Kang to help them this season. They have Colin Moran and David Freese at third base and Jordy Mercer established at shortstop.
"It would be a great addition if he's healthy and Jung Ho again," general manager Neal Huntington said last Sunday, "but it's not something we're counting on or dependent upon."
But Kang's injury -- and his lack of playing time since his last Major League game in 2016 -- puts the Bucs in a tough spot as they determine how to move forward with the power-hitting infielder. This is the final guaranteed year of Kang's four-year contract, but the deal includes a $5.5 million club option for next season that can be bought out for $250,000.
Kang's salary commitment would not be significant if he comes back healthy and hits like he did for Pittsburgh in 2015-16. But Kang -- who turns 32 next April -- has now spent two full years away from Major League competition, and this injury further clouds his future.
Kang hit .273/.355/.483 with 36 home runs and 120 RBIs over 229 games for the Pirates, and he finished third in the National League Rookie of the Year Award voting in 2015.
Trainer's room
• Right-hander Nick Burdi, the Pirates' Rule 5 Draft pick working his way back from Tommy John surgery, had his rehab assignment stopped on Friday due to a left quadriceps strain. Burdi, who is on the 60-day disabled list, has made five appearances for Class A Advanced Bradenton and Double-A Altoona, allowing four runs on seven hits with nine strikeouts in six innings.
• Right-hander A.J. Schugel, who is on the 60-day DL with shoulder discomfort, began a Minor League rehab assignment on Friday with Bradenton. He allowed three runs on five hits and recorded two outs in his first appearance since May 3. Schugel, who posted a 3.00 ERA and 1.18 WHIP for the Pirates over the last two years, has not pitched in the Majors this season.