Pirates place Kang on IL with side strain
Elmore recalled; Taillon transferred to 60-day injured list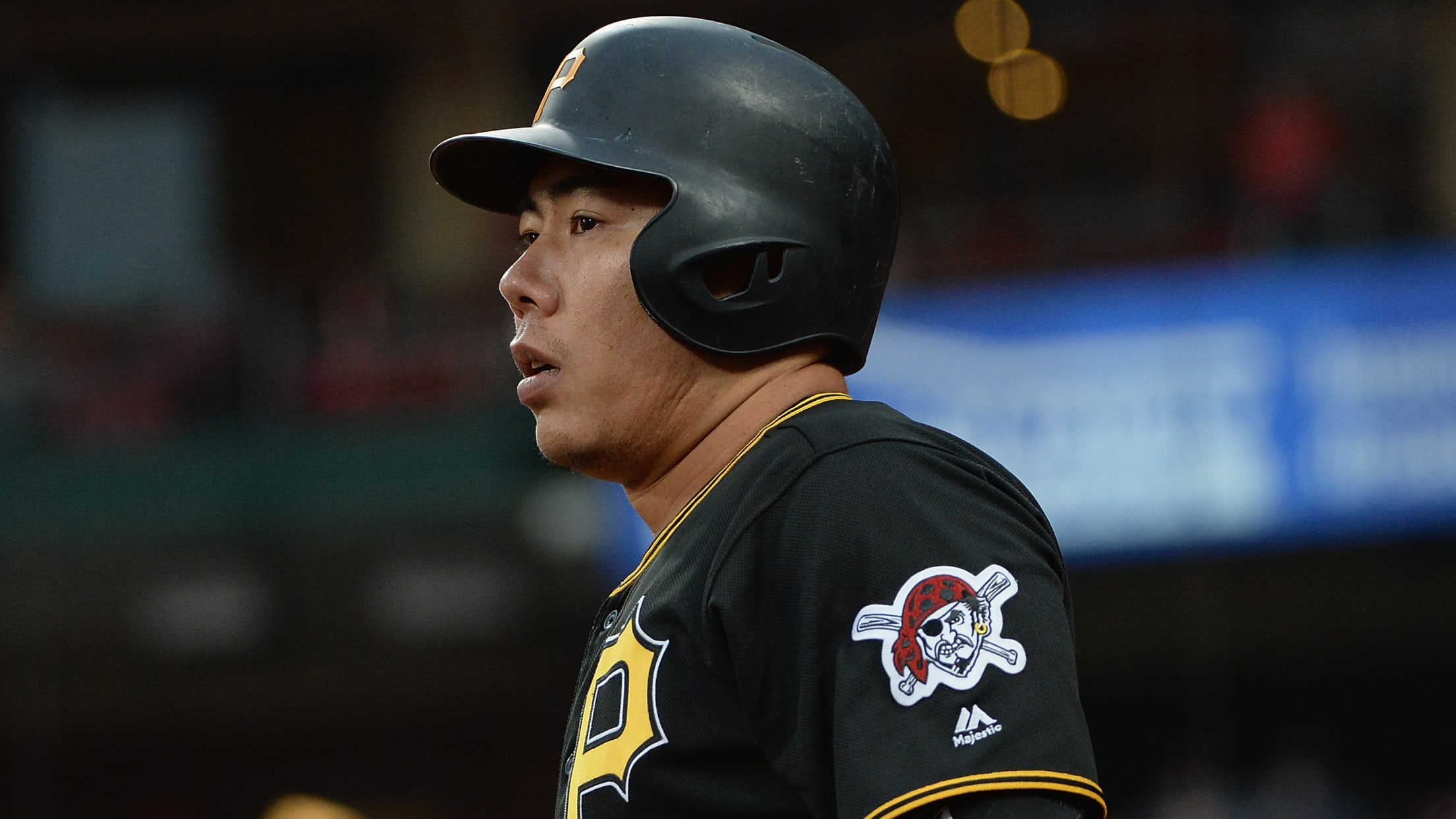 PHOENIX -- The Pirates on Monday placed struggling third baseman Jung Ho Kang on the 10-day injured list with a left side strain and called up infielder/outfielder Jake Elmore from Triple-A Indianapolis. To make room for Elmore on the 40-man roster, Pittsburgh transferred Opening Day starter Jameson Taillon (right elbow
PHOENIX -- The Pirates on Monday placed struggling third baseman Jung Ho Kang on the 10-day injured list with a left side strain and called up infielder/outfielder Jake Elmore from Triple-A Indianapolis.
To make room for Elmore on the 40-man roster, Pittsburgh transferred Opening Day starter Jameson Taillon (right elbow flexor tendon strain) to the 60-day injured list. As previously reported, Taillon isn't expected to resume throwing until early June after going on the injured list on May 4.
Pirates director of sports medicine Todd Tomczyk said Kang will be shut down from baseball activities for at least three days before he is re-evaluated. Kang said he began to feel pain in his side, around his hip, three days ago; he played in three consecutive games despite only making one start last week. Kang said the injury did not occur after a specific swing or play but noted that it bothers him when he swings.
"Focus on rehab for three days," Kang said through interpreter Jeffrey Kim, "then after that, we'll speak with the trainer and decide."
Kang, who didn't play in the Majors for nearly two years due to legal issues resulting from a DUI arrest in December 2016, hasn't been able to rediscover his power swing in his return to the Pirates. Kang was hitting .133/.204/.300 with 31 strikeouts in 98 plate appearances when he was placed on the injured list.
After winning the third base job in Spring Training, Kang started 19 of the Pirates' first 26 games at third. Kang only started two of the Pirates' last 11 games, however, with Colin Moran getting the other nine starts.
The Pirates traded for Elmore, 31, near the end of Spring Training and assigned him to Indianapolis. The versatile right-handed hitter got off to an excellent start in Triple-A, slashing .380/.444/.546 with 12 doubles, 13 walks and only 15 strikeouts in 124 plate appearances.
"This offseason, I really made strides to work on my positioning as far as my lower half to put my body in the best position possible to hit for power," Elmore said. "I was really driving the ball to all parts of the field. I feel like a more polished, aggressive and dangerous hitter."
Elmore made his Major League debut for the D-backs in 2012 and spent parts of the next four seasons in the Majors with the Astros, Reds, Rays and Brewers. Elmore remained in Triple-A in 2017 and '18 and admitted to wondering, as many veterans do in Triple-A, "Is this still for me?"
He credited his wife and 10-month-old son, Walker, for reenergizing his passion for the game. They live in Arizona in the offseason, so both his wife and son traveled with him on Monday morning as he returned to the Majors.
"Now, I play for him and her as well. I want him to continue to watch me play ball," Elmore said. "I feel like I found a new fire, and I'm ready to roll."
This is Elmore's second stint in the Pirates organization. The Bucs claimed him off waivers on Nov. 7, 2014, then designated him for assignment on Jan. 20, 2015, to make room on the roster -- coincidentally enough -- for the signing of Kang. Elmore entered Monday's 9-3 loss to the D-backs to play third base in the sixth inning and hit a single to right field in his first Major League at-bat since Oct. 2, 2016.
"It's great to be back," said Elmore, sitting in the visitor's dugout at Chase Field. "It's been a rather long road."
Worth noting
• Outfielder Lonnie Chisenhall (strained calf) will begin a Minor League rehab assignment with Indianapolis on Tuesday. Chisenhall has not played for the Pirates this season due to a fractured finger and, more recently, a calf strain.
• Left-hander Tyler Lyons, who was designated for assignment on Thursday, was outrighted to Triple-A after clearing waivers.
• With Kang on the injured list and the D-backs starting left-hander Robbie Ray in Monday's series opener, Kevin Newman started at third base. It was Newman's first professional appearance at third.
• Indianapolis right-hander Alex McRae was named the International League Pitcher of the Week. McRae, Indianapolis' third pitcher to win the award this season, gave up three runs on six hits in 12 2/3 innings over two starts last week. He has a 5.40 ERA in seven starts this season.