Rangers getting look at Profar at third base
Beltre continues to DH while nursing left hamstring injury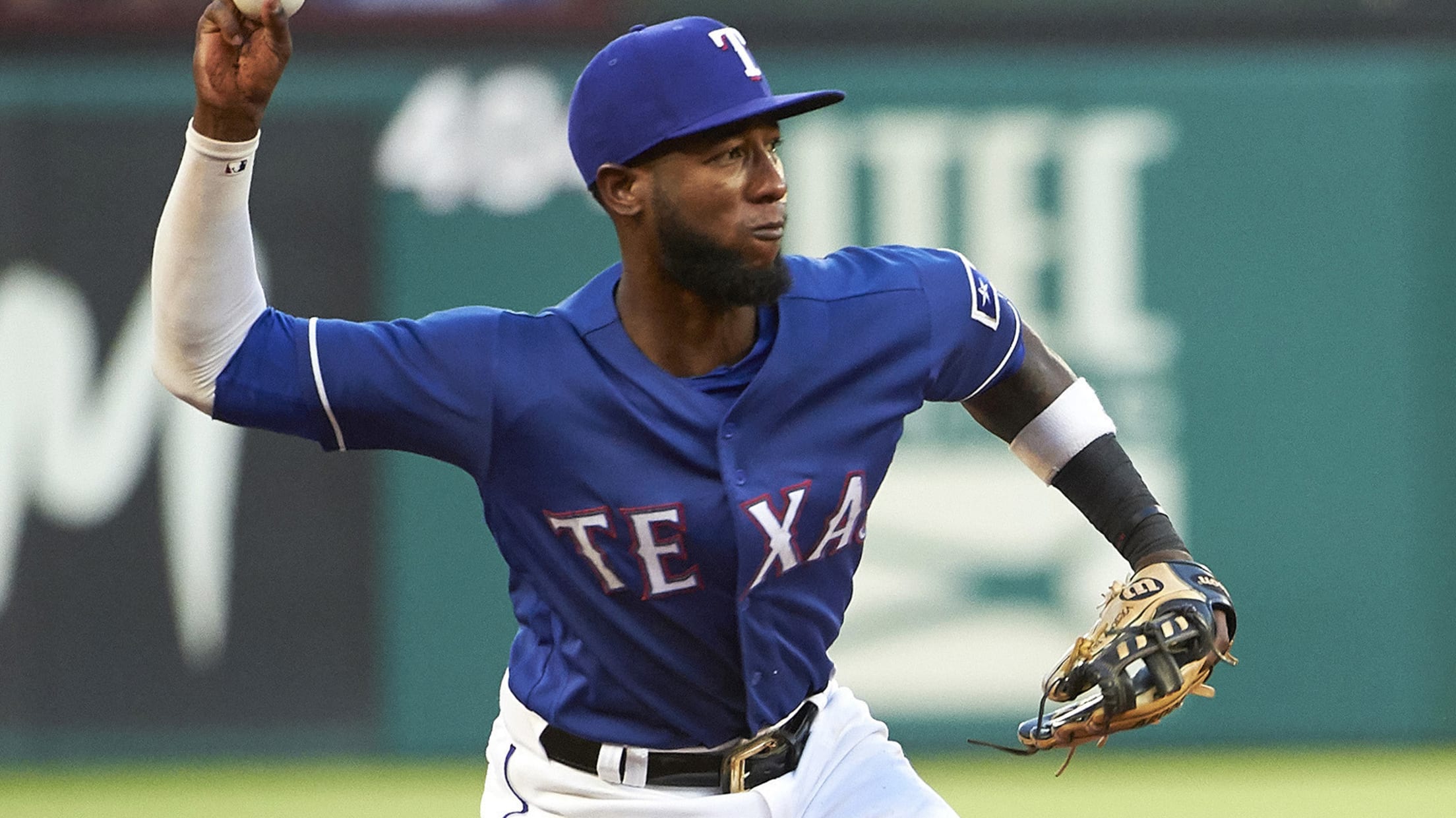 Texas Rangers' Jurickson Profar throws out Baltimore Orioles' Jonathan Villar during the third inning of a baseball game in Arlington, Texas, Saturday, Aug. 4, 2018. (AP Photo/Cooper Neill) (Cooper Neill/AP)
OAKLAND -- Adrian Beltre's left hamstring injury is allowing the Rangers to get an extended look at Jurickson Profar playing third base and get the answer to a pressing question.The Rangers need to know by the end of the season if Profar can be an everyday third baseman at the
OAKLAND -- Adrian Beltre's left hamstring injury is allowing the Rangers to get an extended look at Jurickson Profar playing third base and get the answer to a pressing question.
The Rangers need to know by the end of the season if Profar can be an everyday third baseman at the Major League level.
"I think Jurickson is playing well at third base," Rangers manager Jeff Banister said. "He is showing some ability to play there. We like what we have seen, he is getting more comfortable on a daily basis playing third base. We like how he is moving and learning some of the different depths and angles at third. I think he has a pretty good feel for playing third base."
The reason the Rangers need to know is obvious: The possibility exists Beltre could retire at the end of the season, leaving the Rangers in need of a third baseman.
With Joey Gallo now playing the outfield, Profar would be the leading in-house candidate to take over at third. Isiah Kiner-Falefa would be the other, but the Rangers are looking hard at him at catcher.
"Whatever they want, but I don't want him to retire," Profar said. "We are going to have a good team with him. Obviously, he is getting older so he is still going to need to DH sometimes, so I'll play third base. We'll see what he does. I'm ready for anything."
Profar started for the 26th time at third base on Tuesday. He has 59 starts at shortstop, but most of those came early when Elvis Andrus was sidelined with a fractured right elbow. Shortstop could still be an option for Profar if Andrus elects to opt out of his contract this winter and become a free agent.
But the Rangers know Profar can play shortstop. They need to find out about third base.
"That's where I'm playing now," Profar said. "I like it anywhere I am playing."
Beltre is being used strictly at designated hitter since aggravating his hamstring last week. Banister said he doesn't foresee Beltre playing third base this weekend in San Francisco against the Giants with no designated hitter being used in the National League park.
Mendez promoted to Triple A
Left-hander Yohander Mendez has been promoted from Double-A Frisco to Triple-A Round Rock and will start on Thursday. It will be his 12th start since being demoted to the Minor Leagues in June after a violation of team rules in Kansas City.
Mendez's first five starts were at Class A Advanced Down East and the next six were at Frisco, where he was 1-1 with a 4.91 ERA and a 1.30 WHIP. Mendez, who made one start and one relief appearance earlier this year for the Rangers, will be considered for a September callup and another shot at the rotation.
"Obviously, there are a lot of discussions about players being possible potential September callups," Banister said. "His name is on the list of players. There are others. Until we get closer, not comfortable giving out names of guys. We want to see all our guys who have the opportunity or who have had the opportunity to be up here and be part of the growth process. Yo is definitely one of those guys we have talked about."
Rangers beat
• Beltre batted in the No. 5 spot on Tuesday night with Nomar Mazara at cleanup. Banister suggested the Rangers may be transitioning Mazara into being their full-time cleanup hitter.
• Left-hander Joe Palumbo, the Rangers' No. 8 prospect per MLB Pipeline, has been promoted from Down East to Frisco as he continues his comeback from Tommy John surgery. He was 1-4 with a 2.67 ERA and a 1.11 WHIP in six starts at Down East.
• The Giants' rotation for the weekend series against the Rangers has Dereck Rodriguez coming off the disabled list and pitching Friday. He is the son of former Rangers catcher and Hall of Famer Ivan Rodriguez. Derek Holland could pitch for the Giants either Saturday or Sunday against his former team.
• The Rangers are not expected to face Clayton Kershaw next week during a two-game series against the Dodgers. If Los Angeles' rotation stays in line, Hyun-Jin Ryu and Walker Buehler will pitch in that series.