Nationals add Miller; Murphy heads to rehab
Goodwin also to begin assignment on Saturday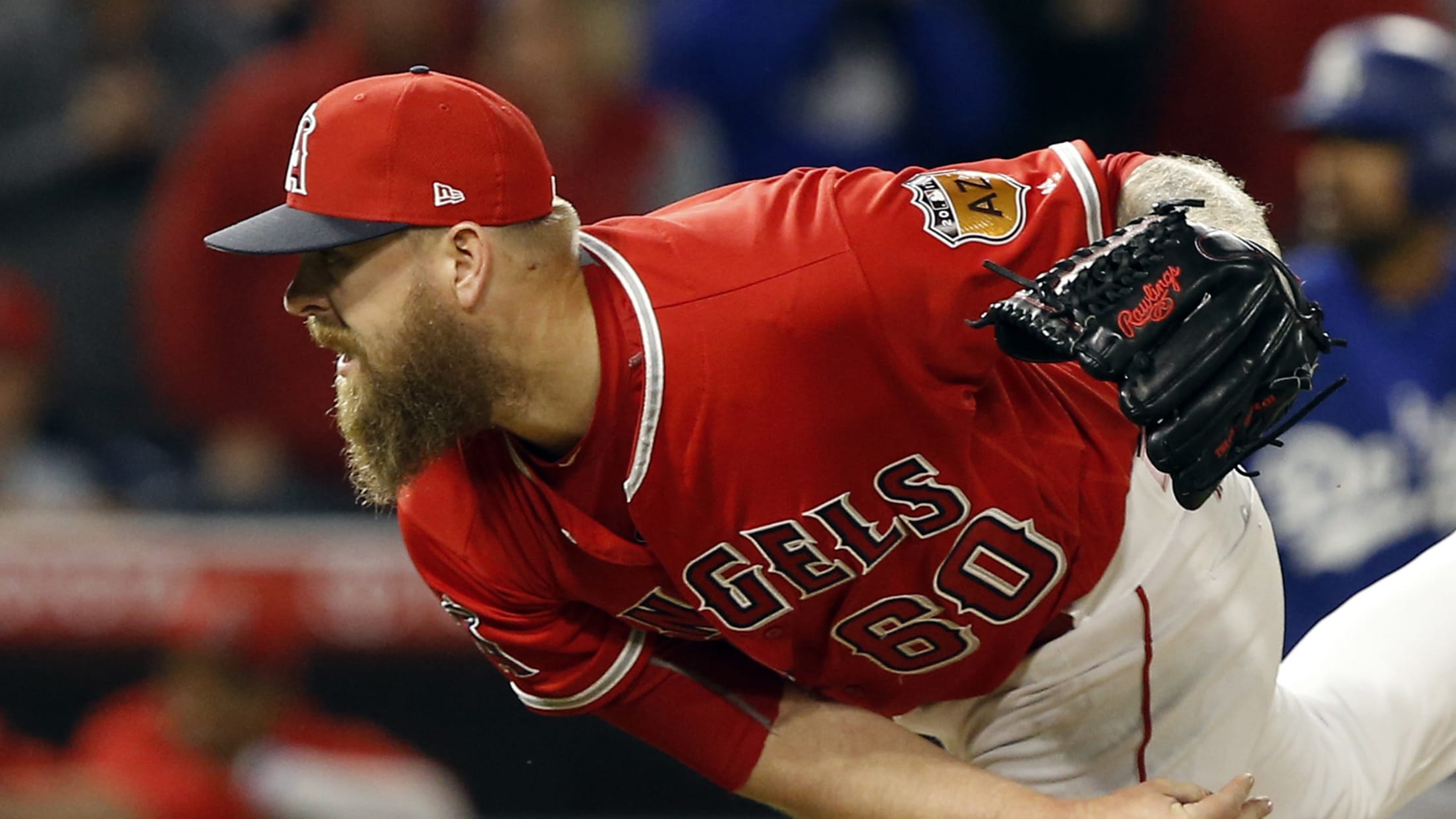 Los Angeles Angels pitcher Justin Miller throws to the plate against the Los Angeles Dodgers during the ninth inning of a baseball game in Anaheim, Calif., Thursday, March 30, 2017. (AP Photo/Alex Gallardo) (Alex Gallardo/AP)
MIAMI -- The Nationals selected the contract of right-hander Justin Miller on Friday prior to opening a three-game series at Marlins Park.The 30-year-old joins the Nationals after tossing 13 2/3 scoreless innings across nine relief appearances at Triple-A Syracuse. He struck out 23 while walking only three during that span
MIAMI -- The Nationals selected the contract of right-hander Justin Miller on Friday prior to opening a three-game series at Marlins Park.
The 30-year-old joins the Nationals after tossing 13 2/3 scoreless innings across nine relief appearances at Triple-A Syracuse. He struck out 23 while walking only three during that span and pitched more than one inning in six of the nine outings. Opposing batters were just 3-for-43 (.070) against Miller this season.
"The numbers are very impressive," Nationals manager Dave Martinez said. "He deserves to be here, he's going to get a chance to pitch. What we really like is he's got three good pitches and he's throwing them all for strikes."
Mostly a fastball/slider pitcher for the majority of his career, Miller has developed a split that he feels comfortable throwing.
"I just go with what the catcher calls," Miller said. "I'm not really a big shaker. I don't really try to overthink things, just go out there and attack guys."
Miller has appeared in 82 games across three Major League seasons with Detroit (2014) and Colorado ('15-16), posting a 4.99 career ERA with 88 strikeouts in 88 1/3 innings.
The spot on Washington's 25-man roster was made available after the Nationals optioned right-hander Erick Fedde to Triple-A Syracuse on Thursday.
"It's good to be back," said Miller, who last pitched in a Major League game on Oct. 2, 2016. "Last year was a down year for me, but I lost some pounds in the offseason, got more mobility and flexibility. It's been working out so far this year."
Murphy, Goodwin headed for rehab assignment
Daniel Murphy and Brian Goodwin are both going out to Double-A Harrisburg for rehab assignments on Saturday.
"That's great news for us and definitely headed in the right direction," said Martinez, who noted that Murphy has played sparingly in extended spring games because of the weather and an illness. "He's played the last couple of days, four or five innings, and now he's ready for a rehab assignment.
"We'll probably start him out five or six innings and see how he feels, maybe give him a day off in between. But he looks good. I saw some videos. Hopefully he can get ready and get back and help us out here soon."
Martinez said he has no timetable for either Murphy or Goodwin.
"The good news is they're both going out on a rehab assignment," Martinez said. "Hopefully there's no bumps in the road moving forward and they get back as soon as possible."
Murphy is recovering from October 2017 right knee surgery. Goodwin went on the 10-day disabled list retroactive to April 16 with a left wrist contusion.
Glenn Sattell is a contributor to MLB.com based in Miami.