Tigers confident Cowart could be next 2-way player
Waiver claim began offseason throwing program in November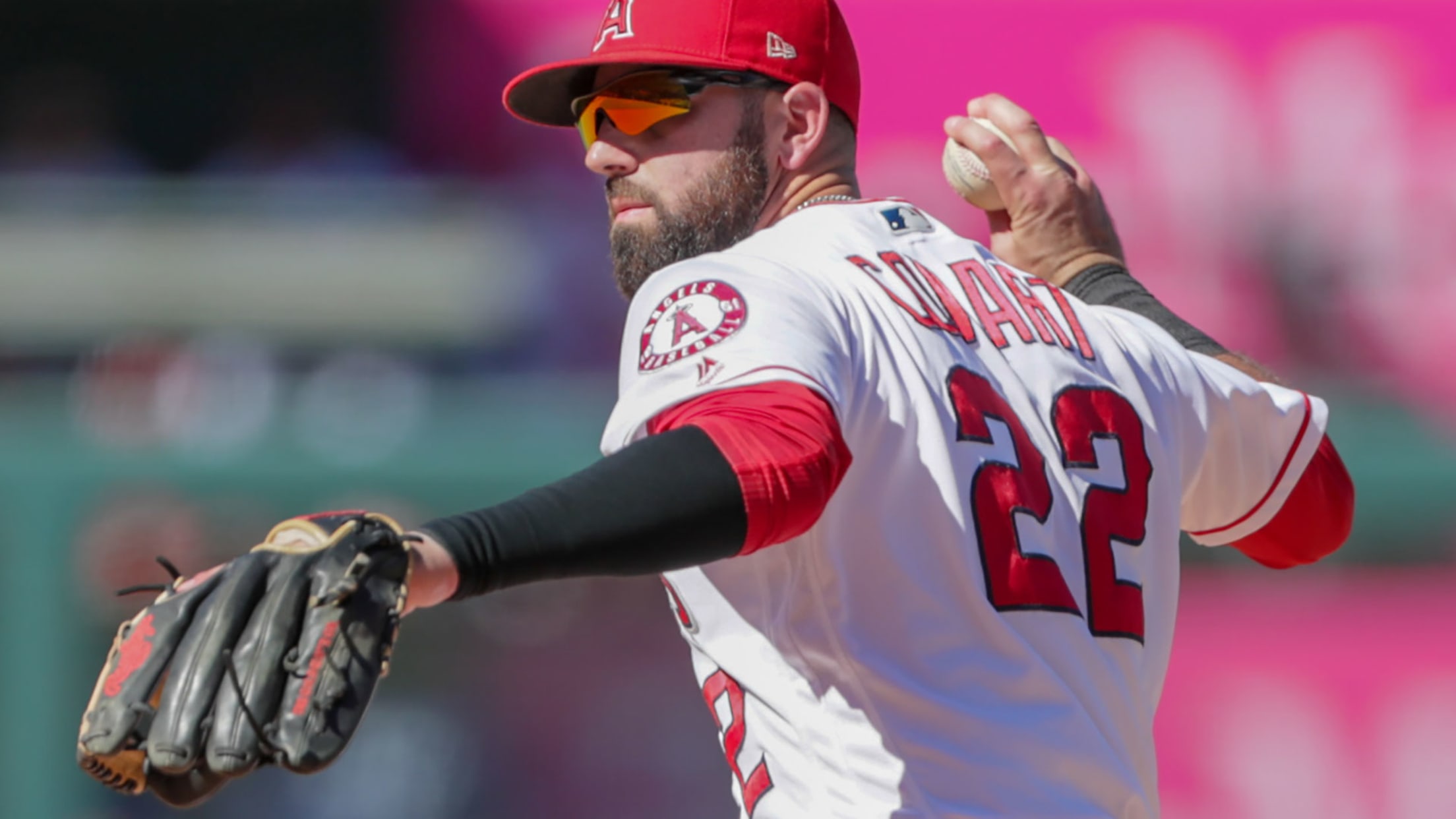 LAKELAND, Fla. -- Kaleb Cowart watched his Angels teammate, Shohei Ohtani, slug home runs and strike out batters last year as a pitcher/designated hitter and started thinking."It was kind of like, 'Man, I'd like to do something like that,'" Cowart said.No, Cowart didn't necessarily have visions of being a 22-homer
LAKELAND, Fla. -- Kaleb Cowart watched his Angels teammate, Shohei Ohtani, slug home runs and strike out batters last year as a pitcher/designated hitter and started thinking.
"It was kind of like, 'Man, I'd like to do something like that,'" Cowart said.
No, Cowart didn't necessarily have visions of being a 22-homer slugger and a dominant starter. But he thought about Ohtani's versatility on a Major League roster, then thought back to his days as a pitching prospect in high school, then wondered if he could give pitching another try.
The Angels ultimately thought the same thing.
"Towards the end of last year, I just had a conversation with the Angels about it and threw a [bullpen session] at the end of the year," Cowart said. "And now I'm here in Lakeland."
:: Spring Training coverage presented by Camping World ::
He's in camp with the Tigers along with pitchers and catchers, who officially report on Tuesday. He's two waiver claims separated from the Angels. That hope of making him into a pitcher, however, continues.
"Our scouts saw him as an amateur when he was drafted, and they tell me he was a legitimate pitching prospect," general manager Al Avila said shortly after the Tigers claimed him last month. "The thing is that he was such a good athlete that obviously you give him the opportunity to play a position and see if he can hit. That has not gone as well, so in getting him, we felt that we have the possibility of a two-way guy.
"We're going to put him on the mound and we're going to start working him on the mound and see if he can recapture what our guys saw when he was drafted."
The Tigers have some history with super-versatile players. Don Kelly remains a folk hero among fans for his work playing all over the field, including a pitching appearance in 2011. Six years later, Andrew Romine became the fifth player in Major League history to play all nine positions in a game, joining a list that includes another Tiger in Shane Halter. Detroit is also where Anthony Gose's transition from center fielder to lefty reliever began.
What Cowart is attempting is different. The Tigers didn't claim him to be a utility player who can pitch an emergency inning in a lopsided game. If he can really pitch, they'll make him a real option to pitch.
At the very least, the Tigers are intrigued enough that when a 40-man roster spot suddenly opened up with Gregory Soto's suspension, they made the claim.
Since Cowart is out of Minor League options, Spring Training might be the only sample size the Tigers end up getting before having to decide what to do with the 26-year-old right-hander. The better he throws in camp, the more likely it is that a team tries to claim him. But for a team in the middle of a rebuild, it's a project worth trying -- and a storyline worth following.
"I'm just going out, trying to win a job and embrace the opportunity that they give me here," Cowart said.
Cowart threw a mound session for team officials in Lakeland near the end of January. Among those in attendance was assistant GM David Chadd, who was the Tigers' amateur scouting director when Cowart was a first-round pick out of high school in Georgia in 2010 with a fastball in the mid-90s.
The Angels selected Cowart with the 18th overall selection, one pick before the Tigers' slot that ended up going to the Astros as compensation for signing Jose Valverde. The Angels made Cowart a position player, but not without debate.
"I think it was a split decision by the team. Half wanted me to play. Half wanted me to pitch," Cowart said. "It was ultimately my decision. I wanted to play first. I knew I always could pitch if I needed to. But I wanted to hit a homer before I wanted to strike someone out. But it's funny the way the game works, and then it comes back full circle."
Cowart has six home runs in 380 Major League plate appearances over parts of the past four seasons, but he also has a .177 career batting average and .534 OPS with nearly twice as many strikeouts (114) as hits (61). With Ohtani and Rays prospect Brendan McKay making two-way play a consideration, now is the time to try.
Cowart began his offseason workouts as normal with hitting. Then he began a throwing program around the start of November.
"I thought, 'Man, I've never started throwing this early,'" Cowart said. "Usually being a position player, you don't really have to start throwing until Christmas or January. It was different, but I'm excited to embrace the opportunity. … It was different, but it feels good."
The old velocity, Cowart said, is still in the arm. Whether the competitiveness follows will be seen in the coming weeks. But from his past four years, he knows what big league pitching looks like from a hitter's viewpoint.
"I think the test is obviously going to be facing live hitters. You guys know how that is," Cowart said. "But it feels good off the mound. Arm's feeling good. Velocity's there."