Cards honorary bat girl a lifelong St. Louis fan
Koke, a breast cancer survivor, calls Busch Stadium experience 'one of the top five days of my life'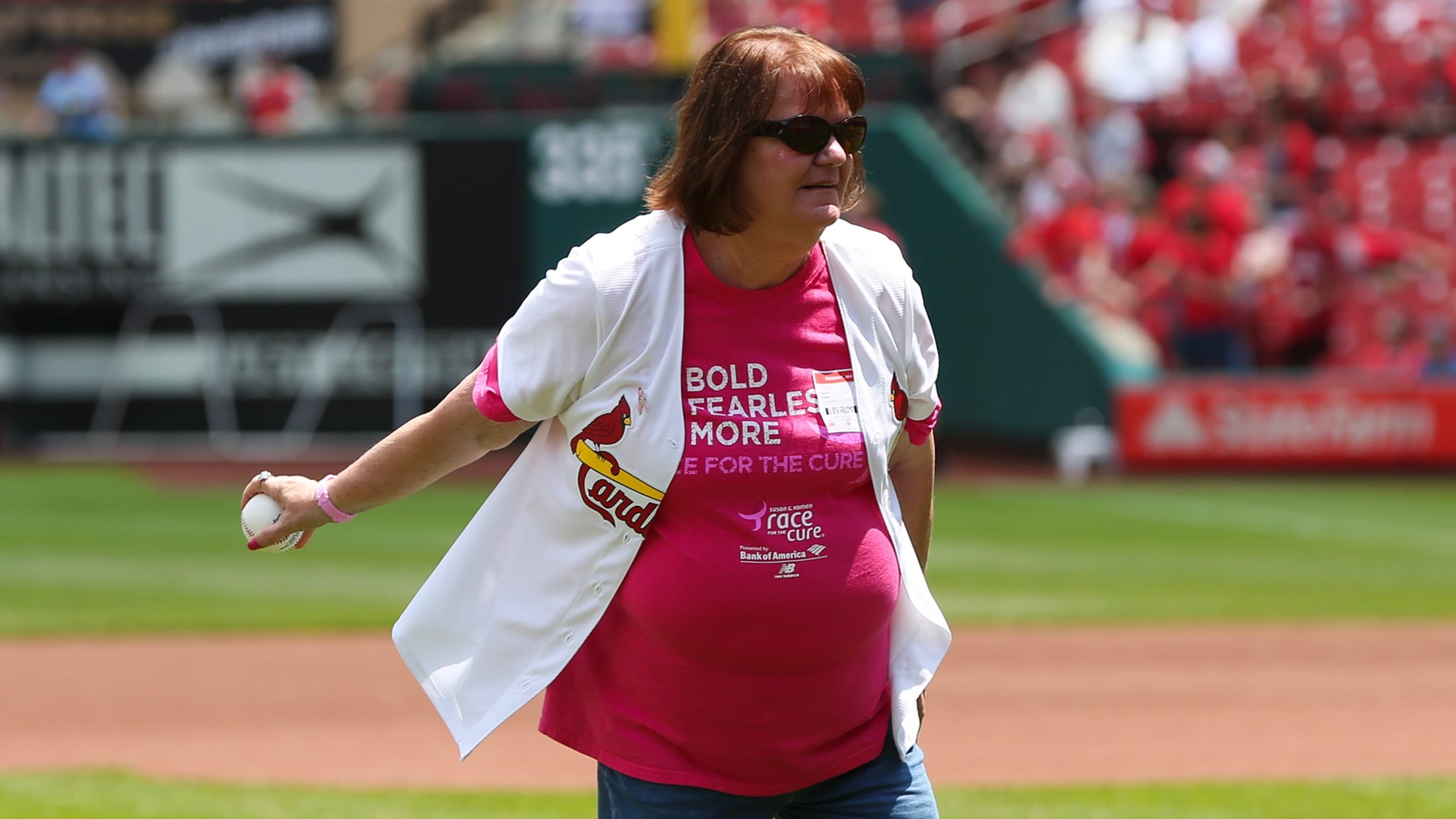 ST. LOUIS -- At first, Kathy Koke didn't realize what she had won during a Komen Foundation trivia night. Sunday afternoon, Koke was introduced as the Honorary Bat Girl at Busch Stadium prior to the Cardinals' series finale against the Phillies, where she threw out the ceremonial first pitch.She'd never
ST. LOUIS -- At first, Kathy Koke didn't realize what she had won during a Komen Foundation trivia night. Sunday afternoon, Koke was introduced as the Honorary Bat Girl at Busch Stadium prior to the Cardinals' series finale against the Phillies, where she threw out the ceremonial first pitch.
She'd never been celebrated like this.
"This is probably one of the top five days of my life, I would think," Koke said. "I've never experienced anything like this, all this attention."
• 2018 Honorary Bat Girls
Koke, a St. Louis native, was diagnosed with breast cancer in November 2011 when she went in for a routine mammogram. When she was told, Koke immediately thought of her family. Koke didn't share the news with them until January 2012, four days before her first surgery, because she didn't want to interrupt the holidays.
After several surgeries, physical therapy and a year of time, Koke is a survivor of breast cancer. Since then, she has participated in the St. Louis Race for the Cure, partnered by Women and the Cardinals.
• Cardinals' gear for moms
Koke was joined Sunday by her family, which helped her enjoy the experience even more. As a lifelong Cardinals fan, Sunday's experience was a lot for Koke to take in.
"This is a whole lot bigger than just going to the ballgame," Koke said. "I didn't realize it."
Koke was happy to have a celebration like this, but she was still nervous.
"Right now, I just don't want to flub up throwing that ball," Koke said, prior to delivering the first pitch to the plate.
Sean Collins is a reporter for MLB.com based in St. Louis.