Prospect Hayes not yet in Bucs' plans at 3B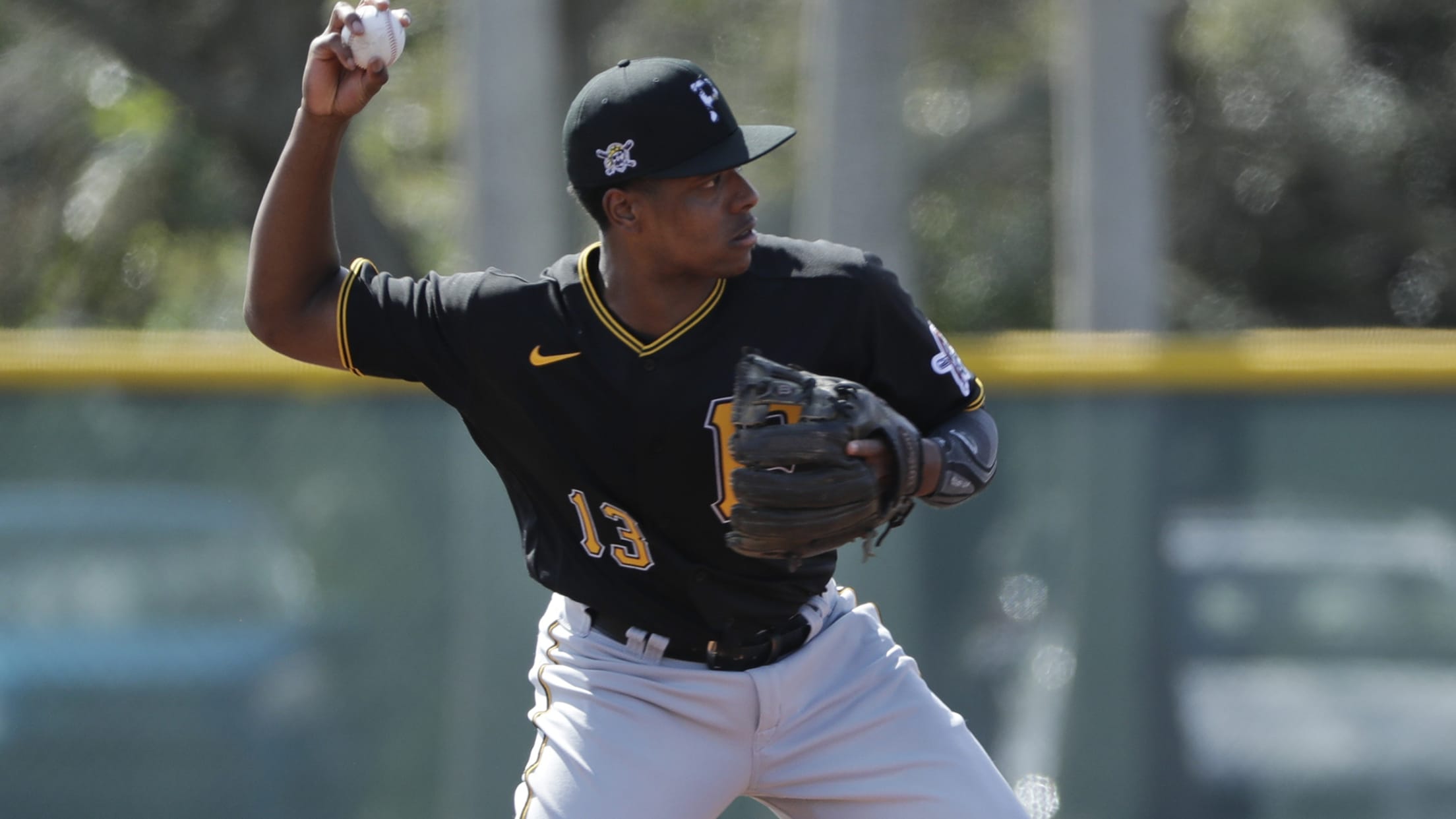 Before sustaining season-ending injuries (concussion, fractured jaw) during Saturday's game at PNC Park, Phillip Evans had quietly established himself as an everyday player and the Pirates' primary third baseman. Evans started at third base in eight of Pittsburgh's first 15 games, and he had his name on the lineup card
Before sustaining season-ending injuries (concussion, fractured jaw) during Saturday's game at PNC Park, Phillip Evans had quietly established himself as an everyday player and the Pirates' primary third baseman. Evans started at third base in eight of Pittsburgh's first 15 games, and he had his name on the lineup card for 11 of them.
What will the Bucs do at third base now? And how long until the job belongs to prospect Ke'Bryan Hayes?
Manager Derek Shelton said Wednesday that the Pirates "haven't talked about Ke'Bryan yet" as far as "when he fits into the mix" at third base. So, while Hayes is bound to make his Major League debut at some point this season, it doesn't seem a promotion for the club's No. 2 prospect per MLB Pipeline is imminent, even as teams around the Majors are calling up some of their top young players.
Although clubs still have to consider the financial implications of players gaining Super Two status, this isn't necessarily a service-time issue. It's past the point of the season when the Pirates would lose an extra year of club control by calling up Hayes. This seems to be more about Hayes' game readiness.
Hayes missed all of Summer Camp after testing positive for COVID-19, then he was assigned to the Pirates' alternate training site in Altoona, Pa. General manager Ben Cherington said last Saturday that Hayes had "no limitation" in terms of participating in full workouts, but considering the time he missed and the challenges Pittsburgh has had creating game-like scenarios in Altoona due to the lack of pitching in camp, there's no doubt the slick-fielding 23-year-old is still catching up in terms of preparation.
So, where does that leave the Pirates' third-base situation in the meantime? Shelton said they intend to "bounce guys through there," naming four players as possibilities: Erik González, José Osuna, Colin Moran and JT Riddle.
Moran was the Opening Day third baseman, but he's only made four starts there, spending more time at designated hitter (six starts) and first base (five). González, who started Thursday's series opener against the Reds at third, could continue to see his role expand if he keeps hitting the way he has recently.
González entered Thursday's game 12-for-36 with one homer, three doubles and eight RBIs this season. He did not draw a walk in his first 11 games, but he also struck out far less often than his typical rate. His average exit velocity of 92 mph ranked third on the team, behind Gregory Polanco and Moran, and only Moran has registered more barrels, according to Statcast.
González has raised his average launch angle to 12.1 degrees this season (his career average is 4.5 degrees) as a result of some mechanical changes he made with hitting coach Rick Eckstein. The athletic infielder has opened his stance, and he's standing up straighter in the batter's box rather than hunching over home plate. González said last week that those changes have helped him see the ball, while playing more frequently has improved his timing.
"I think it's a credit to Gonzo and to our hitting guys, because I think Rick found something last year in September and Gonzo got away from it a little bit," Shelton said. "I think they re-found it, and I think we're seeing the fruits of the work that they did last year, and then the adjustment back into it, right now. But his at-bats have been extremely consistent."
Taxi squad
The Pirates placed three players on their taxi squad for their four-game series in Cincinnati: catcher Andrew Susac and outfielders Guillermo Heredia and Jared Oliva.
Susac has been on every trip to provide emergency depth behind the plate, and Shelton said the Pirates want to keep Heredia around the team even though he's been optioned to the alternate training site. As for Oliva?
"It was a reward for him," Shelton said. "He's working his butt off down there. He's doing a lot of good things. … The group down there thought it would be nice for him to be rewarded and be on a trip, and it's great to have him here."
Oliva, 24, is Pittsburgh's No. 10 prospect. He would have started this year at Triple-A Indianapolis, with a chance of cracking the big league roster later in the season. His hard work has evidently turned heads in Altoona, and the Pirates wanted to give him more work around outfield coach Tarrik Brock and their big league hitting coaches.
Players on the taxi squad can take part in the team's pregame work, but only catchers can remain at the ballpark during games. Shelton said he wasn't sure where the idea of using the taxi squad as a reward came from, but he thinks it will stick.
Roster move
The Pirates reinstated closer Keone Kela from the COVID-19 injured list before Thursday's series opener in Cincinnati. To make room on the 40-man roster, Pittsburgh designated left-handed reliever Miguel Del Pozo for assignment.
Thrust into five early relief appearances due to a lack of depth in the Pirates' injury-depleted bullpen, Del Pozo walked eight of the 25 batters he faced and gave up seven runs on seven hits while recording only 11 outs.