Boyer stars as NL wins 1956 All-Star Game
Williams, Mantle, Mays, Musial all homer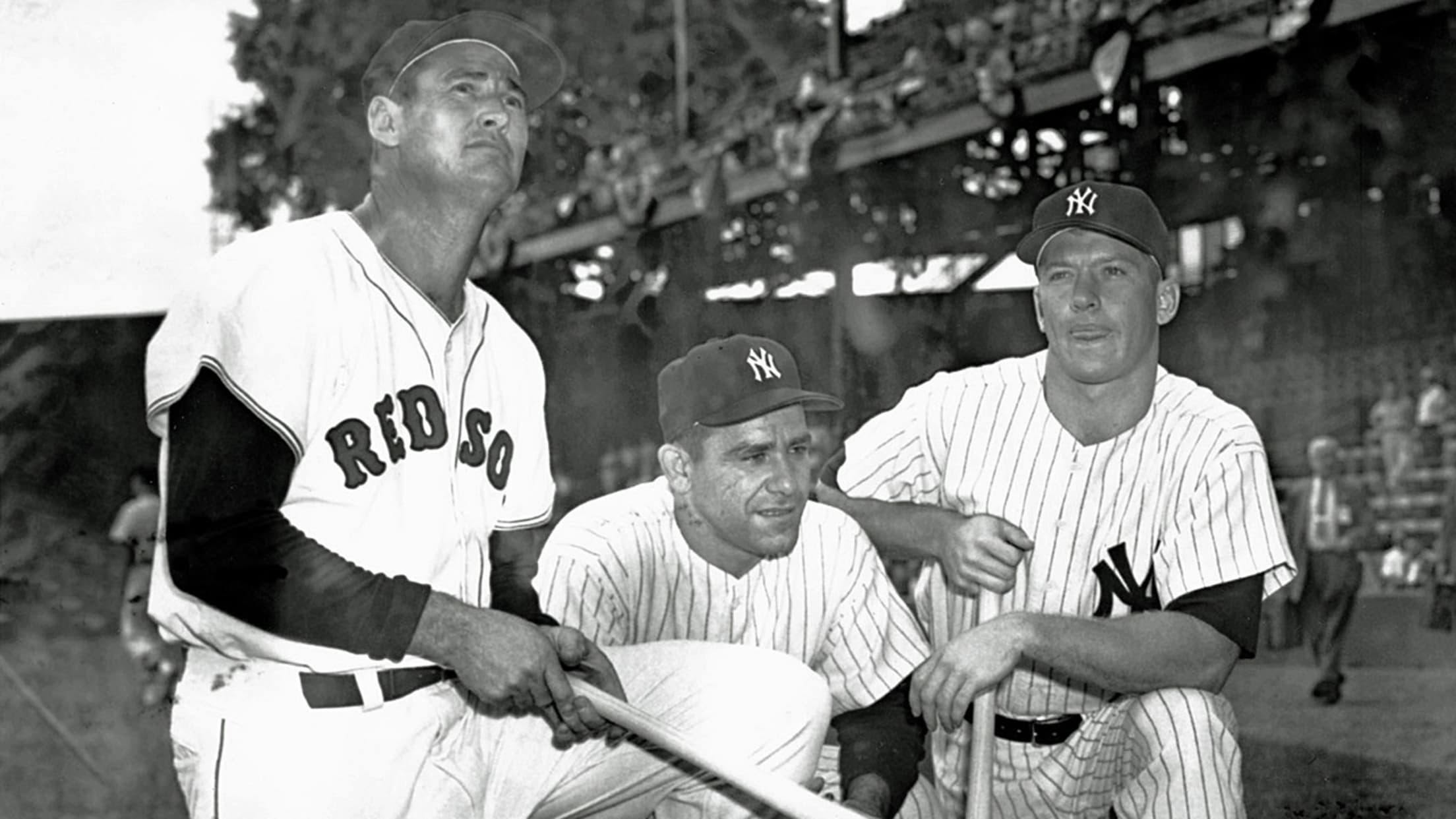 AL teammates (L-R) Ted Williams, Yogi Berra and Mickey Mantle pose before the 1956 All-Star Game. (AP)
Bill Center, longtime sportswriter for U-T San Diego, is an employee of the Padres.For the first time in All-Star Game history, four future Hall of Famers -- Willie Mays, Stan Musial, Ted Williams and Mickey Mantle -- homered in the 23rd Mid-Summer Classic on July 10, 1956, at Griffith Stadium
Bill Center, longtime sportswriter for U-T San Diego, is an employee of the Padres.
For the first time in All-Star Game history, four future Hall of Famers -- Willie Mays, Stan Musial, Ted Williams and Mickey Mantle -- homered in the 23rd Mid-Summer Classic on July 10, 1956, at Griffith Stadium in Washington, D.C.
But the hero of the game for the National League was third baseman Ken Boyer of the St. Louis Cardinals.
Boyer was 3-for-5 with an RBI and a run scored and made three spectacular plays in the field as the NL triumphed 7-3 - claiming a sixth win in a seven-season span to trim the American League's advantage in the series to 13-10.
The NL took a 5-0 lead while pitchers Bob Friend of the Pittsburgh Pirates and Warren Spahn of the Milwaukee Braves were throwing five shutout innings.
Second baseman Johnny Temple singled home Cincinnati shortstop and teammate Roy McMillan with two out in the third to end the scoreless tie. McMillan had drawn a one-out walk from AL starter Billy Pierce and advanced to second on a sacrifice bunt by Friend.
An inning later, Mays followed a single by Boyer with a two-run homer off Whitey Ford of the New York Yankees. Mays was pinch-hitting for Gus Bell, who had been voted into the NL's starting lineup over the New York Giants great with the help of zealous Cincinnati fans.
Temple singled off Jim Wilson of the White Sox leading off the fifth and scored on a two-out single by Boyer. Cincinnati first baseman Ted Kluszewski opened the sixth with a pinch-hit double off Tom Brewer of the Boston Red Sox, moved to third on a single by McMillan and scored on a wild pitch.
After Friend struck out three while blanking the AL on three hits over three innings, Spahn retired six of the first seven AL hitters he faced.
But Spahn immediately ran into major trouble in the bottom of the sixth. Chicago White Sox second baseman Nellie Fox opened the inning with a single. Williams and Mantle followed with back-to-back homers. In a span of three hitters, the NL lead had gone from 5-0 to 5-3.
Enter New York Giants left-hander Johnny Antonelli. He pitched four scoreless innings to close out the win.
Meanwhile, the NL answered the AL rally with two runs in the top of the top of the seventh. Musial led off the inning with a home run to left center off Brewer. Mays drew a one out walk and scored on Kluszewski's second double.
The Cincinnati trio of Kluszewski, Temple and McMillan backed Boyer with two hits apiece. Fox and Yankees catcher Yogi Berra had two hits for the AL.