Giles focused on Blue Jays, not Trade Deadline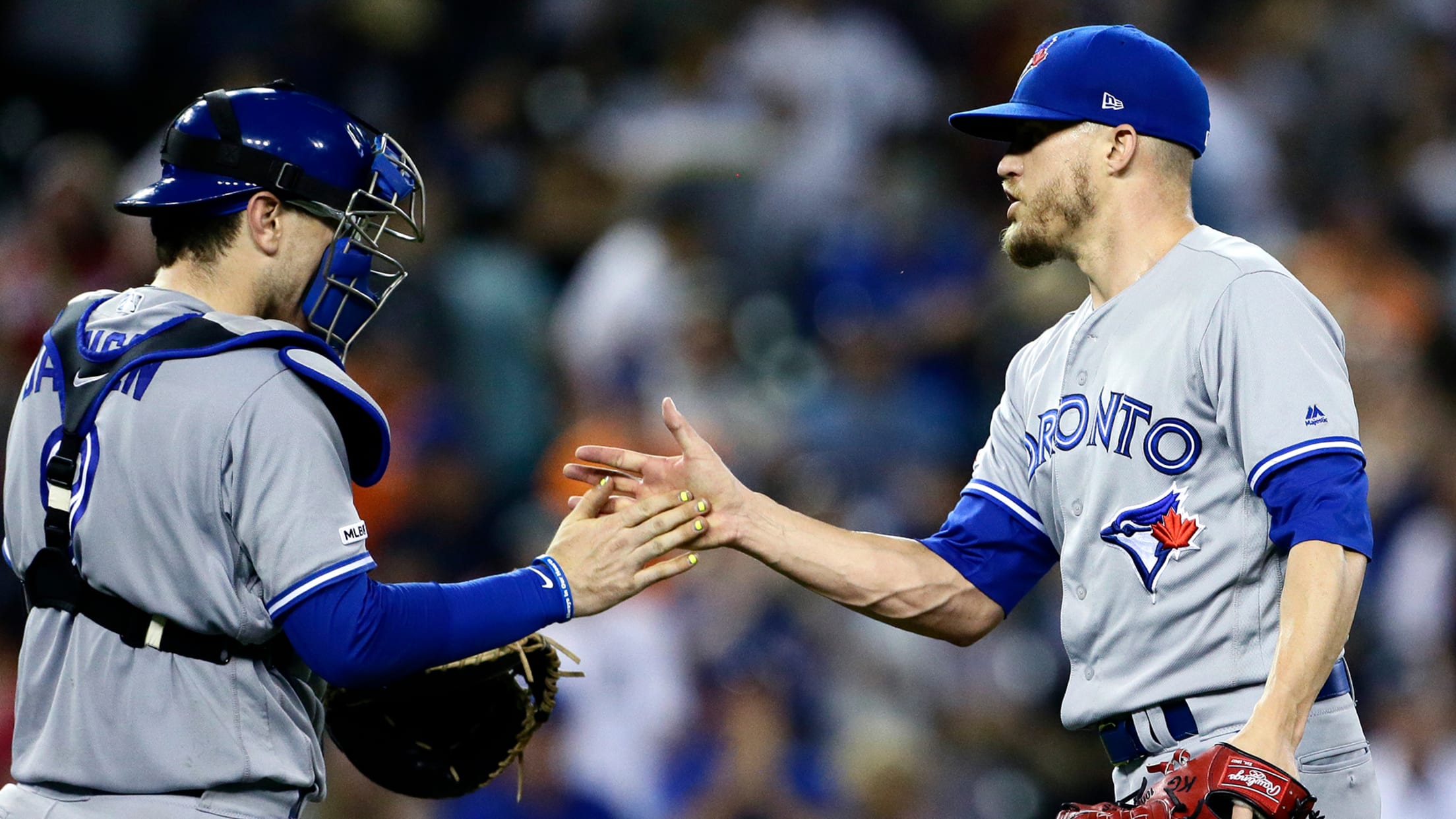 TORONTO -- It's been almost a year since Ken Giles was told that his time with the Astros had come to an end, and he needed to pack up his belongings and his family in Houston to head north of the border to join the Blue Jays. There is just
TORONTO -- It's been almost a year since Ken Giles was told that his time with the Astros had come to an end, and he needed to pack up his belongings and his family in Houston to head north of the border to join the Blue Jays.
There is just more than a week remaining before another Trade Deadline is upon him, and with the rumor mill rampant with discussion surrounding the 28-year-old reliever, Giles is doing his best to avoid speculation and enjoy his time in Toronto.
"I love it here," he said. "My family loves it here. I would love to be here longer than most people probably expect me to, but that's out of my hands. So I'm just going to let it flow and let it ride."
The Blue Jays have loved having Giles just as much, as he's been the staff's most consistent and successful hurler. This season, he's posted a 1.64 ERA with 14 saves and 57 strikeouts in 33 innings over 33 appearances, while owning the second-highest whiff rate (43 percent) in the Majors and best in the American League. He's also struck out at least one batter in each of his last 26 appearances entering Monday, the longest streak by a reliever in franchise history.
Though Giles is just taking each day as it comes, it doesn't mean he's forgotten what it was like when he learned last year that he had to move his life to another country, and continue his career with a new team.
"A little stressful," Giles said. "There's a lot of travelling involved, and trying to get your family settled in and stuff like that. But once you get that settled down, everything kind of calms down."
But the New Mexico native's life away from the field is anything but calm at the moment, with his second child due in days, and his attention focused on matters other than the Trade Deadline.
"I have something more important to think about, with a baby coming soon," Giles said. "My mind's on that and making sure my wife's taken care of. But when it comes to Deadline stuff, that's not even in my head right now."
Though baseball used to linger on the closer's mind long after games would come to an end, embracing life with his family has made it much easier on Giles to shut the game off at the end of the day.
"I've already gone through the stressful levels in baseball, so it's already like, 'What's the worst that can happen?'" Giles said. "There are other things that are worse in life than a bad day at the field or anything like that. I'm just blessed to leave the field healthy and have a happy family. That's a good day in my books.
"It helped me grow up -- having a family, you have bigger responsibilities. And they're my No. 1 -- they're above baseball for me -- because baseball's not forever. My family is forever."
Even though his family is at the forefront, competition still lives on in Giles' mind and there's no doubt that the man who won a World Series championship with the Astros would love to have a chance at another.
"I've already been through it once and it was one hell of a ride," Giles said. "It was a great experience to go through. It's not everything in life, but it's a good honour to be on a contending team, and I would be honoured to play for a contending team. But if it's not in the books in the future, it's not in the books."
Thornton sidelined
Trent Thornton was placed on the 10-day injured list with right elbow inflammation on Monday, retroactive to Sunday. The 25-year-old rookie right-hander last appeared on Saturday, when he allowed four runs on three hits with one walk and three strikeouts over three innings against the Tigers before a rain delay ended his outing.