D-backs mark Little League Opening Days
As he stepped out onto the first of two newly renovated Valley youth ballfields to throw out ceremonial first pitches, emotions came full circle for Arizona Diamondbacks managing general partner Ken Kendrick as he helped ring in a pair of Little League Opening Days in Arcadia and at South Mountain
As he stepped out onto the first of two newly renovated Valley youth ballfields to throw out ceremonial first pitches, emotions came full circle for Arizona Diamondbacks managing general partner Ken Kendrick as he helped ring in a pair of Little League Opening Days in Arcadia and at South Mountain on Saturday.
One of those fields was the same one his son, Cal, played on as an Arcadia Little Leaguer many years ago. This time around, however, the surroundings had much more of a D-backs feel and with good reason. In addition to these being the first Kendrick Family Fields in the Valley, both locations were inundated with young ballplayers wearing the big league ballclub's colors and branding as part of the D-backs Give Back Jersey Program -- an initiative that Kendrick's son and others inadvertently helped inspire.
"[D-backs president & CEO] Derrick Hall and I both had our respective kids play Little League for years and never once did their teams wear a D-backs jersey for their games," said Kendrick. "We needed to change that, and thanks to our sponsors and the Arizona Diamondbacks Foundation, now they are all D-backs. This year alone, we have 65,000 kids wearing our uniform and playing Little League Baseball. That's pretty darn cool."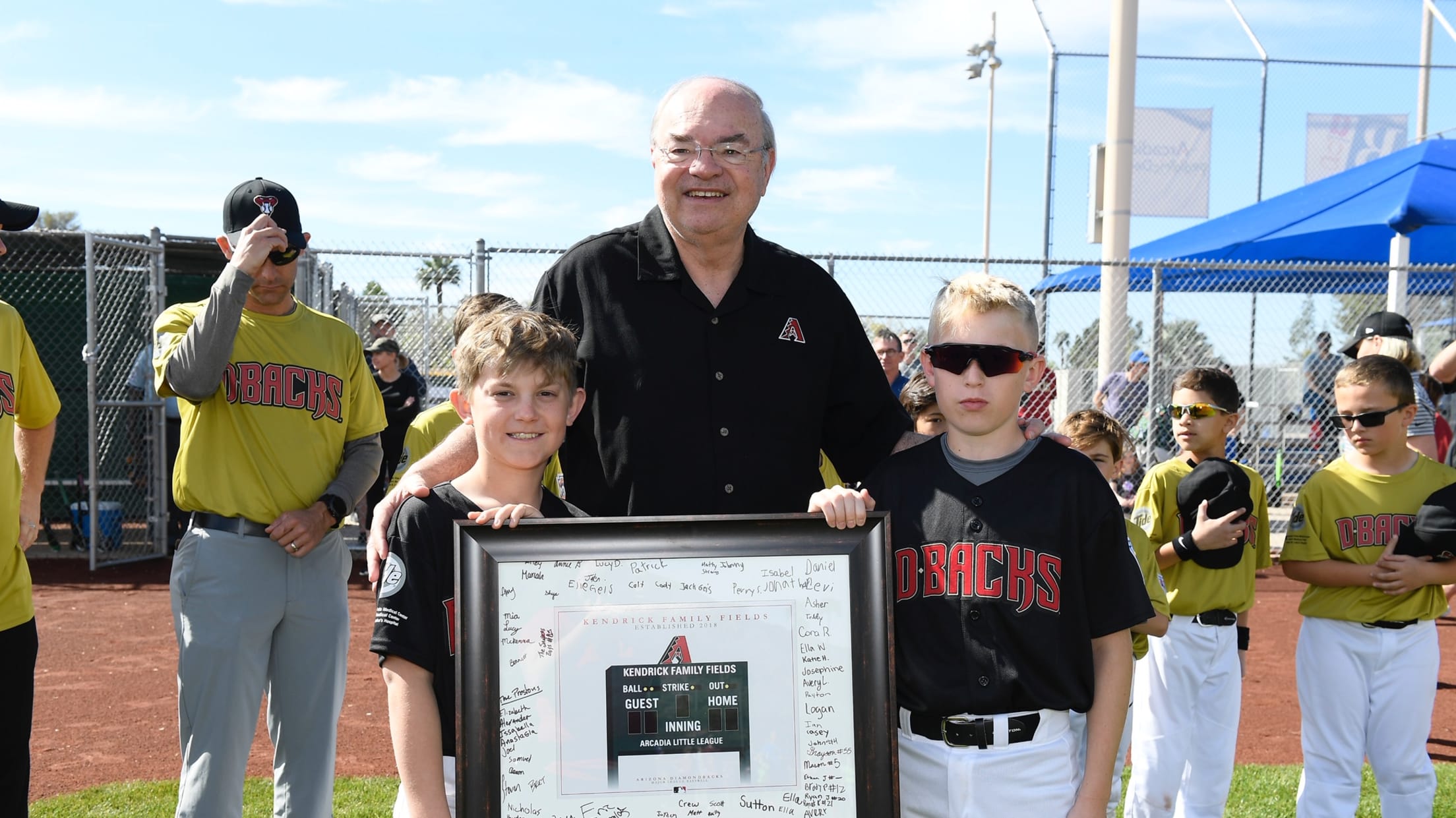 With a $3.9 million investment from the D-backs and the Arizona Diamondbacks Foundation since the Give Back Jersey Program's inception in 2014, the innovative initiative -- in partnership with Fry's Food Stores, Tide and Steward Health -- has provided free, high-quality uniforms and hats to more than 250,000 youth baseball and softball players in over 110 youth leagues across the state. Additionally, it allows those same groups to redirect funds to other important initiatives, including field renovations, coaches training, lower league fees and new equipment and supplies.
"The Diamondbacks have always had a commitment to the community," said former Arcadia Little League president Blake Edwards. "Since the jersey program came into play, it's been an incredible boost not just to Arcadia Little League, but to all the Little Leagues around the Valley."
Featuring amenities like new fencing, grass, scoreboards, infields and pitcher's mounds, the laser-leveled Kendrick Family Fields in Arcadia and at South Mountain also mark new territory for the D-backs and the Arizona Diamondbacks Foundation -- the renovation of existing youth ballfields in the Valley.
"This broadens the spectrum of what we do," said Kendrick. "There are a lot of fields out there that are not in the shape or the condition that we're normally used to seeing. Having high-quality Little League facilities and fields for these kids is really an important thing. It gets them encouraged to play and be a part of it all, so we're really proud to do this."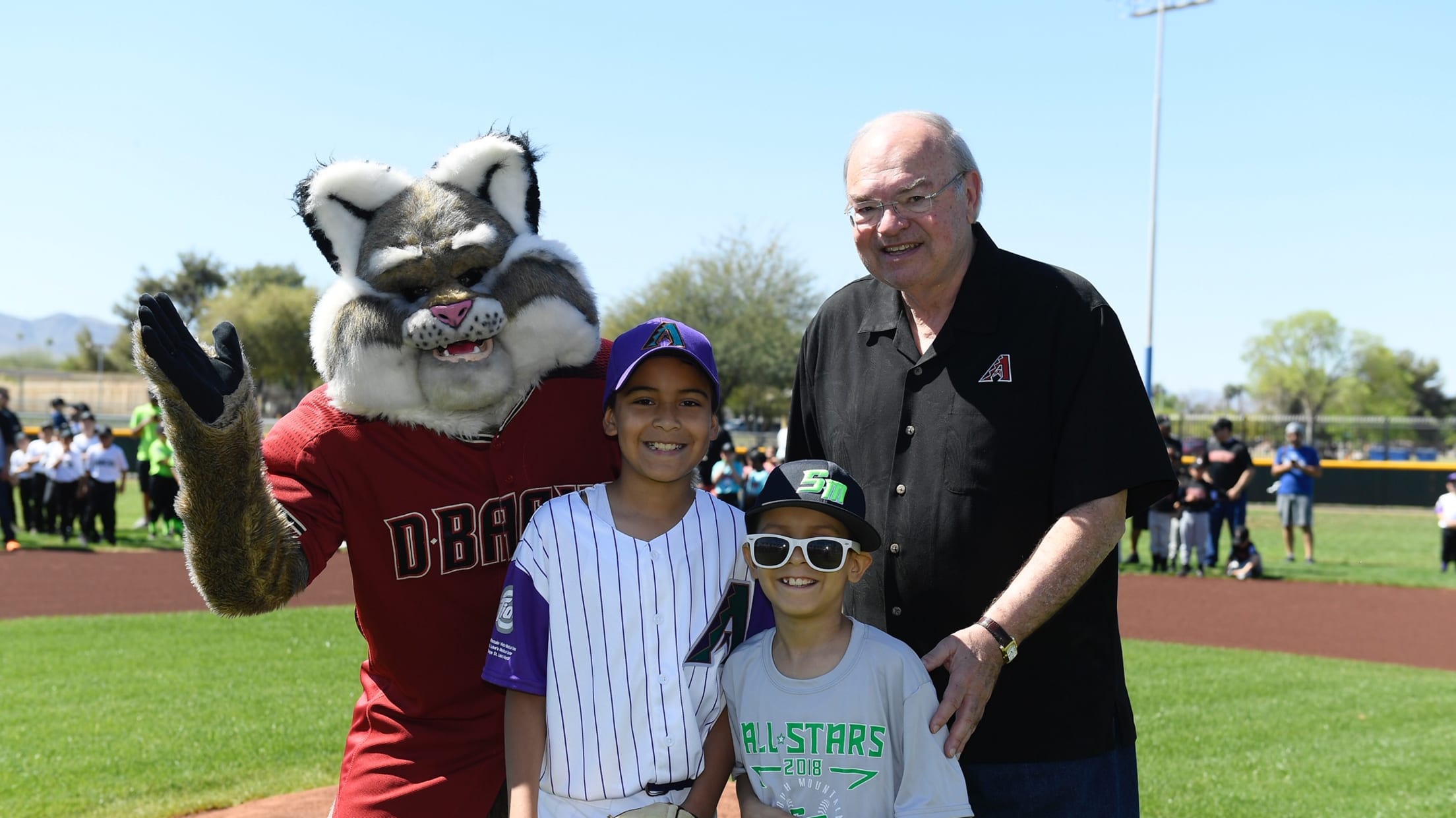 Added D-backs vice president of corporate & community impact Debbie Castaldo, "This is the next chapter that includes the youth jersey program and all the things that we're trying to do to invest in youth baseball and softball here in our state. The Kendrick family has committed to assist the Arizona Diamondbacks Foundation with identifying the leagues that need renovations to their fields. And over the next few years, we will do our best to help.
"Ken genuinely cares about kids. He cares about Little Leagues. He cares about growing the game. He wants to be a part of all of those things through his legacy and his family's legacy of giving back."
Through fundraising activities, the D-backs and the Arizona Diamondbacks Foundation have raised and donated more than $61 million to the Arizona community since 1997, with one of its three main focuses being children's programs of all types.
And for Kendrick and the D-backs, Saturday's culmination of events certainly qualifies.
"The most famous thing Hall of Famer Jackie Robinson ever said was, 'A life is not important except in the impact it has on other lives.' And by giving, you can have an impact on the other person's life," said Kendrick. "And so it's a great joy to be able to give back."