Jansen, Seager a welcome sight for LA fans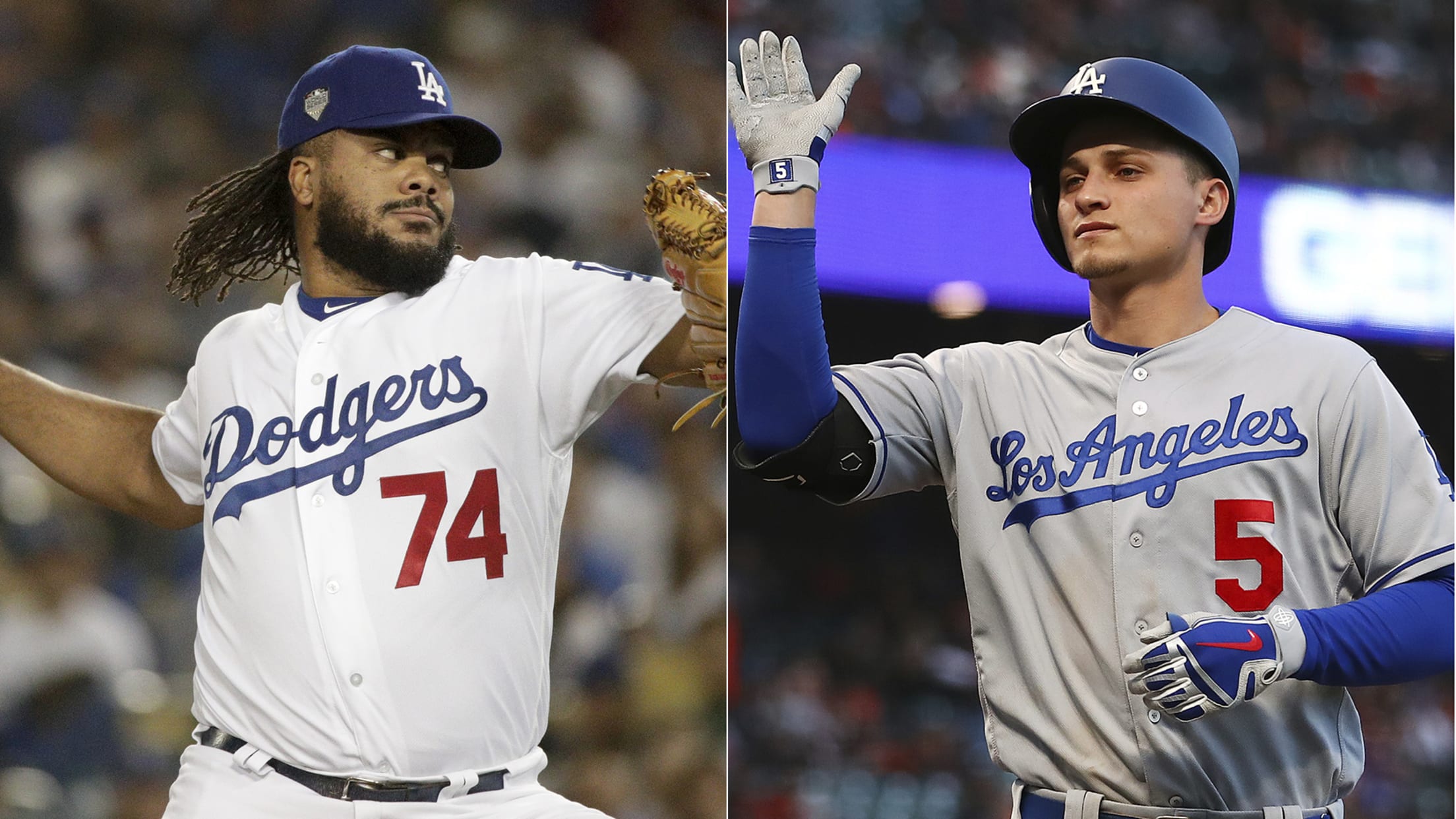 LOS ANGELES -- Dodgers closer Kenley Jansen and shortstop Corey Seager issued their first health updates of the year at Saturday's FanFest, with Jansen declaring he's ready for Spring Training after recovering from heart repair and Seager cautiously optimistic that he's on track after elbow and hip operations."It's like a
LOS ANGELES -- Dodgers closer Kenley Jansen and shortstop Corey Seager issued their first health updates of the year at Saturday's FanFest, with Jansen declaring he's ready for Spring Training after recovering from heart repair and Seager cautiously optimistic that he's on track after elbow and hip operations.
"It's like a weight off you, doing that surgery, knowing that your heart is fine," said Jansen, who said he's lost about 25 pounds since undergoing a 5 1/2-hour catheter ablation procedure on Nov. 26 to correct a defect that triggered an irregular heartbeat, six years after undergoing the same procedure.
"I definitely feel great. Ready to roll," he said. "Excited. Playing catch for two weeks. Ready for Spring Training."
• Dodgers finalize deal with Pollock
Jansen, 31, suffered an atrial fibrillation episode in August in Denver as a result of the condition at altitude. He skipped a return trip against the Rockies in September after his cardiologist advised he would be at "high risk" of another incident.
Jansen said his doctor couldn't promise that he's 100 percent cured, but both are confident the problem is "fixed." He said he is off blood thinners, felt great throwing his first bullpen session on Thursday and even is cleared to pitch in Colorado this year.
Jansen had 38 saves last year, but his ERA soared to 3.01. He had a shaky postseason and attributes it in part to a dialed-back Spring Training agreed upon with management after a workhorse 2017 season.
"No sitting down, no taking vacation this time, no doing media for my teammates," he said. "Just do my job, get myself ready, throw as much as I need to get ready for a new season. I'm not happy about that year I had last year. That's motivation for me, to push myself and get better.
"I'm not going to focus on velocity. Make sure mechanics are in place. If you worry about velocity now, you develop bad habits. Last year in April I wasn't ready, I tried to develop velocity and created bad habits. Try to get out of bad habits is not fun. I know I have it in there."
Jansen said he also is motivated by the unanimous election to the Hall of Fame by his hero, Mariano Rivera.
Seager, meanwhile, had Tommy John surgery on his right elbow on May 6 and labrum repair on his left hip in August. He said he is throwing from 120 feet, taking ground balls and has resumed swinging a bat, but hasn't taken live batting practice.
"The only thing I haven't done is take ground balls and throw across the infield," said Seager. "I don't have much expectations, I don't really know their plan when I'll start playing. I still have to hit live, throw across the infield. Right now, everything's on line to make a decision on whether I'll be ready to go or not. Haven't had any setbacks yet, so I'm positive for it."
Dodgers president of baseball operations Andrew Friedman said Chris Taylor and Enrique Hernandez are fallback options at shortstop if Seager isn't ready when the bell rings. With a healthy Seager, Taylor and Hernandez will compete for the bulk of playing time at second base, in addition to outfield.
"As far as Corey goes, we're optimistic. He's done everything he can to this point," said Friedman. "But until he gets in the games and bounces back and plays the next day, it's guesswork right now. It'll take until we get him to Spring Training and ramp him up, and we expect him to be full-go on Opening Day. But we're also prepared for if we've got to ease him in."
Seager said he was glad the club still considers him a shortstop, despite his frame and two major injuries at age 24. A move to third base has always been speculated because of his size. His injury last year led to the 5-for-1 trade for Manny Machado.
*Ken Gurnick * has covered the Dodgers for MLB.com since 2001.