Jansen's back-to-back outings help force G7
When he pitched the ninth inning for the Dodgers in Game 5 of the National League Championship Series, the Kenley Jansen saga took a turn his haters never saw coming. He was good. Jansen, who lost the closer job a week ago when diminished velocity led to ineffective outings, struck
When he pitched the ninth inning for the Dodgers in Game 5 of the National League Championship Series, the Kenley Jansen saga took a turn his haters never saw coming.
He was good.
Jansen, who lost the closer job a week ago when diminished velocity led to ineffective outings, struck out the side on 12 pitches to secure the 7-3 win over the Braves on Friday night at Globe Life Field. After submitting another perfect inning in the ninth and earning the save in a 3-1 win in Game 6 on Saturday, Jansen might even be the closer again.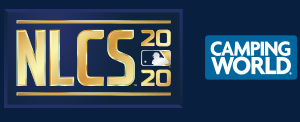 "I'm very happy," Dodgers manager Dave Roberts said. "This has been a tough, challenging year from different perspectives. But from some perspective, it's been his best season. I couldn't be more proud of him."
Jansen said he hasn't worried about his role or what he called the "noise" of critical media and fans. In addition to working with the Dodgers' coaching staff on syncing his delivery, Jansen said he spoke to two of his longtime coaches -- former big league pitching coach Rick Honeycutt and Charlie Hough, his first pitching coach when he was switched from catcher in the Minor Leagues.
"I went back to the basics," Jansen said of his call with Hough and Honeycutt. "They showed me pictures of the past and how everything was working together. I wasn't quite the same. I had to get back to that to make my delivery simple like it was, and it shows."
Jansen, the franchise all-time saves leader, insisted he never lost confidence.
"I don't know why it's about losing confidence," he said. "The minute I lose confidence in myself, I will stop playing this game. If it's 88 [mph], if it's 91, if it's 93 -- it's just a game of getting outs. It's not a game of throwing hard. That's how I view it, and I never lost that."
That said, of the eight cutters Jansen threw Friday, six were 91.1 mph or higher. His last pitch, a sinker, topped out at 94.2 mph.
One night later, Jansen hit 94.3 mph with his sinker as he buzzed through the bottom of the Braves' order on six pitches.
"I've been feeling great," Jansen said. "With me, it's always a feel pitch; I succeed when I have the feeling. I feel like it clicked out there, and once it clicks, everything comes with it. My timing with my arm and legs isn't synced in well. To get that back at the same time makes it smoother. Been feeling it the last couple of days playing catch."
In Game 6, the Dodgers were trying to avoid rookie Brusdar Graterol, who had appeared in each of the team's previous two games. The opposite could be true in Game 7, now that Jansen has appeared in two straight and Graterol -- who has taken multiple high-leverage spots away from Jansen this postseason -- will be working with a full day of rest.
Regardless, it's clear that whatever trust Roberts may have lost in Jansen has been restored.
"When it comes to the playoffs, it's not about the role," Jansen said. "I've been here a long time now, and there's nothing else but a ring to accomplish. We want it for everyone in the past who deserves it. It's about winning a championship here."
"To get where we need to be, he's going to be a big part of it," added Dodgers infielder Justin Turner. "So just two huge outings, not only for us but for him personally. You can just see the confidence he has on the mound, attacking guys. That's the Kenley Jansen I, and all of us in there, know and love."
Injury update
Chris Taylor, who turned his right ankle after fielding Freddie Freeman's eighth-inning double on Friday, apparently avoided a serious injury, and Roberts said he was available to come off the bench Saturday. He ended up not being used.
"He's moving around much better and feels better than he expected," Roberts said, adding that Taylor did not require an X-ray or MRI.
With Taylor out of the lineup, Enrique Hernández started at second base, Will Smith at designated hitter and Austin Barnes at catcher.
Ken Gurnick has covered the Dodgers for MLB.com since 2001.