Kela could return 'toward the end of the month'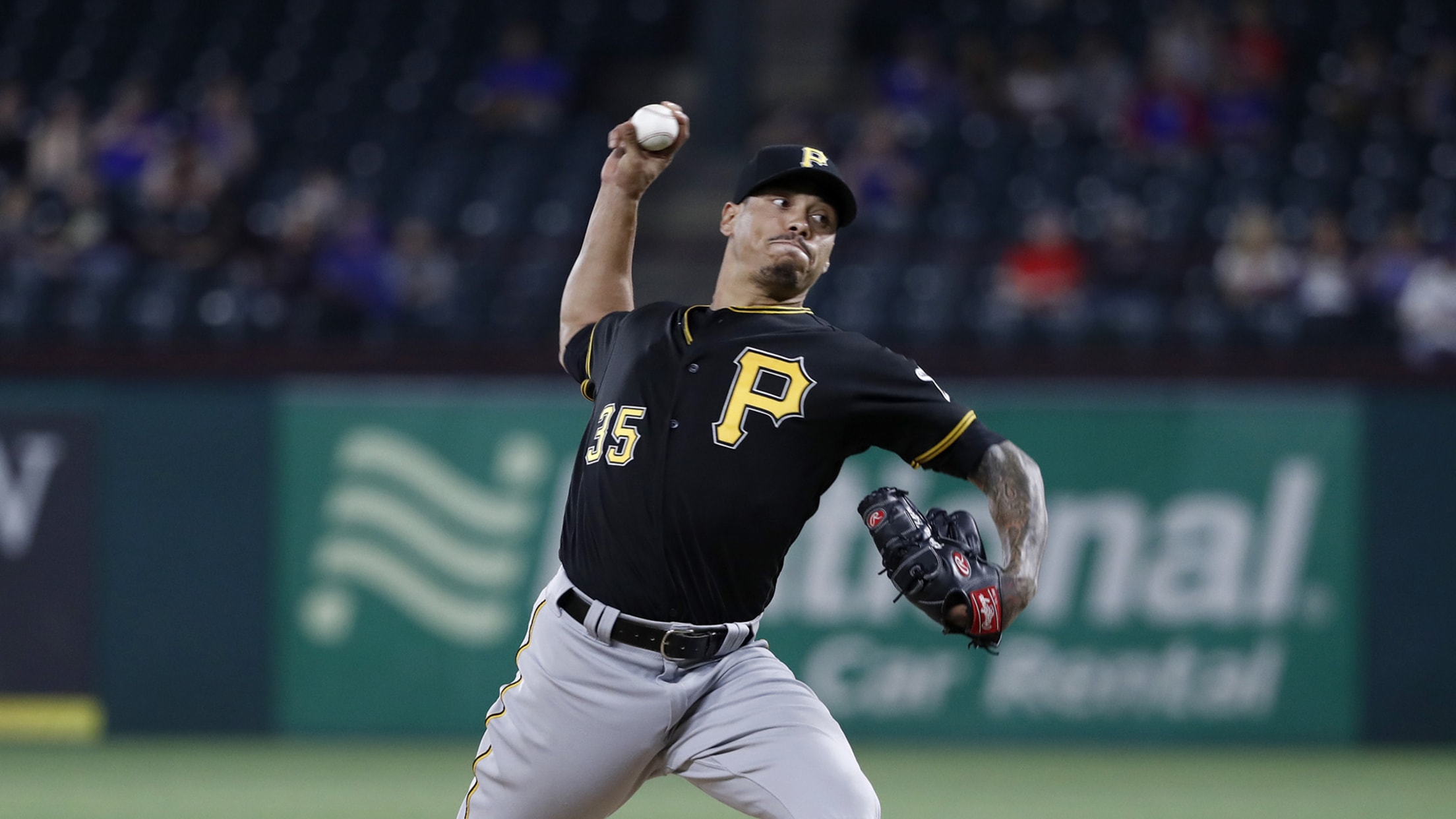 PITTSBURGH -- Pirates manager Clint Hurdle said that Keone Kela's simulated game on Saturday was an encouraging step in the right-handed reliever's recovery from the right shoulder inflammation that landed him on the injured list on May 8 (retroactive to May 6). "[Pitching coach Ray Searage] has encouraged many of
PITTSBURGH -- Pirates manager Clint Hurdle said that Keone Kela's simulated game on Saturday was an encouraging step in the right-handed reliever's recovery from the right shoulder inflammation that landed him on the injured list on May 8 (retroactive to May 6).
"[Pitching coach Ray Searage] has encouraged many of these guys -- they've already set up opportunities to throw during the break," Hurdle said, "so some of them aren't going to completely unplug. Pitchers, it's a little different story. They might take two hours to go do some actual throwing. Keone's one of those guys."
Pirates general manager Neal Huntington said ideally the club will get Kela back "somewhere toward the end of the month."
Before that hopeful estimate, Hurdle said Kela is scheduled to throw a bullpen in Chicago before the team determines next steps, whether that be continued treatment or the beginning of a second rehab assignment. Kela was set back after just one rehab appearance in June.
The setup man, who was the Rangers' closer in 2018 before being acquired by Pittsburgh, could prove crucial in the playoff hunt. He's pitched in 14 games this year, recording a 4.63 ERA.
Taillon makes big step in recovery
Jameson Taillon threw a baseball Saturday for the first time since he was sent to the 60-day injured list beginning on May 4 (retroactive to May 2) with a right elbow flexor strain.
The Pirates' ace threw from 60 feet, he said, and commented that he felt "really good" afterwards. It's not expected that Taillon will be ready to pitch any time soon, but the development is good news for the team, as Hurdle said he expected "a delay" with the information he'd received as of Friday.
Huntington said he feels as though Taillon has kept in high spirits and shown good progress through the tough stretch.
"Hopefully, he'll continue to have really good days there," Huntington said. "The challenge with any time a pitcher's down, it's not only the down time, but it's the build-back-up time. So [I'm] excited that Jameson feels good, excited that he's ready to take this next step in his progression and hopefully things will go well for him as he works through it.
Second half rotation plans
The Pirates took care of some housekeeping before the All-Star break, with the second-half rotation set for at least the first four games.
One of the highlights is the first pitcher that manager Clint Hurdle announced: Chris Archer. The 30-year-old, who has produced a 5.49 ERA in the first half, was pulled from his start on June 28 with right hip discomfort. His availability to open the second half points toward a good recovery for the starter, whom the Pirates acquired at the Trade Deadline last season from the Rays.
Jordan Lyles and Trevor Williams, respectively, will finish out the three-game road series against the Cubs, then Joe Musgrove will open a set in St. Louis. Tentatively, Hurdle said the club plans to use Dario Agrazal as the fifth starter out of the break, as Steven Brault is on the 10-day injured list with a left shoulder strain.
"We'll be in that period of no throw, whether that's 10 days or so, [and] reassess, which will be in Chicago or the second series coming out of the break in St. Louis, and just kind of see where we are at that point in time," Huntington told 93.7 The Fan about Brault's timeline. "It feels like it's just some shoulder soreness at this point. We'll work through it, give it some time to work itself out and hopefully get him back on a mound here sooner rather than later."
With Dickerson healing, Kramer recalled
After exiting with right groin discomfort in Saturday's 12-2 win, Corey Dickerson was out of the starting lineup for Sunday's game against the Brewers, as Hurdle said the Pirates are going to "do everything we can to stay away from him."
In turn, Pittsburgh optioned reliever Montana DuRapau to Triple-A in order to recall infielder Kevin Kramer, who has spent time in the outfield. He will also provide an extra bat on the Pirates' bench for late in the game, as they're missing reliable pitching pinch-hitters in Brault and Musgrove, who started Sunday's contest.
"He can give us depth," Hurdle said of Kramer. "With Dickerson going down, nobody wants to play with a three-man bench. So we'll see where this takes us going forward with Dickerson's health, but it's another guy who we felt, with some fresh opportunity, could provide us some spark with the bat or with his versatility."
Draft note
The Pirates signed Jasiah Dixon, their 23rd-round selection in the 2019 MLB Draft, for a high-value $225,000 signing bonus. The prep center fielder from California marks the 37th Draft pick that the Pirates have signed out of their pool of 42 picks this year.
Huntington praised the effort Pittsburgh's scouts put into the selections this year, saying that although some experts viewed a handful of picks as "overdrafts," they made the effort to see guys "in some cases eight, nine, 10 times."
"We like the players that we signed," Huntington said. "They do things that we like. They're the kind of people that we like. We think there's projection to them. We think they have the traits we believe we can build upon in our development system."