One lights-out reliever on every DS club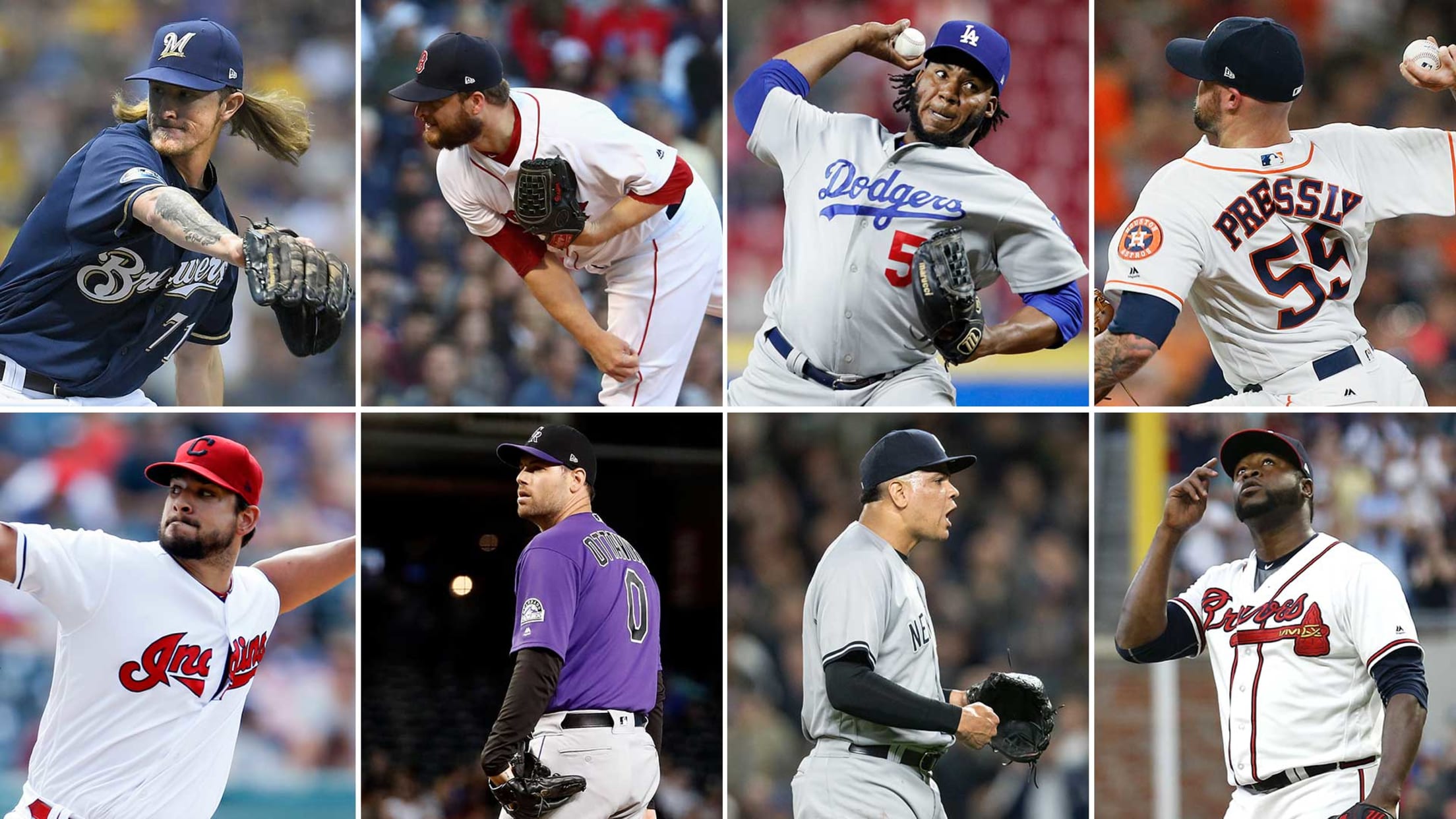 Hay is for horses. Virginia is for lovers. And October is for relievers.That's the way the game is trending, anyway. Last year, relief pitchers accounted for 46.5 percent of all postseason innings pitched. You can't survive this tournament unless you've got some guys who can step up in a big
Hay is for horses. Virginia is for lovers. And October is for relievers.
That's the way the game is trending, anyway. Last year, relief pitchers accounted for 46.5 percent of all postseason innings pitched. You can't survive this tournament unless you've got some guys who can step up in a big spot on the big stage.
With that in mind, here's a look at one lights-out reliever that could play a large role for every Division Series club, and you'll see that not all of the names are obvious ones.
Brewers: Josh Hader, LHP
You saw it already in Monday's National League Central tiebreaker with the Cubs and again in Thursday's Game 1 win over the Rockies. This October, Hader might be more Andrew Miller than even Andrew Miller. He can give Brewers manager Craig Counsell multiple innings, multiple times in a short series. His 2018 numbers were simply comical -- 143 strikeouts against 30 walks in 81 1/3 innings, more than enough to be in the conversation for NL Reliever of the Year honors. Hader's terrible tweets as a teen will live with him for years. But in the here and now, he's a human fast-forward button and the biggest asset in a bullpen that might just be the best in baseball right now (closer Jeremy Jeffress put up some comical numbers of his own, and former closer Corey Knebel appears to have made the mechanical tweaks necessary to become a late-inning force again).
Red Sox: Ryan Brasier, RHP
Yes, the Red Sox still have Craig Kimbrel. And yes, Kimbrel is still awesome. But they need weapons beyond Kimbrel if they're going to make good on their 108-win season and advance through October. Brasier, plucked out of Japan and brought back to the States by Boston, can be that kind of weapon if the coming-out party that was his second-half arrival (1.60 ERA, .171/.211/.270 opponents' slash, 0.77 WHIP). The 31-year-old rookie can miss bats with his mix of high-90s four-seamers and sinkers and a slider that at times appears unfair. We'll see how he handles the big moment in this series with the Yankees.
Dodgers: Pedro Baez, RHP
Kenley Jansen's importance to this 'pen and, ergo, this postseason cannot be overstated, but he's been oddly homer-prone in 2018, and that problem and Jansen's issue with an irregular heartbeat have created questions in this 'pen and, frankly, not a lot of great candidates for this list. It feels odd to be listing Baez here, as he's been a bit of an enigma in his career. But sometimes October is all about riding the hot hand, and his hand was one of baseball's hottest in the home stretch. In 19 1/3 innings from Aug. 13 through the end of the regular season, opponents hit .108 with a .356 OPS against Baez, as he allowed just one run in that span.
Astros: Thomas Pressly, RHP
Relievers have the unique ability to transform themselves virtually overnight, and Pressly's ability this season to finally capitalize on his elite curveball and four-seam spin rates made him a midsesason trade commodity (the Astros acquired him from the Twins) and one of the more interesting bullpen weapons this October. A former Rule 5 pick who entered 2018 with a 3.81 career ERA, Pressly was in the midst of a fine campaign with Minnesota when Hosuton acquired him and turned him into a real monster. With more fastballs up in the zone and more curveballs in general, he posted -- this is not a misprint -- a 10.67 strikeout-to-walk ratio with a 0.77 ERA in 23 1/3 innings for the Astros down the stretch. That makes him maybe the most attractive arm right now in a devastatingly deep Houston 'pen.
Indians: Brad Hand, LHP
The Indians might deploy Trevor Bauer, who was in the midst of a Cy Young Award-worthy season before a comebacker fractured his leg in August, as a lights-out reliever in their Division Series with the Astros. And we've seen before what Miller and Cody Allen can mean to this club when it has a lead. But right now, with Miller only recently returned from injury and Allen having battled mechanical issues, the most reliable reliever the Tribe has is the one they bid boldly on at the Trade Deadline. Hand struck out 35.2 percent of opposing hitters this season, limiting hitters to a .197 average, and working multiple innings 16 times.
Rockies: Adam Ottavino, RHP
Ottavino buckled in a big spot against Javier Baez in the NL Wild Card Game and gave up the game-winning hit to Mike Moustakas in his second inning of work in Thursday's Division Series-opening loss to the Brewers. But in the big picture, he struck out more than a third (36.3 percent) of opposing batters this season with a 0.99 WHIP -- all accrued thanks to a slider that sweeps across the zone like something out of a video game. Bud Black is not going to shy away from him.
Yankees: Dellin Betances, RHP
Obviously, Albertin Chapman remains one of the biggest, baddest bullpen pieces in baseball. But it said a lot that in the one moment of real tension in the American League Wild Card Game -- when Oakland was trailing 2-0 and put two aboard against Luis Severino with the heart of the order coming up -- Aaron Boone went to Betances, who retired all six batters he faced. Last year, the Yankees lost faith in Betances, whose command woes became a persistent problem. Betances regathered himself this year, cutting his walks-per-nine-innings rate nearly in half (from 6.6 to 3.5) while maintaining his absurd strikeout rate (15.5 per nine). If he was Boone's first choice against the A's, you know we'll see plenty of him against the Sox.
Braves: Arodys Vizcaino, RHP
No bullpen entered October with more question marks than that of the Braves, but at least Vizcaino's health (after missing 55 games with shoulder inflammation) and reclaiming of the closer role was a big positive at the tail end of the regular season. Between the natural sinking motion on his 98-mph fastball and the hard break on his curve, Vizcaino is capable of getting a swing and miss in a big spot. He's converted 29 of 32 save opportunities since taking over for Jim Johnson as Atlanta's go-to ninth-inning guy in July 2017.