Khrush comes down with flu at inopportune time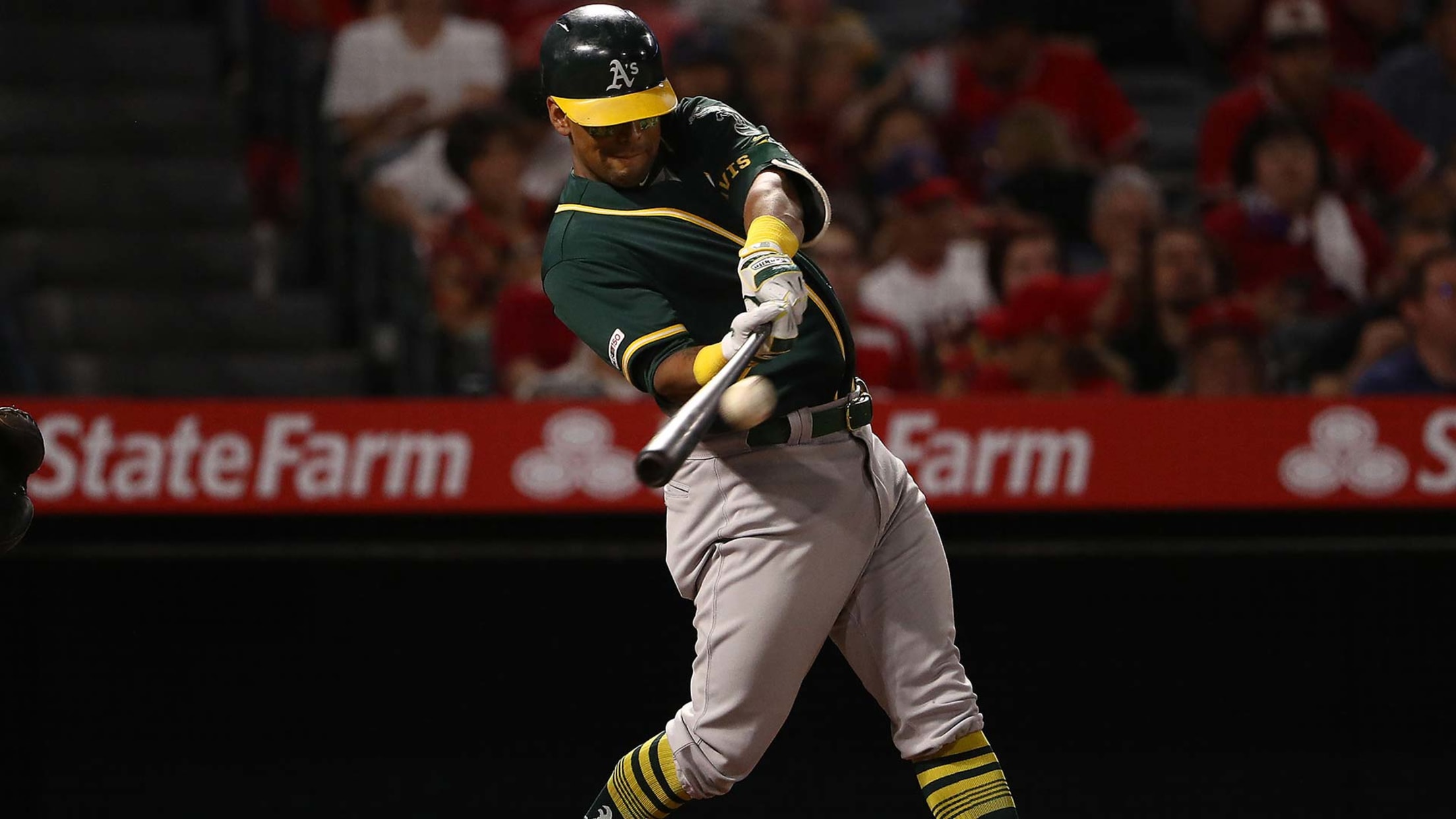 ANAHEIM -- Entering Wednesday with just a half-game lead for the top American League Wild Card spot, the A's were without one of their premier sluggers for a pivotal game against the Angels. Khris Davis stayed back at the team hotel after waking up with the stomach flu. A's manager
ANAHEIM -- Entering Wednesday with just a half-game lead for the top American League Wild Card spot, the A's were without one of their premier sluggers for a pivotal game against the Angels.
Khris Davis stayed back at the team hotel after waking up with the stomach flu. A's manager Bob Melvin did not rule out a potential in-game substitution for Davis, who provided the only offense for the A's in Tuesday's 3-2 loss, but Oakland didn't need him thanks to Matt Chapman's heroics in Wednesday's triumph over the Angels.
"Khris is sick," Melvin said. "We'll see what time he gets here and what kind of shape he's in. He's not in the starting lineup, which is tough after he hit the home run last night, and there's another lefty on the mound tonight."
Davis has done most of his damage against left-handed pitchers this season, batting .283 with 11 home runs in 127 at-bats, which made his absence against Angels lefty Andrew Heaney less than ideal. Instead, Jurickson Profar filled Davis' usual designated-hitter spot and went 2-for-4.
Taylor DFA'd for Montas
In order to clear a spot on the 40-man roster for Frankie Montas' reinstatement from the restricted list, catcher Beau Taylor was designated for assignment. Taylor, a 2015 fifth-round pick by the A's, rejoined the club on Sept. 10 off waivers from the Blue Jays after Oakland DFA'd him in August.
He didn't get much playing time, going 0-for-1 in just one game, but served as a valuable resource for rookie catcher Sean Murphy. With only a handful of games left in the regular season, Melvin is hoping Taylor can find a way to remain in the organization.
"These guys love him. He's played with a lot of these guys and is so into the group and chemistry part of it, so it's really difficult," Melvin said of Taylor. "He didn't get a ton of at-bats with us, but it seemed like he was comfortable here this year. There are certain guys that are more difficult to let go than others, but we had to get Frankie on, and that was the move. But who knows what next spring looks like."
When a player's contract is designated for assignment -- often abbreviated "DFA" -- that player is immediately removed from his club's 40-man roster, and 25-man roster if he was on that as well. Within seven days of the transaction (it was previously 10 days), the player must either be traded, released or placed on irrevocable outright waivers.
Piscotty ramps up rehab
Stephen Piscotty has not played in a game since Aug. 24 due to a right ankle sprain, but the outfielder is still pushing hard to make a return before season's end. He took part in batting practice before Wednesday's game at Angel Stadium and was expected to run the bases.
"He's getting better every day," Melvin said of Piscotty. "This is kind of a bigger day for him today where he's going to do everything, might even be on the bases. He's eager to try to get there."
Easing the loss of Piscotty, who was batting .252 with 13 home runs and 44 RBIs at the time of his injury, has been the emergence of Mark Canha. In the 28 games since Piscotty landed on the injured list, Canha has batted .294 with six home runs and 15 RBIs, now getting most of his playing time in center field as Ramón Laureano eases back into action in right returning from a stress reaction in his right shin.