Khris Davis exits game, may go on IL
An MRI scheduled for Wednesday will determine next move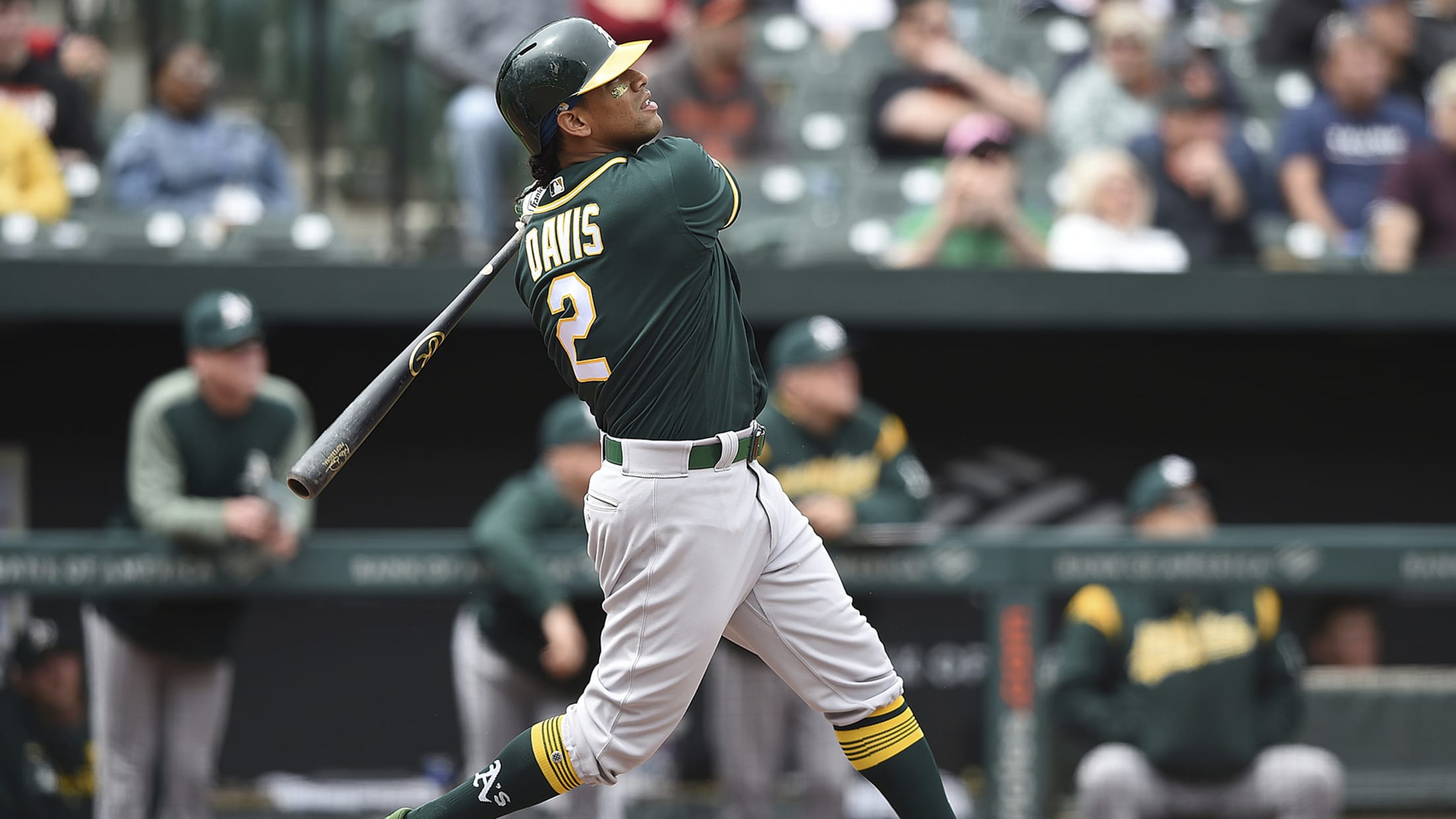 CLEVELAND -- Khris Davis' return to the A's lineup was short-lived. Davis left Tuesday night's 5-3 Oakland win over Cleveland at Progressive Field in the third inning due to lingering effects from his left hip contusion. Davis got a day off to rest on Monday, but he was back at
CLEVELAND -- Khris Davis' return to the A's lineup was short-lived.
Davis left Tuesday night's 5-3 Oakland win over Cleveland at Progressive Field in the third inning due to lingering effects from his left hip contusion. Davis got a day off to rest on Monday, but he was back at his usual cleanup spot in the starting lineup. After looking uncomfortable at the plate in his first at-bat against Indians starter Trevor Bauer, grimacing as he fouled a ball off before eventually grounding out, Davis was pulled for pinch-hitter Mark Canha in the third. Canha then broke a 1-1 tie with a two-run homer off Bauer.
Davis entered the night having missed two of the past three games, but A's manager Bob Melvin ruled out a stint on the injured list for the slugger before Monday's 6-3 win, saying it was more of a day-to-day issue. It's unclear at this point if that stance will change after Tuesday's early departure.
The A's are holding out a sliver of hope that Davis could still avoid the IL, pending MRI results on Wednesday. But both Davis and Melvin intimated that a 10-day IL stint likely will be the best course of action.
"It's basically pretty much the same. Hasn't been getting better," Davis said. "It's the right move to hit the IL. I don't think it's gotten worse, but it hasn't gotten better."
"He's going to have to go on the IL," Melvin said. "Swinging today in batting practice he felt a little better, but once he got into the game, it felt no better. He's resigned himself that he probably needs to take the full 10 days off."
Although the original diagnosis was a left hip contusion sustained after running into the left-field railing in foul ground at PNC Park on May 5, Davis said he believes the cause of the discomfort is coming from his oblique.
"It's every swing," Davis said. "It's aggravated. Just that side area."
The A's waited as long as they could to avoid getting to this point with Davis, given how much they value his presence in the lineup. To get an idea on the impact he brings, Oakland averaged 1.7 runs in the nine games Davis missed during a stint on the 10-day IL in 2018 with a strained right groin. It averaged five runs per game for the entire 2018 season.
"It hurts," Canha said. "Khris is beloved on this team and a big presence for us. Obviously, we need him back as soon as possible. Hopefully, it'll be a short break and we'll see him back out there, because we need him."
Davis has slugged more home runs than any player in the Major Leagues since the start of the 2016 season, and he entered the night leading the A's with 12 homers to go along with a .250 average with 29 RBIs. In the 12 games he's been able to play in May, he slashed .342/.419/.526 with two home runs.
"He was finding a way to get some hits," Melvin said. " We have to give him a little bit of rest and get him [at] 100 percent. He's a power hitter, so he needs his lower half. That's where his power comes from."
Who replaces Davis?
There is no word on a corresponding move for Davis' likely move to the IL, but one name to keep an eye on is outfielder Skye Bolt. The outfielder was held out of the lineup for Triple-A Las Vegas on Tuesday night and has already had a taste of the Majors, as he was called up earlier this month for an Interleague series with the Pirates. Bolt is hitting .319 with six home runs and 30 RBIs in 33 games with Las Vegas.
Another option would be shortstop Jorge Mateo, who is having quite an impressive year at Triple-A, as he entered Tuesday night batting .321 with six home runs, 37 RBIs, 10 doubles and nine triples over 41 games.