Dodgers activate Hernandez, Taylor from IL
Floro recalled; Negron placed on injured list; Garlick, Sadler optioned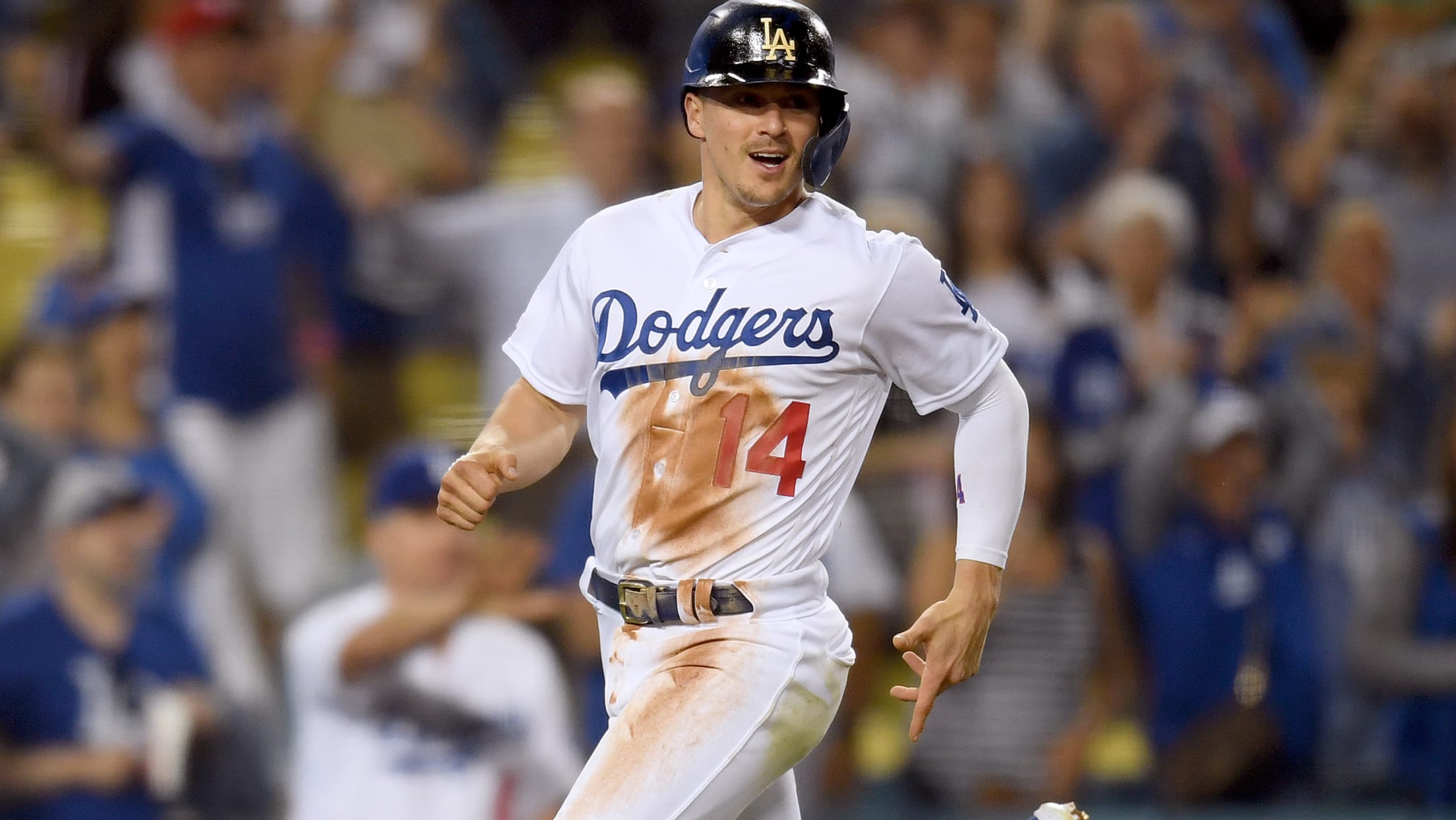 LOS ANGELES -- The Dodgers activated utilitymen Chris Taylor and Kiké Hernandez from the 10-day injured list on Tuesday, triggering other moves that illustrate club depth and upcoming difficult choices. To make room, the club placed infielder Kristopher Negrón on the 10-day injured list with neck stiffness and optioned outfielder
LOS ANGELES -- The Dodgers activated utilitymen Chris Taylor and Kiké Hernandez from the 10-day injured list on Tuesday, triggering other moves that illustrate club depth and upcoming difficult choices.
To make room, the club placed infielder Kristopher Negrón on the 10-day injured list with neck stiffness and optioned outfielder Kyle Garlick to Triple-A Oklahoma City. Also, right-handed reliever Dylan Floro was recalled and right-handed reliever Casey Sadler was optioned.
Taylor has been out since July 15 with a fractured left forearm. Hernandez has been out since July 29 with a sprained left hand. Both were in the starting lineup on Tuesday night.
Negron -- injured making a diving attempt at a catch in Miami last week -- is the third Dodger to be placed on the injured list with neck stiffness this season.
The moves were made with at least one eye on the calendar, as Negron will be eligible to be activated and Sadler will be eligible to be promoted on Sept. 1, conveniently the day rosters expand.
"We have so many great options that, essentially, all these guys are going to play every day," said manager Dave Roberts.
The Dodgers have been using the past few weeks, as well as the remainder of the regular season, to hold tryouts for postseason roles. Hernandez and Taylor seemingly are on the club's roster unless they don't regain their form after their injuries.
Roberts said the club wants to see the progress Floro made at OKC with his inconsistent slider.
David Freese is doing full workouts with the club and will be activated on Sept. 1, taking extra time with a knee and hamstring issue so he will be healthy in October. The way he was bouncing around during infield drills, he appears healthy again.
Outfielder Alex Verdugo continues to experience pain with a strained oblique and has not resumed baseball activities. Roberts said Verdugo won't return until Sept. 1, or later.
But pitcher Rich Hill, out two months with a strained flexor tendon, is pain free and will throw a bullpen session later this week. Hill hopes to return as a starting pitcher.
"He was letting it rip today," said Roberts. "I didn't see anything that would indicate he was on the IL."
Ken Gurnick has covered the Dodgers for MLB.com since 2001.