Yates' non-save struggles continue, Sox escape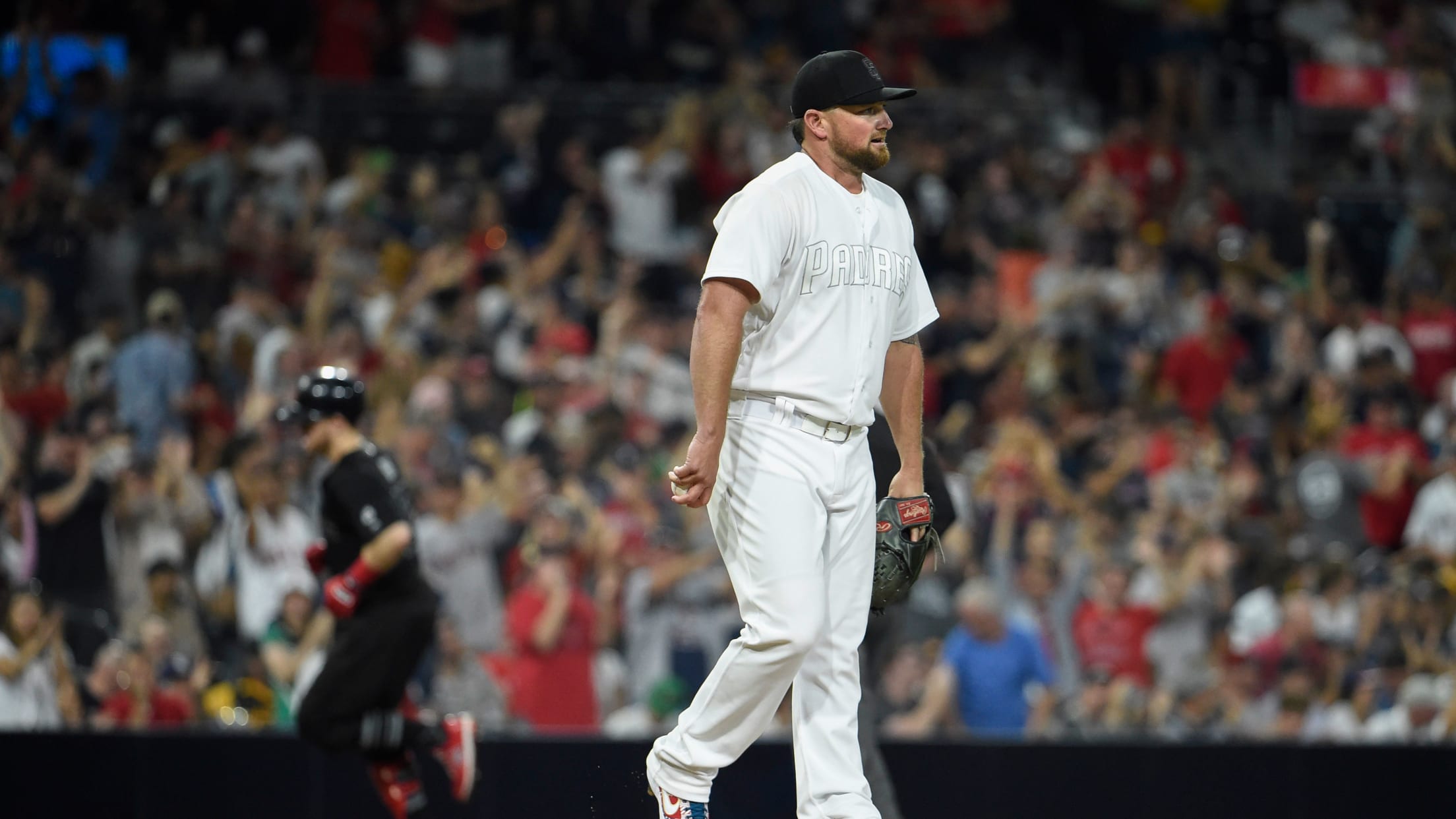 SAN DIEGO -- When given a lead, Kirby Yates has been the most lights-out reliever in baseball this season. When called upon in the ninth inning of a tie game, he's been a different pitcher entirely. It's easy enough to chalk that up as coincidence. Yates' job is to record
SAN DIEGO -- When given a lead, Kirby Yates has been the most lights-out reliever in baseball this season. When called upon in the ninth inning of a tie game, he's been a different pitcher entirely.
It's easy enough to chalk that up as coincidence. Yates' job is to record three outs -- regardless of the score or the situation. But his numbers this season are stark, and the gap in his performance just keeps growing.
On Saturday night, Yates entered with the Padres and Red Sox tied at 4 in the ninth inning. His first pitch was a knee-high fastball that Brock Holt sent into the right-field seats, putting Boston on course for a 5-4 victory.
"Made a bad pitch, guy hits it out of the park," Yates said. "It happens. You don't like it? Make better pitches."
It was only the second home run Yates has surrendered this season -- and the first of any significance. In June, Yates coughed up a solo shot to Charlie Blackmon at Coors Field with a five-run lead. This one stung quite a bit more.
Yates acknowledged that the first-pitch homer threw him a off-kilter. He wasn't sure he'd ever surrendered a go-ahead home run with his first pitch. Perhaps a bit flustered, Yates would load the bases on a double and two walks. He escaped the threat, but it was another reminder of the difference in his performance when he's not tasked with protecting a lead.
The Major Leagues' saves leader, Yates owns a 0.66 ERA in his 39 save opportunities this year. In all other appearances, he's posted a pedestrian 3.97 mark while allowing more than a hit per inning.
"He's out there doing what he can to throw up a zero," said Padres manager Andy Green. "That's his mentality all the time. It's all he's trying to do right there, and I wouldn't read too much into it."
Added Yates: "I've given up some runs with a cushion. But there's no margin for error when you've got a tie ballgame."
Clearly, the Padres have chalked Yates' non-save struggles up to coincidence. But the numbers are still notable.
Yates has allowed only eight earned runs this season. Five have come when he's not pitching for a save. That's an astounding number, considering the fact that only 22 percent of Yates' innings have come in such outings.
Then again, there was little chance the Padres would've turned to anyone else for the ninth. Matt Strahm, Andres Munoz and Craig Stammen had already tossed a scoreless inning apiece.
Munoz was particularly impressive, ending the top of the seventh with a three-pitch strikeout of J.D. Martinez. The third pitch was a 99-mph fastball that Martinez could only flail at.
In the meantime, the Padres' offense staged a furious comeback. Right-hander Dinelson Lamet allowed four runs in five innings, and San Diego found itself in a 4-0 hole early. But Eric Hosmer mashed a two-run homer to cut the deficit in half in the fourth inning, before Ty France tied the game with a pinch-hit single in the seventh.
France -- whose long-term fit with the Padres is probably as a righty-hitting bench weapon -- is now 5-for-10 as a pinch-hitter this season. That's an extremely encouraging sign. But after France tied it, the Padres would strand two men in the seventh and two more in the ninth.
"Huge swing for Ty," Green said. "We just couldn't seem to get that last big hit."
That last big hit would come courtesy of Holt -- though it doesn't change the way the Padres feel about Yates, who owns a 1.38 ERA and a 1.45 FIP this season. Both of those marks are still the lowest in baseball among pitchers with at least 10 innings.
"He's been sensational," Green said. "Over the course of a Major League Baseball season, you'll have an outing that's not perfect. He's been able to battle through so many of them. He's been so good for us for so long. ... We're going to keep giving him the baseball."
Save situation or not.