Glover shut down after setback in rehab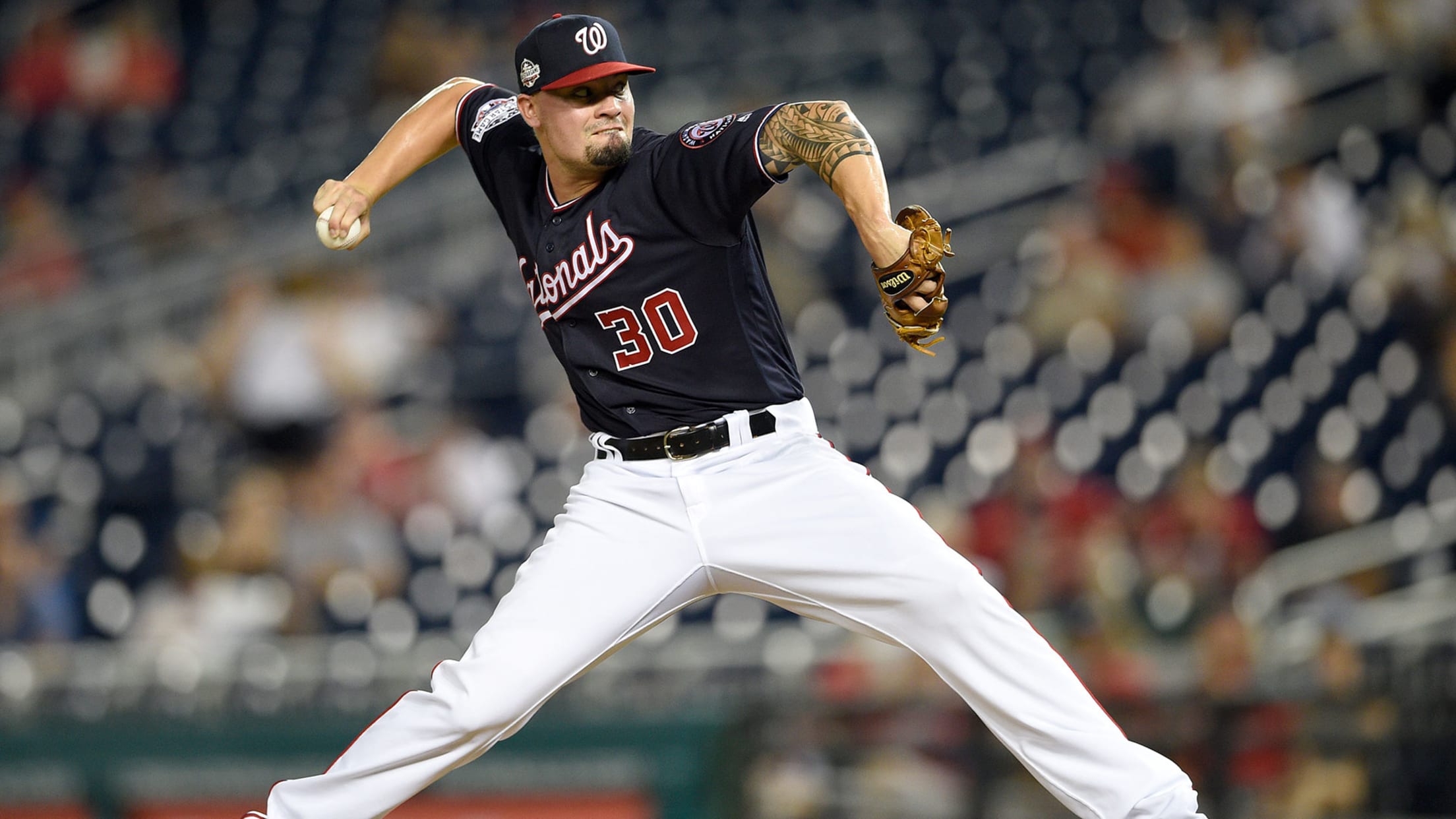 WASHINGTON -- Nationals reliever Koda Glover, who has not pitched this season after sustaining a right forearm strain in Spring Training, experienced another setback while rehabbing at the team's complex in West Palm Beach, Fla. Glover has been shut down for a few weeks after feeling some pain in his
WASHINGTON -- Nationals reliever Koda Glover, who has not pitched this season after sustaining a right forearm strain in Spring Training, experienced another setback while rehabbing at the team's complex in West Palm Beach, Fla.
Glover has been shut down for a few weeks after feeling some pain in his elbow, manager Dave Martinez revealed Thursday. Glover visited orthopedic surgeon Dr. James Andrews in Birmingham, Ala., normally a forbidding sign for a pitcher, but he received a platelet-rich-plasma (PRP) injection that could help him avoid surgery.
"He's going to miss probably another six weeks or so before he can do anything," Martinez said.
Glover, 26, entered Spring Training encouraged by how healthy he felt, and how revitalized after altering his offseason routine to avoid the plethora of injuries that have hampered his career. But in his first game action of the spring, he faced just four batters before leaving. He never appeared in another Grapefruit League game.
Glover had been playing catch and long toss in extended camp. Once considered a potential closer of the future, he has been limited to 44 games in the big leagues since 2017.
Zimmerman continues to run on treadmill
The Nationals have been hopeful that Ryan Zimmerman will feel well enough to start running on the field during the homestand that runs through June 23. He has not played since April 27, a day before plantar fasciitis in his right foot put him on the injured list.
Zimmerman traveled with the team on its recent road trip to San Diego and Chicago and was scheduled to run on the treadmill Thursday. But Martinez did not want to commit to any timeline for when Zimmerman would take the next step, a crucial one before he is ready to play in a Minor League rehab game.
"Everything else is really good, he spent the week with us doing all baseball activities," Martinez said. "He hit a lot. He fielded a lot, he threw, he did everything. The next hurdle is just the running portion. Hopefully, if he progresses, he should be pretty much ready to go out on a rehab out here soon, but the running's going to be key."
Worth noting
• First baseman Matt Adams (left oblique) took batting practice prior to Thursday's game, and it looks like he'll be able to avoid a stint on the injured list.
• Reliever Justin Miller returned from a Minor League rehab assignment feeling stiffness in his right shoulder again and has been shut down. He threw a scoreless inning with a pair of strikeouts in his lone appearance for Double-A Harrisburg on Saturday. Miller was scheduled to meet with a team doctor Thursday.
• Reliever Austen Williams began a throwing program in recent days as he begins the slow process toward returning from a sprained right AC joint.
• The Nats announced they have agreed to terms with 20 players from the MLB Draft. The highest picks among them were fifth-round right-hander Tyler Dyson (Florida); sixth-round shortstop Jackson Cluff (BYU); ninth-round right-hander Hunter McMahon (Texas State); and 10th-round catcher Andrew Pratt (Lubbock Christian).