Bryant, Cubs left frustrated in 2-hit shutout
Third baseman battling through slump; Brewers retake 1st place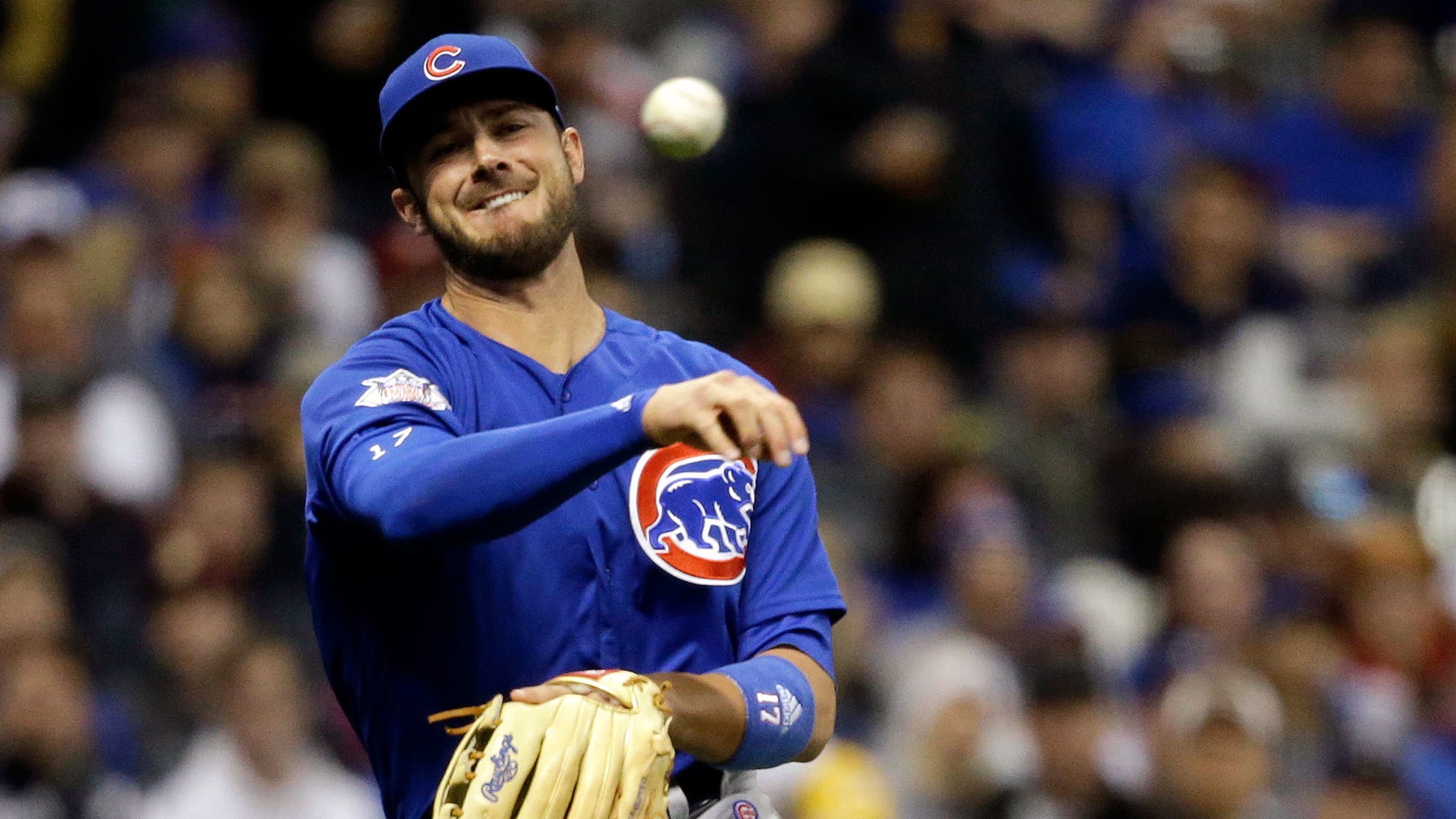 MILWAUKEE -- Kristopher Bryant is batting .281, which for most players would be great. But not for the Cubs' third baseman.Bryant went 0-for-4 on Tuesday night in the Cubs' 4-0 loss to the Brewers at Miller Park, and has extended his homerless streak to a career-high 24 consecutive games. He's
MILWAUKEE -- Kristopher Bryant is batting .281, which for most players would be great. But not for the Cubs' third baseman.
Bryant went 0-for-4 on Tuesday night in the Cubs' 4-0 loss to the Brewers at Miller Park, and has extended his homerless streak to a career-high 24 consecutive games. He's hitless in his past 16 at-bats, striking out six times in that stretch.
"It's all about being patient, and that's who I am," Bryant said. "The last three, four games haven't been great, but I think there's a lot of people who would want to be in my shoes. Sometimes it's all about perspective. My expectations are really high, and that's the greatest and worst thing in the world. That's how I look at it."
Bryant wasn't the only Cubs player who had a tough time against the Brewers' Chase Anderson, who gave up one hit, an infield single by Willson Contreras, over seven innings for the win. Milwaukee jumped back into first place in the National League Central with the win.
But Bryant has been scuffling by his standards, with one extra-base hit and two RBIs in his past 10 games.
"It's a daily battle with all of us," Bryant said. "You're more likely to have a bad day than a good day in this game, and the sooner you realize that and learn from that, then the better you can be in the future. I have my temper tantrums, and I go in here and break a bat or whatever. I try to do it where no one sees me. Sometimes that's a good thing, too. After that, it's all about perspective."
He is playing a game for a living, Bryant said. He wouldn't want to be doing anything else. This is when you learn about yourself as a person.
"It stinks to go out there and not get hits, but I'm playing for one of the best franchises in all sports, and looking back at what I've done, I feel pretty proud," he said. "That's what I go back to -- it's a game and I've accomplished a lot so far."
And, Bryant said, it's OK to be in a slump.
"This has been 15 at-bats, something like that," he said. "Before that I wasn't feeling great either, but I was hitting .300. If I'm complaining about that, I've got big problems.
"This is where you learn the most about yourself and what drives you and what are you going to do. I still have those feelings in my gut before the game and I know they're there. I want to go out there and do well, and the day those aren't there, I shouldn't be playing. I come to the field excited every day that I can do something that nobody has ever done before, and that's what keeps me going."
Cubs manager Joe Maddon isn't worried about his third baseman.
"He hit that ball good to left field, but overall he's been off his game," Maddon said. "I am certain he's going to be fine. There are some really good hitters who have gone through a little bit of a funk. It happens. You stay with the guy, and you know he's good and he'll come out of it. In the meantime, you make sure he's OK because he's going to beat himself up a little bit."
Cubs starter Tyler Chatwood has gotten back on track, even if he did take the loss Tuesday. He served up a pair of two-run doubles to Travis Shaw. A good sign is that he issued two walks, the third time in 13 starts that he has walked two or fewer. The right-hander leads the Major Leagues in free passes with 58 over 63 1/3 innings.
"It was more changeups, more curveballs, that's what I thought I saw," Maddon said. "He didn't try to beat them up with his fastball."
MOMENTS THAT MATTERED
Comic relief? This is not a moment the Cubs will want to remember. Christian Yelich was on second in the third inning when Lorenzo Cain hit a grounder to second baseman Javier Baez, who ran toward Yelich to catch him between second and third. The rundown began as Baez threw to Bryant, who threw to Addison Russell, then Chatwood, who chased Yelich back to second. Cain also was arriving at second, but he saw that no one was covering first and scampered back in time. Both he and Yelich were safe on the botched play, and both scored on Shaw's double to put the Brewers ahead, 4-0. More >
"It's just a freak play," Chicago's Anthony Rizzo said.
"I thought Yelich was for sure going to continue to go to third and he didn't," Bryant said. "I guess there could've been more awareness from all of us knowing where everybody was, Riz being at home plate and nobody being at first. That was just a weird play, I don't know if we'll ever see that again."
SOUND SMART
The Cubs were shut out for the fifth time this season and first time since May 23. They're now 10-20 when scoring four or fewer runs this season.
UP NEXT
Mike Montgomery will close the series on Wednesday against the Brewers' Jhoulys Chacin. Montgomery has made it no secret he wants to start, and he's doing a good job subbing in for Yu Darvish. Montgomery is 2-0 in three starts, giving up two earned runs over 17 2/3 innings. In his last outing against the Pirates, the lefty threw a season-high 95 pitches over six innings. First pitch is scheduled for 1:10 p.m. CT from Miller Park.