Negron impresses with nifty running catch
'Getting to stretch your legs out in the outfield is fun'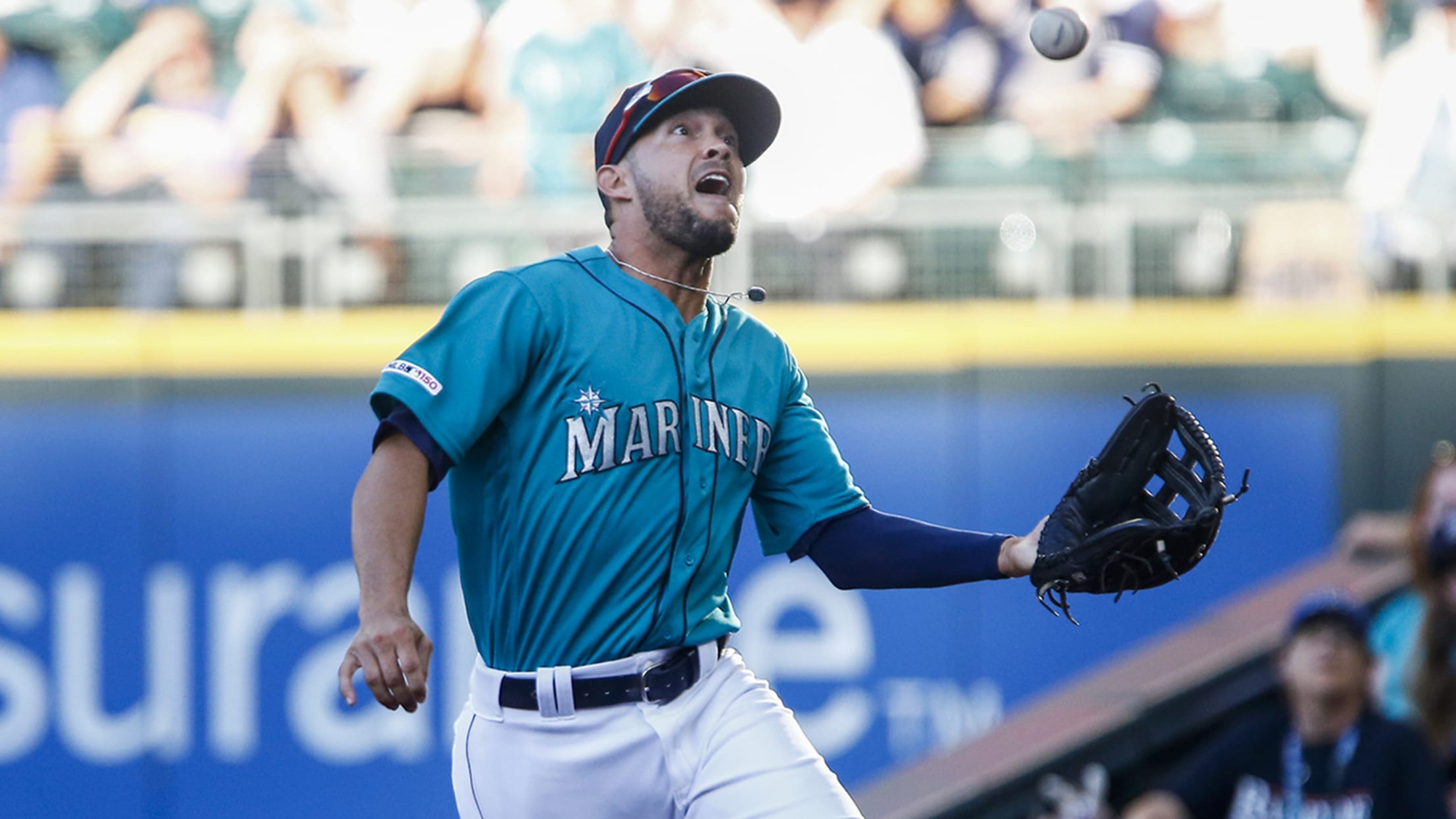 SEATTLE -- J.P. Crawford's spectacular play at shortstop late in Friday's 3-2 walk-off win over the Tigers caught the headlines, but that wasn't the only outstanding defensive effort turned in by a Mariners club that has struggled with the gloves much of the year. Utility man Kristopher Negrón, playing right
SEATTLE -- J.P. Crawford's spectacular play at shortstop late in Friday's 3-2 walk-off win over the Tigers caught the headlines, but that wasn't the only outstanding defensive effort turned in by a Mariners club that has struggled with the gloves much of the year.
Utility man Kristopher Negrón, playing right field in Domingo Santana's absence, made a long running grab of a foul ball down the line by Miguel Cabrera in the first inning that rated as a four-star catch by Statcast, with just a 30-percent catch probability.
"Very good play," said Mariners manager Scott Servais. "We haven't seen that play made too much in right field this year. Kris is a good runner. He doesn't get enough credit. He can run. He's a good outfielder.
"He did a good job in the outfield last year when we brought him up and he's made some plays this year. He went a long way to get that ball. That's not an easy one -- especially with the wall that's cut out there at an angle -- for guys that aren't out there that much."
While Negron has primarily been an infielder in his career, he does have some outfield experience, and he flashed surprising speed in tracking down Cabrera's pop fly. According to Statcast, Negron covered 117 feet in 5.6 seconds, reaching a top sprint speed of 30.3 feet per second, which is above the 30-plus mark that is considered elite MLB speed.
Equally impressive was Negron's initial jump of 4.1 feet above MLB average, showing excellent instincts and a quick read for a player who doesn't normally man an outfield position.
"I was shaded toward the line, and as soon as the ball went up I just started going after it hard," Negron said. "I was hoping it would stay in and I'd have enough room. When I got closer to it, I wanted to make sure I didn't end up in the stands. But I had just enough room. You don't get to do that very often in the infield. Getting to stretch your legs out in the outfield is fun."
With Santana limited to designated hitter duties for now due to a strained right elbow, combined with Mac Williamson's recent departure -- he was outrighted to Triple-A Tacoma and then given his release to go play in South Korea -- Negron will see plenty of outfield time in the coming days.
Dylan Moore, who had been playing a lot of left field, has shifted to second base to help out while Dee Gordon is out with a strained left quad muscle. Veteran infielder Tim Beckham has shifted to left field, and Negron and newly-promoted Ryan Court will play right. Court got his first MLB start there on Saturday, going 2-for-5 with a double and three RBIs in Seattle's 8-1 win vs. the Tigers.
Lopes feeling better
Rookie second baseman Tim Lopes said he was finally feeling better Saturday after getting knocked out of his first Major League start on Thursday by a 91-mph fastball off his ear flap. The 25-year-old is on the seven-day concussion list, but feels he'll be ready to go once that period ends.
"It's definitely not how I pictured my first start to go," Lopes said. "But again, I was really excited to be out there with my teammates and experience being a Major League baseball player. It's been a dream of mine since I was a little boy. That's the part I definitely think about more.
"My dream came true these last couple days, and just being in the clubhouse with all these teammates and just getting to live like a big league baseball player is what I'm focusing on. I'm so thankful for the opportunity."
Worth noting
• Veteran reliever Hunter Strickland, who has been sidelined since straining the lat muscle in his right shoulder in the fourth game of the season, is ready to be activated off the 60-day injured list. But that move won't come until Sunday or perhaps early next week, as the Mariners will need to clear a spot for him on the 40- and 25-man rosters, all while they juggle some decisions with the Trade Deadline looming on Wednesday.
• Gordon has yet to resume baseball activities since going on the 10-day IL on Tuesday with a left quad strain, but the knot he initially had in that muscle has dissipated, and the veteran second baseman will likely begin doing some light work next week when the team hits the road in Texas.
• Rookie reliever Parker Markel was claimed off waivers by the Pirates after being designated for assignment Tuesday to clear a 40-man roster spot for second baseman Lopes. The 28-year-old right-hander was 4-0 with a 2.04 ERA and 62 strikeouts in 35 1/3 over 27 games at Double-A Arkansas and Triple-A Tacoma, but had a 15.43 ERA in 4 2/3 innings in five outings for Seattle.
When a player's contract is designated for assignment -- often abbreviated "DFA" -- that player is immediately removed from his club's 40-man roster, and 25-man roster if he was on that as well. Within seven days of the transaction, the player must either be traded, released or placed on irrevocable outright waivers.