Barraclough, Suarez recalled to fortify 'pen
Cueto expected to be activated on 7-game road trip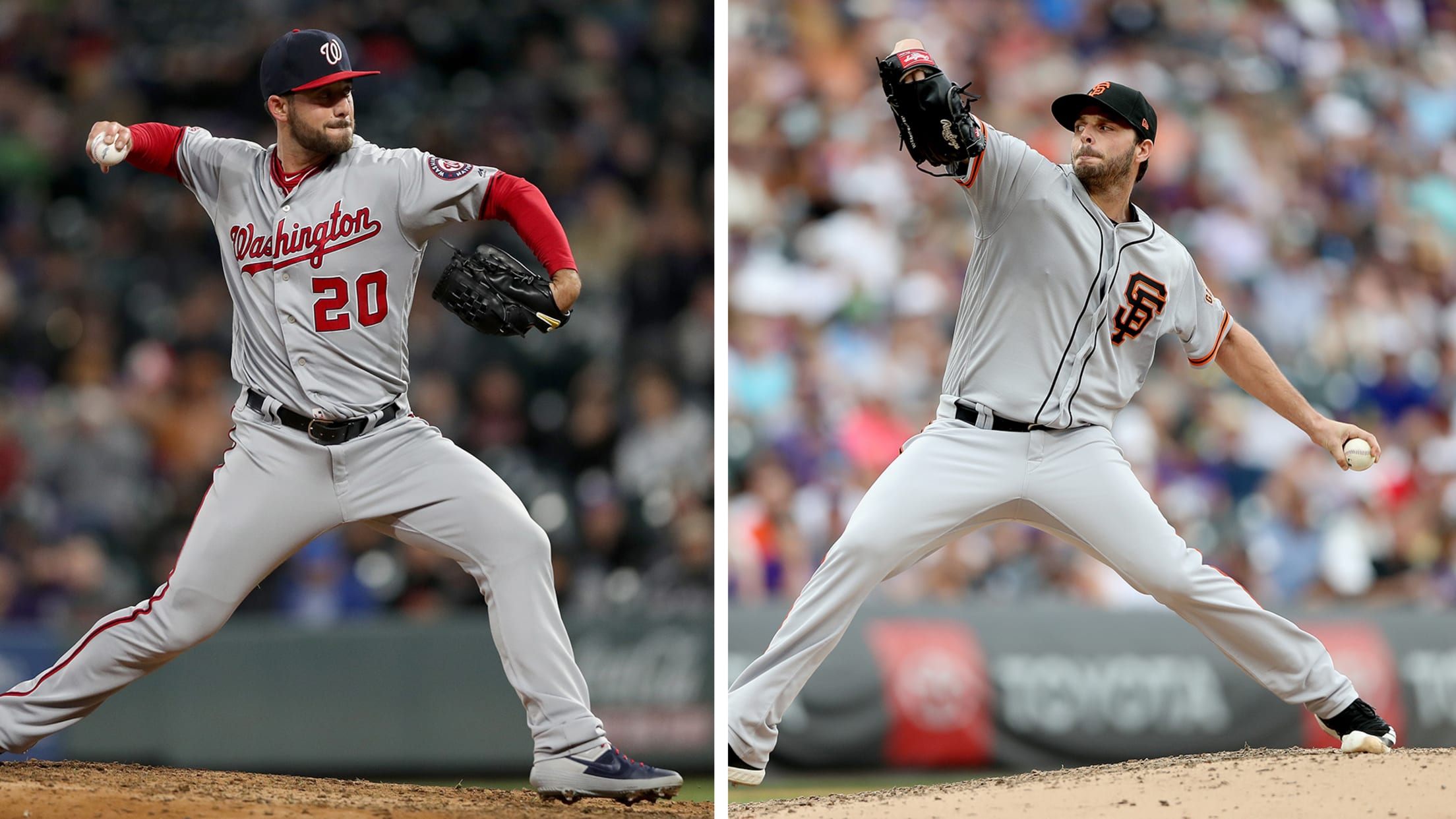 ST. LOUIS -- A day after Reyes Moronta suffered a season-ending shoulder injury, the Giants summoned a pair of pitchers -- right-hander Kyle Barraclough and left-hander Andrew Suarez -- to fortify their bullpen for the final four weeks of the regular season. Both made immediate appearances in the club's 3-1
ST. LOUIS -- A day after Reyes Moronta suffered a season-ending shoulder injury, the Giants summoned a pair of pitchers -- right-hander Kyle Barraclough and left-hander Andrew Suarez -- to fortify their bullpen for the final four weeks of the regular season.
Both made immediate appearances in the club's 3-1 loss to the Cardinals later in the day.
With 11 healthy pitchers now in his 'pen, Giants manager Bruce Bochy noted that he'll likely deploy Suarez, who was recalled for the fourth time this season, in long relief. That wasn't the case on Monday, though, as Suarez retired two batters before being relieved by a righty.
Barraclough's usage will be a bit more fluid.
The Santa Clara, Calif., native endured plenty of uncertainty in August. He was designated for assignment twice during the month -- once by the Nationals, then by the Giants less than a week after they had claimed him from Washington. When he wasn't claimed again, the Giants outrighted Barraclough to Triple-A Sacramento. He carried with him a homework assignment.
"They presented some analytical stuff when I first got here that I've been trying to utilize as much as possible," said Barraclough, whose addition on Monday filled the Giants' 40-man roster. "[I've been] seeing some good results my last four or five outings, so it's been nice to be able to do that and get through a couple of innings clean and get on a little roll. Just try to continue that up here."
The task? To incorporate his secondary pitches -- a changeup and slider -- more frequently.
"Once they sat me down and showed me some of the numbers, they were kind of staggering," he said. "[It was like], 'Wow. I really do need to make an adjustment and be comfortable ... throwing different pitches more often.' I'd just like to reestablish some of the stuff I was doing the first couple years of my career."
Statcast data confirms that Barraclough's reliance on his fastball has steadily risen over the past three years. It climbed from 54.3 percent in 2017 to 59.8 percent in '18. This year, it's at a career-high 66.4 percent. Conversely, Barraclough has dropped his slider usage from 41.4 percent to 17.2 percent in a two-year span.
After allowing seven earned runs in his first two outings for Sacramento, he rolled out five consecutive hitless appearances in which he struck out nine and walked three. Barraclough's previous success pitching late in games for Miami intrigues the Giants, which is why they intend to get him looks in high-leverage opportunities over this final month.
He was summoned to cover the seventh on Monday and worked around a hit and a walk to finish a scoreless inning on the heels of a red-eye flight to St. Louis. He threw four curveballs and five changeups to go along with 11 fastballs in his first big-league appearance since July 26.
Rotation rumblings
While the Giants still expect Johnny Cueto to make his return to the rotation on this seven-game road trip, they have not yet determined when exactly it will come. Bochy said Monday that he expected to huddle with his staff later in the day to make that determination.
Cueto has spent the entire season recovering from Tommy John surgery and made six appearances on a rehab assignment, which he completed with a six-inning start for Sacramento on Saturday. He traveled with the Giants to St. Louis and will throw a bullpen session while the club is in town.
Bochy also noted that right-hander Burch Smith, who was included in the Giants' first wave of callups, will be considered for a possible start later this month. Smith, who has started 13 big league games for the Padres and Royals, has yet to make his debut for San Francisco.
Jenifer Langosch is a senior content manager at MLB.com. She previously covered the Pirates (2007-11) and Cardinals (2012-19). Follow her on Twitter.