Crick, Rodriguez up as Bucs shuffle bullpen
Holmes, Smoker sent to Triple-A Indianapolis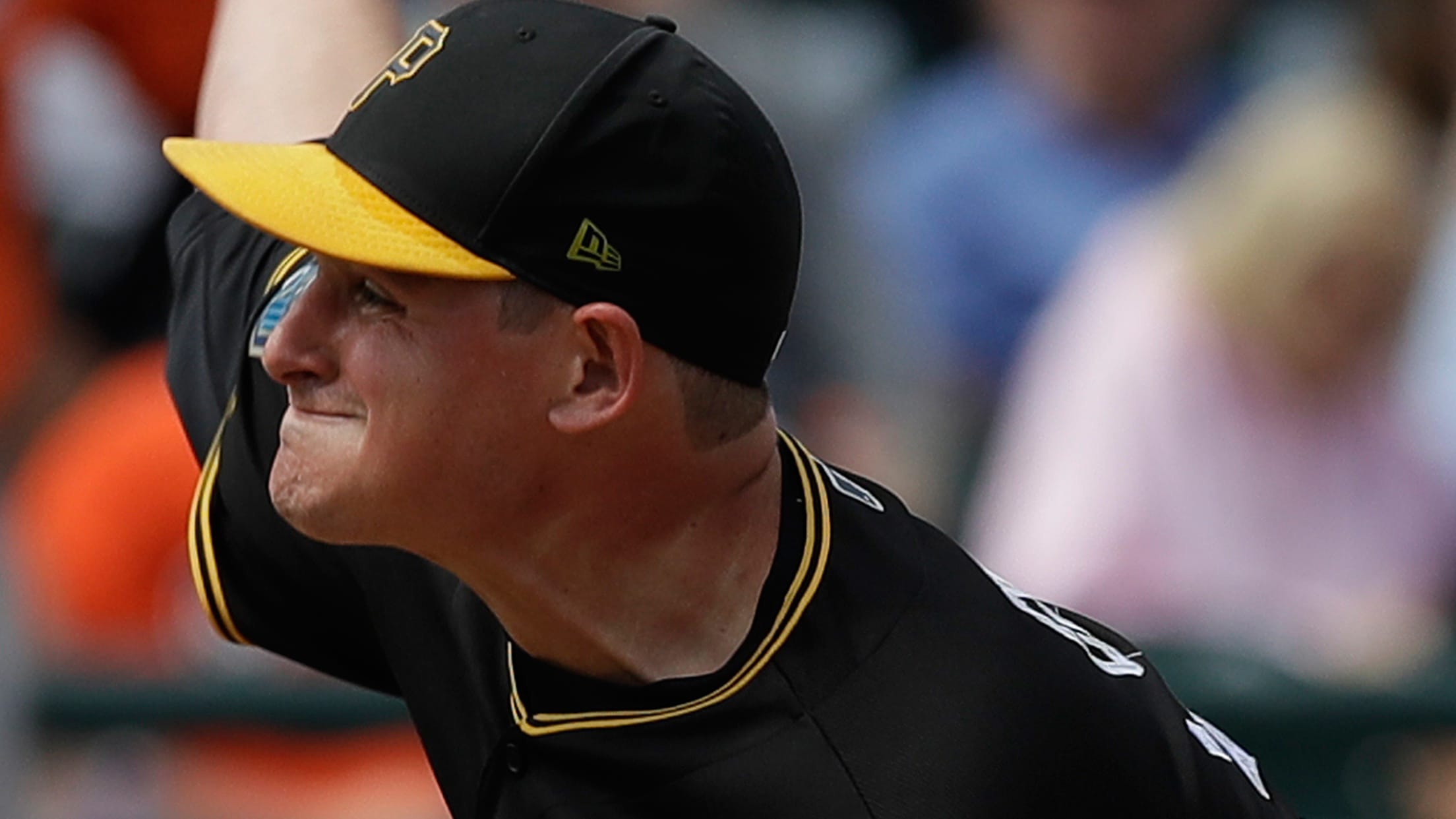 MIAMI -- Right-handed reliever Kyle Crick, the key return in the Andrew McCutchen trade, was called up to the Pirates as part of a series of roster moves the club announced on Friday.Right-hander Richard Rodriguez was also called up, while right-hander Clay Holmes and left-hander Josh Smoker were optioned to
MIAMI -- Right-handed reliever Kyle Crick, the key return in the Andrew McCutchen trade, was called up to the Pirates as part of a series of roster moves the club announced on Friday.
Right-hander Richard Rodriguez was also called up, while right-hander Clay Holmes and left-hander Josh Smoker were optioned to Triple-A Indianapolis in corresponding moves.
Crick was expected to make the Opening Day roster but had a rough spring, giving up seven earned runs in 11 innings (5.73 ERA) while struggling to locate his fastball. He posted a 3.06 ERA in 30 games with the Giants last season.
This year with Indianapolis, Crick made three relief appearances and went 1-0 with a 2.25 ERA over four innings, striking out five without walking a batter, convincing the Pirates that he is garnering better command of his fastball.
"The reports we got were, there's been ramped-up velocity," said manager Clint Hurdle prior to Friday's game. "There's been some improvement with the slider as well."
Crick said that while his main goal this spring was fastball command, it wasn't quite up to standards.
"I have to get the fastball down before I can open up a slider, changeup. … If I'm not commanding that pitch; the other ones aren't near as effective," Crick said on Friday. "I threw a lot of strikes [in Spring Training], but there were a couple of rough outings."
Still, Crick said he wasn't worried about making it back to the big leagues.
"When I got sent down initially, I wasn't that worried about it because I have confidence in my stuff," he said. "So it's not like I hadn't done it before. I did it the previous year. I got out of Triple-A and got up, so it was something I had done before, so I had the confidence to do it again.
"It's not the way you want it to happen, per say, but it is what it is and it happened. Now we're here."
Crick said he's ready for any role the Pirates have for him.
"I'm just here to pitch whenever they want, whenever they call my name," Crick said.
Rodriguez was a non-roster invitee to Pirates camp and had a decent spring. Over eight outings, he gave up three earned runs in 7 1/3 innings (3.68 ERA).
"We liked him in the past," said Hurdle. "He went and had a very exceptional, we thought, winter ball. He pitched well for us in spring."
The rookie made five appearances with Baltimore in 2017 and had two scoreless outings this season at Indianapolis, striking out nine and yielding just one hit over five innings of work.
"I've been very focused, obviously, on making sure that I'm hitting the zone and getting the ball into the location that it needs to be in," Rodriguez said through interpreter Mike Gonzalez. "But something that I've really been noticing that helped me out a lot is just my focus. I've matured a lot in my mental focus and I feel like that's been a great help in my production."
Smoker averaged an earned run per inning in four frames over five outings, also giving up nine hits with two walks and zero strikeouts.
Holmes gave up an earned run in two innings over his lone outing. He broke camp as the club's long reliever but will return to starting at Indianapolis.
Glenn Sattell is a contributor to MLB.com based in Miami.