Lewis closes out impressive big league camp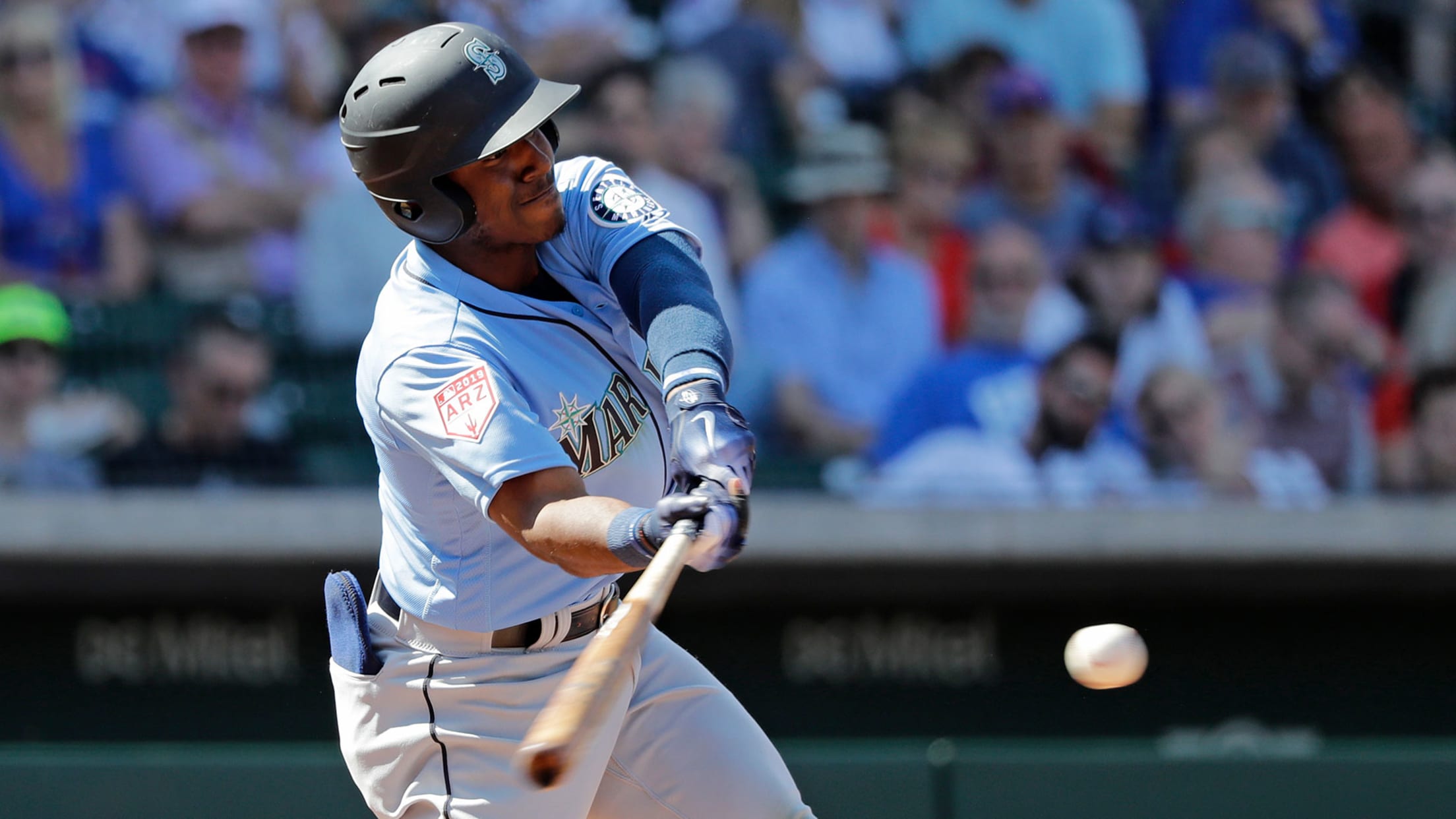 PEORIA, Ariz. -- Kyle Lewis closed out the Cactus League season one hit shy of Jay Bruce's team-best .433 batting average, capping a remarkable debut in a big league camp for the 23-year-old outfielder. Lewis is the Mariners No. 7 prospect, according to MLB Pipeline, and he opened a lot
PEORIA, Ariz. -- Kyle Lewis closed out the Cactus League season one hit shy of Jay Bruce's team-best .433 batting average, capping a remarkable debut in a big league camp for the 23-year-old outfielder.
Lewis is the Mariners No. 7 prospect, according to MLB Pipeline, and he opened a lot of eyes with his .423 average (11-for-26), three homers, and five RBIs in 12 Cactus League games. He was 1-for-2 with a double to left and a run in Friday's 8-7 win over the Angels.
"We're just seeing the tip of the iceberg of what he's capable of doing," Triple-A manager Daren Brown said as he piloted the Mariners for the second of two games featuring all Minor Leaguers as the Major League roster returned from Japan. "You saw a little bit of what he can do [last season at Double-A Arkansas]. The numbers at the end of it weren't great. But young kid, getting his first taste of Double-A, he showed us what he's capable of doing.
Lewis was the Mariners' No. 1 Draft pick in 2016, Jerry Dipoto's first season as general manager. He's been slowed in his first three Minor League season by an ACL and meniscus injury to his right knee following a home-plate collision in his first season of pro ball. But finishing 2018 healthy has given Lewis the head start he wanted to step up his game this spring.
"Last year I didn't really have much of an offseason because I had a knee scope in February, missed Spring Training and was thrown right into the season," Lewis said, crediting training two months with the Mariners in Arizona and another two months in Florida for his big jump in production from last season to this spring. "I just focused on my overall strength, body control, balance. And honestly, just hammering everything hard. My diet, my body, my mind.
"I wanted to try and come in ready, knowing that it would be big league camp. I wanted to make a good impression."
Lewis is high on confidence after getting comfortable in the big league clubhouse and having success against the likes of Yu Darvish and other big league pitchers.
"Honestly, being able to interact with the guys [was my highlight]," Lewis said. "The way they've kind of embraced us, trying to help us learn. I tried to not come in and say too much. Just sit back and play my role."
His role to start the season will be back with Arkansas, but he announced himself as a coming attraction to keep tabs on in the Mariners' future.
"I'm ready for the season now -- ready to go live," he said before signing autographs for a cluster of youths eager to see the emerging prospect in Friday's Cactus League finale. "Hopefully just try and keep this rolling into the season, put together a full year and hammer down on my preparation. See where that takes me."
Danish hits sweet spot in start vs. Angels
The Mariners' middle relief stumbled against the Angels Friday, giving up six runs and the lead in the fifth and sixth innings, but a strong start from Tyler Danish gave them the staying power to reclaim the lead.
Danish pitched four innings of one-run ball on four hits, no walks and six strikeouts. It was Danish's third Cactus League appearance, and he ended his spring with a 1.35 ERA.
"He's tough to square up, you saw that tonight," Brown said. "Good changeup, good slider, sinking fastball, he came after guys, threw strikes. It was good for him."
The win marked two in a row to close the Cactus League season as the Minor League Mariners beat the Reds' split squad and an Angels team mostly made up of Major Leaguers.
"It's a good opportunity, especially for the younger players, Lewis, [Evan] White, [Jake] Frailey," Brown said. "They get the opportunity to play in the stadium under the lights. Especially here at the end of Spring Training, where it can kind of be a grind, gets them ready to get into the season."
Prospect suspended
Mariners Minor League outfielder Eric Filia (the team's No. 28 prospect) was one of three Minor League players suspended Friday for violating the Minor League drug prevention and treatment program. Filia, who is on the Double-A roster, received a 100-game suspension without pay for his third positive test of a drug of abuse in violation of the program.
"The Seattle Mariners are disappointed that Eric Filia has violated the terms [of] Major League Baseball's Joint Drug Prevention and Treatment Program," the club said in a statement. "Our organization fully supports the program and its efforts."
Up next
The Mariners play next at 7:10 p.m. PT on Monday in Seattle, hosting the Padres for the first of two exhibition games. The team will draw primarily from their regular-season roster, fresh from their season-opening trip to Tokyo, but they will also carry a number of Minor Leaguers to give them depth and keep their roster fresh for Thursday's home opener against the Red Sox.