Seager's frustrating season drawing to a close
Third baseman's output affected by shift; starters for final two games still to be named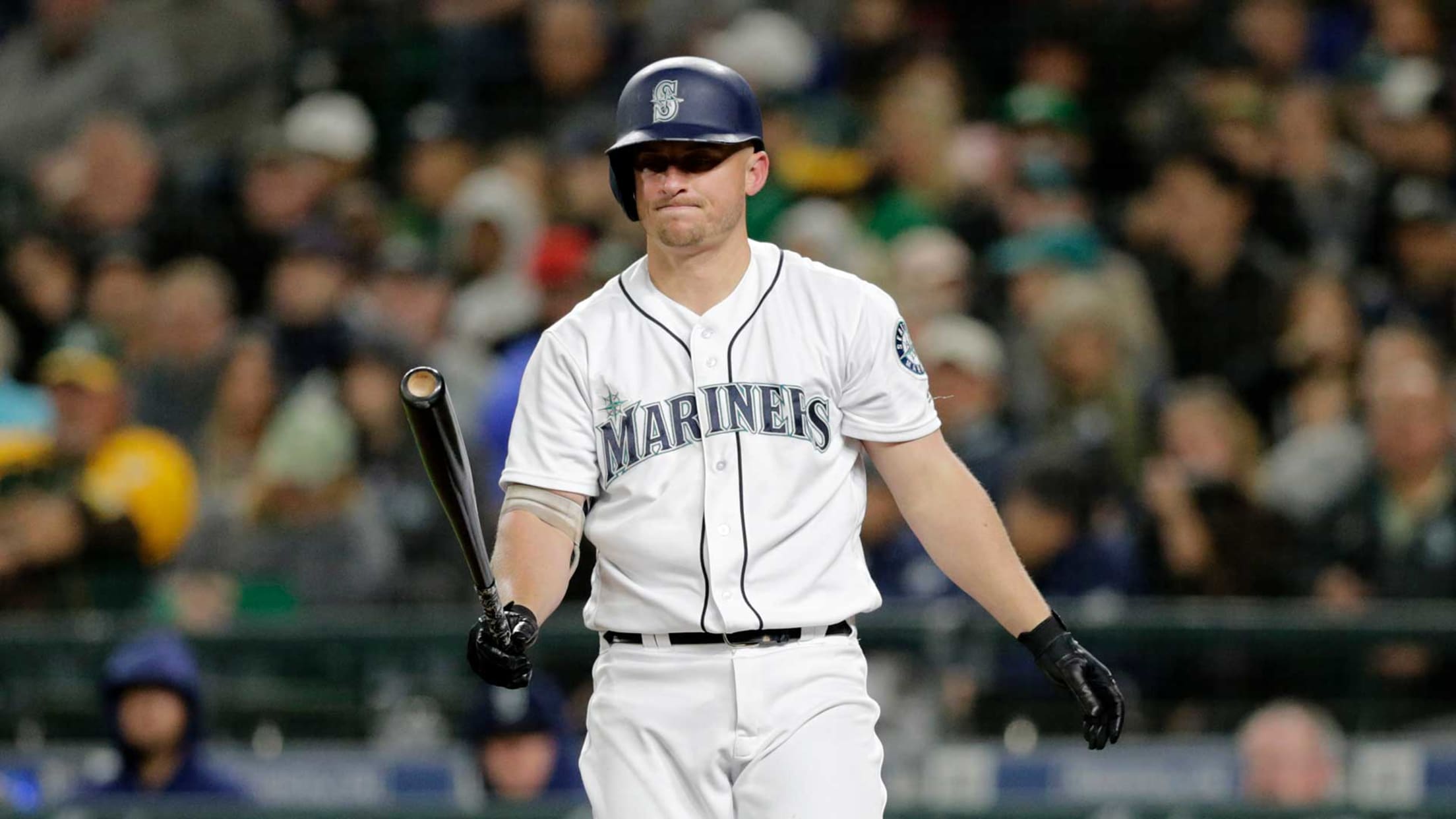 SEATTLE -- Scott Servais wasn't shy about it: Kyle Seager hasn't had a good season."It's been a long year for Kyle and it hasn't been a productive year -- what he's used to," Servais said. "He's accountable. He understands that he's a big part of this team and he didn't
SEATTLE -- Scott Servais wasn't shy about it: Kyle Seager hasn't had a good season.
"It's been a long year for Kyle and it hasn't been a productive year -- what he's used to," Servais said. "He's accountable. He understands that he's a big part of this team and he didn't have the year he wanted to have."
After six straight years of steady production, Seager's age-30 season has been his worst since he came up to the Mariners as a rookie in July 2011. The Mariners third baseman is poised to set career lows with a .221 average, .273 on-base percentage and a .674 on-base plus slugging percentage. He has three years and $57.5 million left on his contract, plus a club option worth $15 million.
Seager's season was slowed by a toe fracture he suffered in Baltimore in June, after which he slashed just .209/.264/.358. Servais acknowledged Wednesday that he did start to see Seager slip into some bad habits in the batter's box due to the avulsion fracture -- which could serve as an explanation for Seager's career-high 21.8 percent strikeout rate and career-low 6.0 percent walk rate in 2018.
"After the toe injury happened, there was a significant decline in what he was doing," Servais said. "He was trying to find it, and I think you try to make adjustments to compensate because you still need to produce and that's what he was he was trying to do. It just didn't work out."
Seager has also been hurt by the increased prevalence of the infield shift in 2018 since he's such a pull hitter. Only nine of his 175 career homers landed to the left of center field, and he's pulled at least 40 percent of his batted balls since 2013.
He's seen a shift in 70.4 percent of his plate appearances, good for tops on the Mariners and 20th most in baseball. He hits .246 against defenses that shift and .286 the ones who don't. His homer total -- which the shift is powerless to dampen -- sits at 22, a typical Seager season.
But amid the vagaries of all the figures used to evaluate Seager, one number continues to rise steadily: his age. Servais said Seager will likely alter his offseason training regiment in order to see different results.
"I think kind of where he's at right now in his career, he maybe has to train a little bit differently in the offseason," Servais said. "He's been very open to in discussions with him over the last couple weeks about trying some things with him and he's actually kind of excited about it. He's gotta make adjustments and be better next year."
Final starters uncertain
Servais did not name starters for the final two games of the season, saying only that Marco Gonzales and Wade LeBlanc would pitch on Thursday and Friday, respectively. In talking to James Paxton on Tuesday, however, Servais said the big lefty felt pretty good about starting on Saturday.
Mike Leake went a career-low 1 1/3 innings pitched Tuesday and would be in line to start the last game of the season on Sunday, but the righty didn't seem confident he would take the ball for what would be his 32nd start of the season.
"I don't feel like I need to," Leake said Tuesday. "I would say most likely it won't happen."
Thon Jr. hired as new international scouting director
Frankie Thon Jr., who spent the past two years as the Angels' assistant international director, has been hired as the Mariners' new director of international amateur scouting.
Thon replaces Tim Kissner, who was not extended a new contract last month after filling the position since 2013. Thon will oversee all facets of the club's international scouting operation.
"Frankie will be a great addition to our organization," said Tom Allison, the Mariners' vice president of scouting. "He has strong experience in both pro and amateur scouting, has worked extensively in the international market and has had steadily increasing responsibilities in cross-checking and supervising other scouts."
With the Angels, Thon was scouting in Latin America and Asia and overseeing scouts in five countries. He previously worked as a scout with the D-backs for eight years. Thon is the son of long-time MLB scout Frankie Thon, who is currently working for the Orioles, and the nephew of former Major Leaguer Dickie Thon.