Saturday's top prospect performers
Braves right-hander fires six dominant frames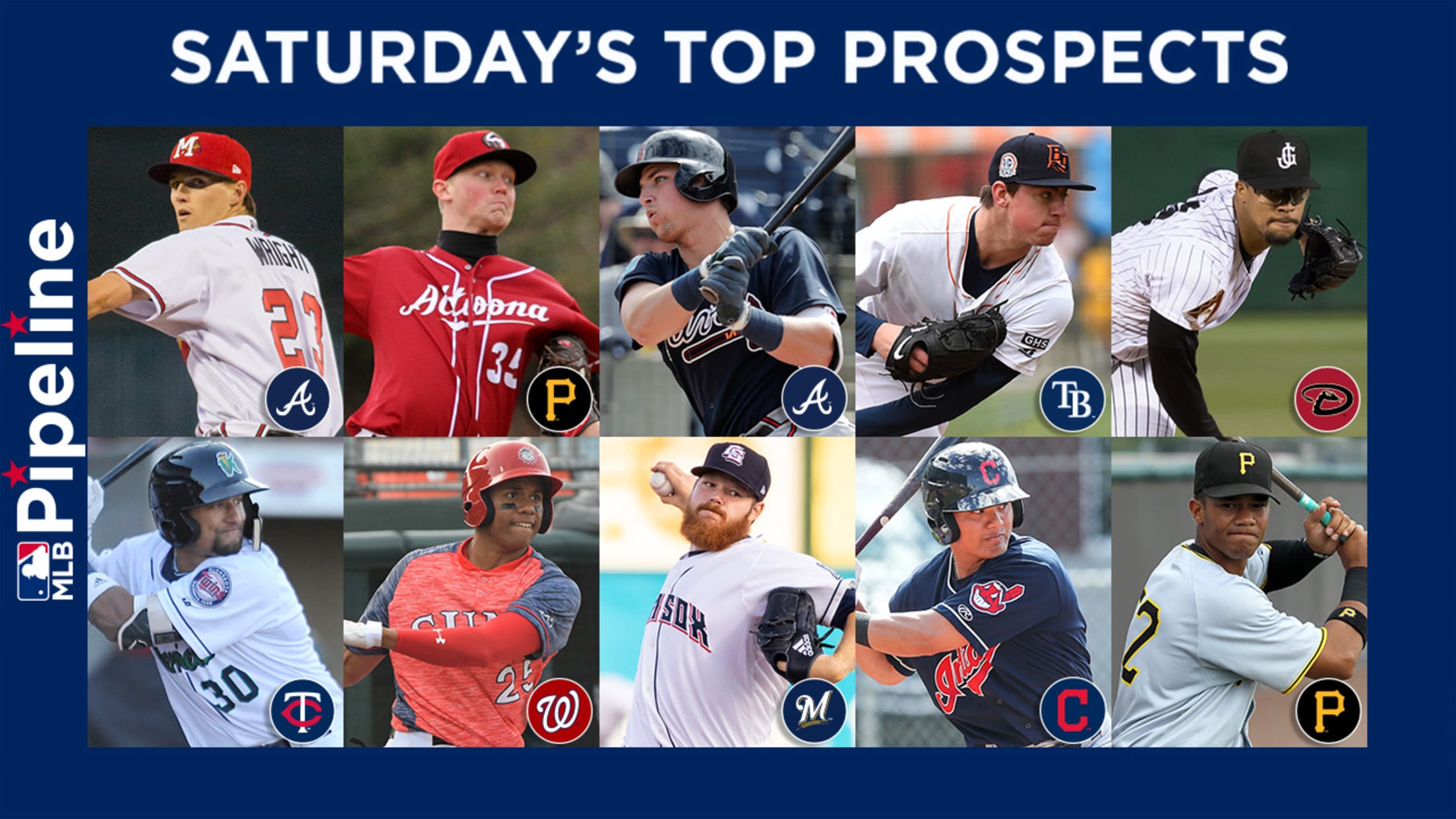 Here's MLB Pipeline's roundup of the top prospect performances in the Minor Leagues on Saturday.Kyle Wright had shown flashes of excellence early in his first Double-A campaign before putting it all together Saturday night in his finest performance as a pro.Wright, Atlanta's No. 2 prospect (No. 30 overall), turned in
Here's MLB Pipeline's roundup of the top prospect performances in the Minor Leagues on Saturday.
Kyle Wright had shown flashes of excellence early in his first Double-A campaign before putting it all together Saturday night in his finest performance as a pro.
Wright, Atlanta's No. 2 prospect (No. 30 overall), turned in a career-long outing, tossing six-plus scoreless innings of one-hit ball to lead Double-A Mississippi past Mobile, 3-1. He issued two walks and struck out four, throwing 52 of his 84 pitches for strikes.
The two-out hit Wright allowed in the first inning was the only real blemish in his performance. He proceeded to retire 15 of the next 16 batters before departing the game in the seventh inning, after he had issued a leadoff walk to Matt Thaiss (Angels' No. 9). A pair of M-Braves relievers handled the final three innings to help secure Wright's first win at the Double-A level.
MILB Video - Title: Wright retires 15 of 16 batters - Url: http://www.milb.com/r/video?content_id=1963344583
The 2017 first-rounder (No. 5 overall pick) scuffled in his previous turn, allowing four earned runs in just one inning after posting 7 2/3 scoreless frames across his first two M-Braves starts. Overall, Wright, 22, owns a 2.45 ERA on the season, with 14 strikeouts and nine walks in 14 2/3 innings.
Austin Riley (Braves' No. 8, No. 97 overall) did his part to support Wright's cause by going 2-for-4 with two doubles and an RBI. The 21-year-old third baseman is already up to eight doubles this season in 16 games, during which he's hitting .386/.435/.754 with 11 runs scored and 14 RBIs.
The rest of the best performances from top prospects Saturday
• No. 15 overall prospect Mitch Keller (Pirates' No. 1) completed a season-high seven innings to pick up his second win for Double-A Altoona. The 22-year-old right-hander wasn't at his sharpest, allowing three earned runs on six hits and three walks, though he still struck out seven and generated another eight outs on the ground. Jason Martin (No. 22) delivered his first home run, a two-run shot in the second inning, and later added a double to finish the game 3-for-4 with three runs.
• No. 20 overall prospect Royce Lewis (Twins' No. 1) lifted his average from .222 to .323 for Class A Cedar Rapids behind a perfect 4-for-4 performance. The four hits, all singles, matched the 2017 No. 1 overall Draft pick's career-high mark. He also scored two runs and swiped his second base as the Kernels fell to Kane County, 9-2.
MILB Video - Title: Lewis notches fourth hit - Url: http://www.milb.com/r/video?content_id=1962242983
• No. 25 overall prospect Brendan McKay (Rays' No. 3) fired four scoreless innings, allowing two hits and no walks with seven strikeouts in a no-decision for Class A Bowling Green. He threw 84.4 percent of his pitches (38 of 45) for strikes in the dominant performance and now owns a 2.00 ERA with 15 strikeouts and four hits allowed in nine innings (three starts) this season. At the plate, meanwhile, the two-way star is hitting .346/.546/.385 with 10 RBIs and an absurd 13-to-3 walk-to-strikeout ratio.
• There's no stopping No. 29 overall prospect Juan Soto. The Nationals' No. 2 prospect belted his fifth home run, a three-run shot, as well as his third triple as he recorded multiple hits for the fourth time in five games for Class A Hagerstown. Through 15 games, the 19-year-old outfielder is slashing .389/.507/.870 with 13 extra-base hits, 24 RBIs and more walks (15) than strikeouts (11).
MILB Video - Title: Soto crushes three-run homer - Url: http://www.milb.com/r/video?content_id=1962236283
• No. 74 overall prospect Jon Duplantier (D-backs' No. 1) worked five strong innings as he picked up the win for Jackson in his season debut. It also marked the Double-A debut for the 23-year-old righty, who allowed two earned runs on four hits and one walk while striking out six. The 2017 MLB Pipeline Pitcher of the Year had opened the season on the disabled list with a hamstring injury.
MILB Video - Title: Duplantier fans six in AA debut - Url: http://www.milb.com/r/video?content_id=1963159683
• No. 96 overall prospect Brandon Woodruff (Brewers' No. 3) allowed just one earned run while completing at least five innings for a third straight start for Triple-A Colorado Springs. The 25-year-old righty tallied a season-high seven strikeouts while scattering three hits with one walk in five innings. He's pitched to a 1.65 ERA in 16 1/3 innings since being demoted to Triple-A on April 7.
• After giving up a combined 19 hits in his previous two starts, Marlins No. 13 prospect Zac Gallen allowed just four hits in seven scoreless innings Saturday as Triple-A New Orleans defeated Oklahoma City, 2-0. The 22-year-old righty compiled five strikeouts against three walks in the outing while finding the strike zone with 58 of his 91 pitches. Gallen has completed at least six innings in three of his four starts this season.
MILB Video - Title: Gallen strikes out five - Url: http://www.milb.com/r/video?content_id=1962282583
• Padres No. 11 prospect Esteury Ruiz and Tirso Ornelas (No. 14) both connected on their second home run of 2018 and collected three hits as Class A Fort Wayne defeated Dayton, 8-2. Ruiz, 19, hit a two-run shot in the sixth inning before finishing 3-for-5, while the 18-year-old Ornelas finished 3-for-4 after hitting a three-run homer in his first at-bat. Leadoff man Jeisson Rosario (No. 18) paced the TinCaps with three runs as he improved his average to .310 with his second multi-hit game in as many days.
• Pirates No. 16 prospect Calvin Mitchell boosted his average to .371 with his fourth straight multi-hit game for Class A West Virginia. The 2017 second-rounder tallied his third triple this season before finishing with four hits and four RBIs, both matching his career bests. Braeden Ogle (No. 28) paced the Power on the mound, tossing six innings of one-run ball with eight strikeouts in the 13-8 victory. He allowed six hits and walked three, throwing 54 of his 87 pitches for strikes in the outing.
• Red Sox No. 15 prospect Jalen Beeks piled up 10 strikeouts in six scoreless innings as Triple-A Pawtucket blanked Gwinnett, 6-0. The 24-year-old left-hander allowed two hits, two walks and hit one batter while throwing 59 of his 98 pitches for strikes. Beeks has dominated early this season, posting a 0.64 ERA with 26 strikeouts and five walks in 14 innings (three starts).
MILB Video - Title: Beeks strikes out 10 - Url: http://www.milb.com/r/video?content_id=1962151083