As Braves address rotation, Wright hurts chance
In 1st MLB start in 3 months, rookie chased during Nats' 8-run 3rd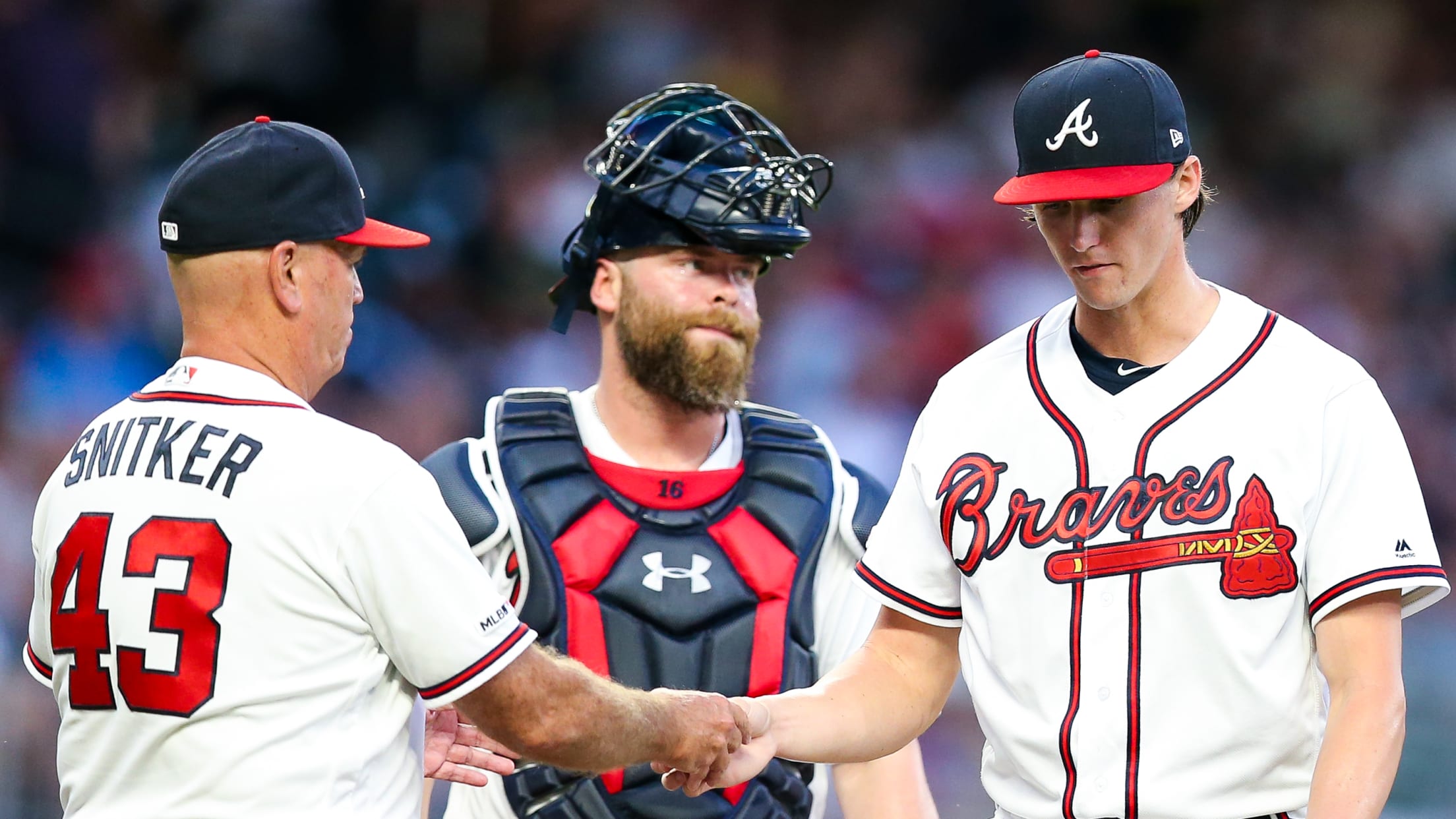 ATLANTA -- As the Braves attempt to exit this weekend maintaining their somewhat comfortable lead over the dangerous Nationals, they will get a better feel for the needs of a starting rotation that might not include Kyle Wright again any time soon. There was absolutely nothing pretty about Wright's performance
ATLANTA -- As the Braves attempt to exit this weekend maintaining their somewhat comfortable lead over the dangerous Nationals, they will get a better feel for the needs of a starting rotation that might not include Kyle Wright again any time soon.
There was absolutely nothing pretty about Wright's performance during the 13-4 loss suffered against the Nationals on Thursday night at SunTrust Park. The 23-year-old hurler, recalled earlier Thursday, struggled with his command throughout an eight-run third that saw two Stephen Strasburg hits, including a homer. But this was just one game for the Braves, who, regardless of the outcome, were still going to have a need to address their rotation.
"We've got some holes in [the rotation] because we've lost a couple of guys," Braves manager Brian Snitker said. "It might take us a while to solidify it. But the next three days, we've got guys that are capable of going out and throwing six or seven innings."
Snitker certainly wasn't bubbling with excitement after watching Wright allow seven earned runs over just 2 2/3 innings. The right-hander struggled to find a consistent feel for his fastball, and he paid the price as he threw just 18 strikes while totaling 40 pitches during the forgettable third.
This was Wright's first Major League start in three months and just the fourth of his blossoming career. But while his future remains bright, the Braves will now evaluate some of their much-more experienced internal options. This includes Kevin Gausman, who will return from the injured list to start Sunday's series finale, and former All-Star Mike Foltynewicz, who may escape his Minor League demotion next week.
Even after suffering a third consecutive loss for the first time since May 31, the Braves -- who had Charlie Culberson clean up with a scoreless ninth inning for his third career pitching appearance -- still have a 5 1/2-game lead atop the National League East standings. Any sense of comfort is sobered by the fact the second-place Nationals have produced a MLB-best 29-12 record dating back to May 28.
It's not like the Braves have struggled while going 28-16 within this same span. But the 5.40 starting pitching ERA (NL's third-worst) they've produced within this stretch only highlights the need to address an area that will influence the division race and, more importantly, the bid to taste October success.
So, the Braves will continue to evaluate the cost for Madison Bumgarner, Zack Wheeler, Mike Minor and other frontline starters who might be available before the July 31 Trade Deadline. But they'll first try to get a better feel for their internal options.
"You're going to go through runs like this," Snitker said. "It's not always going to be easy. I've said that a number of times for 6 1/2 months. You're going to have to weather some storms."
After Strasburg recorded the first of his two hits in the third, Ronald Acuña Jr. misplayed an Adam Eaton single into an RBI triple. But the defensive miscue proved to be rather inconsequential when Wright followed by sandwiching three walks and a strikeout between doubles recorded by Anthony Rendon and Victor Robles.
Strasburg then greeted Touki Toussaint with a three-run homer -- and the Nats' starter tagged Toussaint again with a two-run single in the fifth, giving him a 3-for-3 game with five RBIs. It was that kind of night for the Braves. But the remainder of this series could prove to be much more memorable for the defending NL East champs, who have not seen their division lead dip below 4 1/2 games since June 20.
"[Wright] has got the stuff," Braves catcher Brian McCann said. "He's got the stuff to do it at a high level. Tonight, we just couldn't get into a groove, and that inning just snowballed on us."
Once Max Fried was forced to go on the injured list after developing a blister during Monday's win in Milwaukee, the Braves had to fill his spot in the rotation. Instead of having Wright start Saturday with two extra days of rest, they opted to give Julio Teheran and Mike Soroka an extra day of rest by pushing their respective starts back a day.
Instead of starting Wright on Thursday, the Braves could have recalled Foltynewicz. Maybe the results on this one night might have been different. But there may be much greater long-term value within the decision to allow Foltynewicz to make at least one more Minor League start.
As Foltynewicz allowed just one run over six innings for Triple-A Gwinnett on Thursday afternoon, he showed improvement with his slider and might have positioned himself to return to Atlanta's rotation soon.
When Wright's turn in the rotation comes up again on Wednesday against the Royals, the Braves could opt to start Teheran on regular rest or recall Foltynewicz.
"It would be great if [Foltynewicz] got it going," Snitker said. "Internally, we have guys looking to help us."
Mark Bowman has covered the Braves for MLB.com since 2001.