A's prospect Murray's OU career ends in defeat
No. 9 pick in 2018 MLB Draft finishes Heisman season vs. Alabama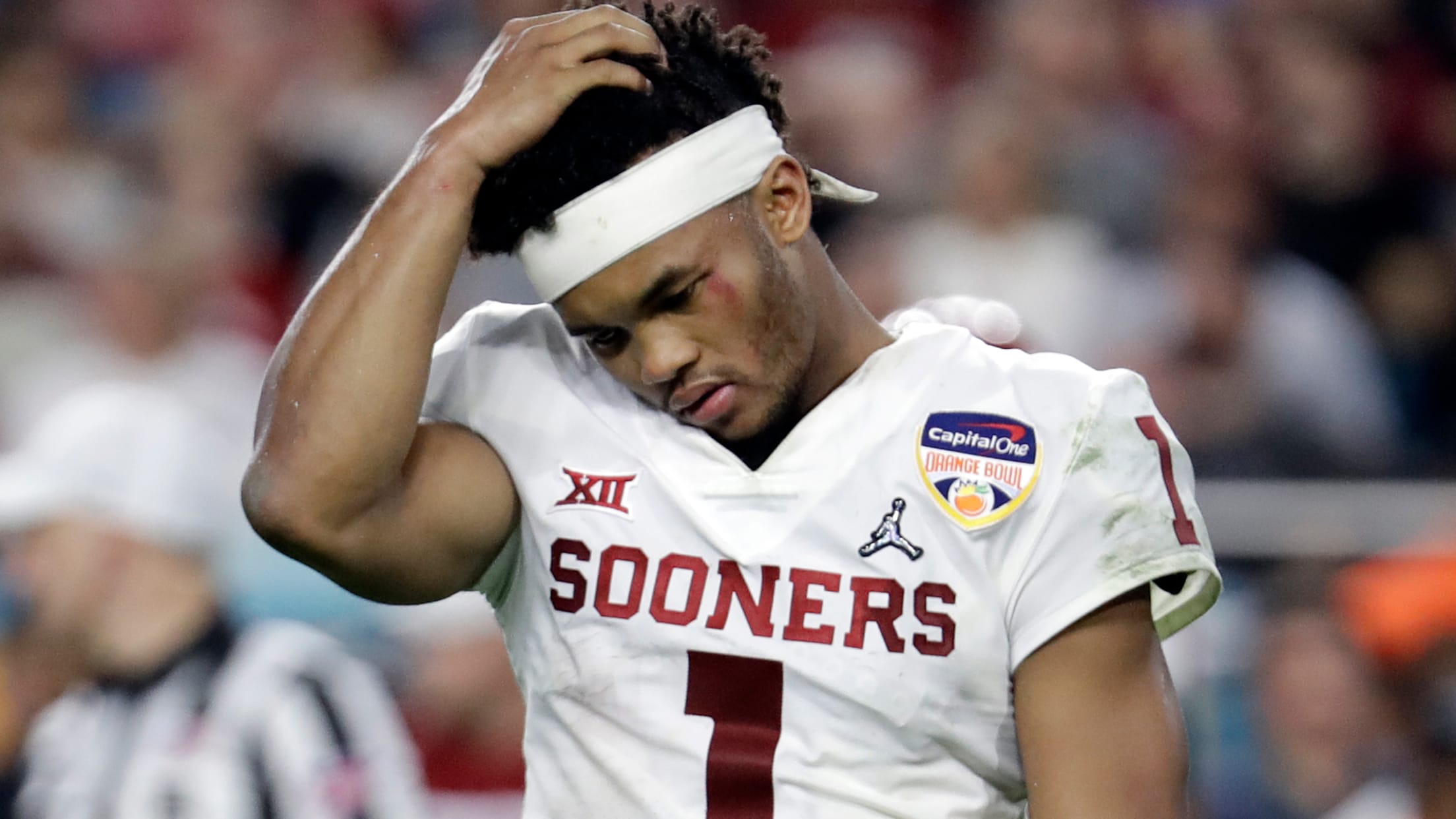 A's prospect Kyler Murray and the Oklahoma Sooners fell short in their pursuit of a national championship, losing, 45-34, to No. 1 Alabama in Saturday's College Football Playoff semifinal matchup in Miami.Murray, who was named this year's Heisman Trophy winner earlier in December, turned in a stellar individual performance in
A's prospect Kyler Murray and the Oklahoma Sooners fell short in their pursuit of a national championship, losing, 45-34, to No. 1 Alabama in Saturday's College Football Playoff semifinal matchup in Miami.
Murray, who was named this year's Heisman Trophy winner earlier in December, turned in a stellar individual performance in a comeback effort for the No. 4 Sooners (12-2). He threw for 308 yards and two touchdowns on 19-for-37 passing and rushed for 109 yards and a touchdown on 17 carries.
• A's Top 30 prospects
Alabama (14-0) put Oklahoma in an early hole with 28 consecutive points to begin the game and entered halftime with a 31-10 lead. Murray helped fuel a 24-point second half, but it wasn't enough to keep Alabama from a fourth consecutive appearance in the championship game.
The Orange Bowl defeat capped a remarkable campaign for Murray, whom the A's selected with the No. 9 overall pick in June's MLB Draft. The redshirt junior finished the season with 4,361 yards, 42 touchdowns through the air and 1,001 yards and 12 scores on the ground through 14 games.
Despite his success in football, Murray has repeatedly reiterated his plan to move on from football and begin his professional baseball career with the A's. Oakland inked the outfielder to a $4.66 million signing bonus, an agreement that included allowing him to play one more year of football at Oklahoma.
Murray hasn't, however, ruled out playing in the NFL at some point. He would likely be a first-round selection if he entered the NFL Draft.
"It's never bad to have options," Murray said in a media session Thursday.
After serving as the backup to Heisman Trophy winner Baker Mayfield -- who was drafted first overall by the Cleveland Browns in last spring -- in 2017, Murray broke out as one of the nation's top quarterbacks and gave Oklahoma the first back-to-back winners in the history of the award.