McCullers, Altuve see team doctors in Houston
Starter placed on DL with right elbow discomfort; second baseman has been out with sore right knee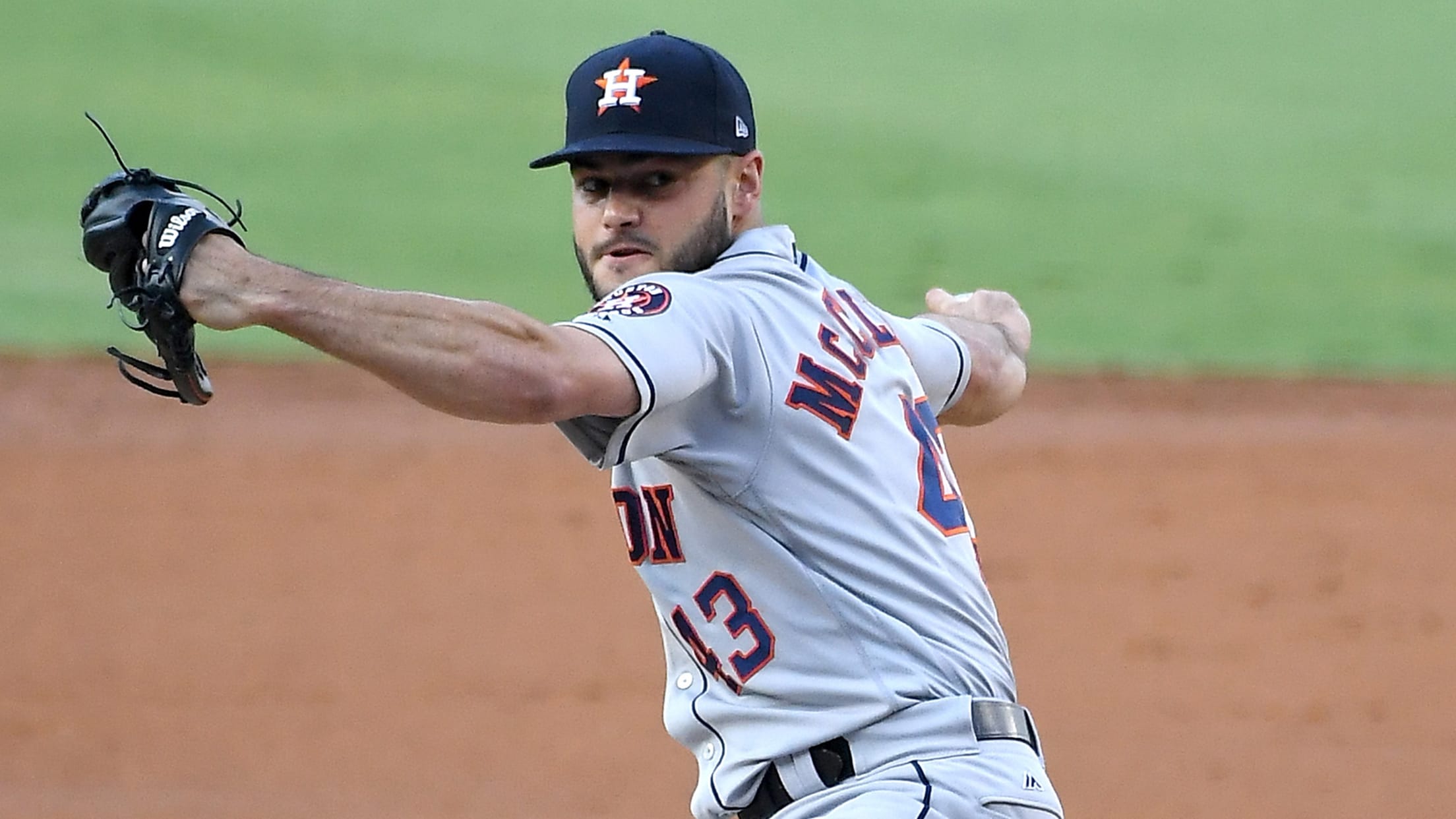 LOS ANGELES -- The Astros placed starting pitcher Lance McCullers on the 10-day disabled list Sunday, a day after he left his start against the Dodgers with right elbow discomfort. McCullers flew to Houston on Sunday to be examined by team doctors.McCullers will miss at least one start, which is
LOS ANGELES -- The Astros placed starting pitcher Lance McCullers on the 10-day disabled list Sunday, a day after he left his start against the Dodgers with right elbow discomfort. McCullers flew to Houston on Sunday to be examined by team doctors.
McCullers will miss at least one start, which is why the Astros felt comfortable enough to put him on the DL.
"I was obviously worried yesterday when he came out of the game," president of baseball operations and general manager Jeff Luhnow said. "I think it was more of a precautionary situation, but he did feel something and we'll have to wait and see. We'll probably know more. I'm hoping it's only a start, but you never know."
In addition to McCullers, All-Star second baseman Jose Altuve and relief pitcher Chris Devenski also flew to Houston on Sunday to be seen by team doctors. Altuve has been out since July 25 with a sore right knee and won't return until Thursday at the earliest. Devenski was placed on the DL on Saturday with left hamstring tightness.
Astros manager AJ Hinch said Sunday the club determined Altuve wouldn't play in San Francisco on Monday and Tuesday and decided to send him to see a doctor as part of the process.
"I don't know if we can consider it a setback, other than to consider he needs more time to heal," Hinch said. "If he's not playing in San Francisco, we're not going to make him make the trip. We'd rather him go see our doctors and get it checked out."
McCullers said he felt forearm/elbow tightness while pitching in the fourth inning Saturday and summoned Hinch and head athletic trainer Jeremiah Randall to the mound while warming up to start the fifth. He was taken out of the game after 60 pitches.
"I just felt some abnormal soreness and stiffness in my forearm area that I wouldn't feel during the game, so that's what prompted me to kind of speak with AJ in between innings and in turn speak with Jeremiah as well, and that's what led to me exiting the game," McCullers said.
Luhnow said the Astros were going to be "abundantly cautious" with McCullers, who is 10-6 with a 3.93 ERA in 22 starts.
"He's a true weapon for us and he's a great starter and he's going to be a part of our success this year," he said.
The Astros are the only team in baseball to use only five starting pitchers the entire season, and that won't change at least for the next couple of weeks. The Astros have three off-days in the next two weeks, which will allow them to use four starters on normal rest through Aug. 21 or 22.
"Once he's seen by the doctors and runs through his battery of tests and we have a better determination of what any perceived timeline would be, then I could determine what that spot would be like or if we would even want to insert somebody in that middle of that process," Hinch said of McCullers. "Right now, if things check out to where we feel like he can come back relatively quickly, then we would wait until we need a fifth starter before we would use one."