New England, Southwest win LLWS openers
Latin America, Canada also first-day winners in Little League event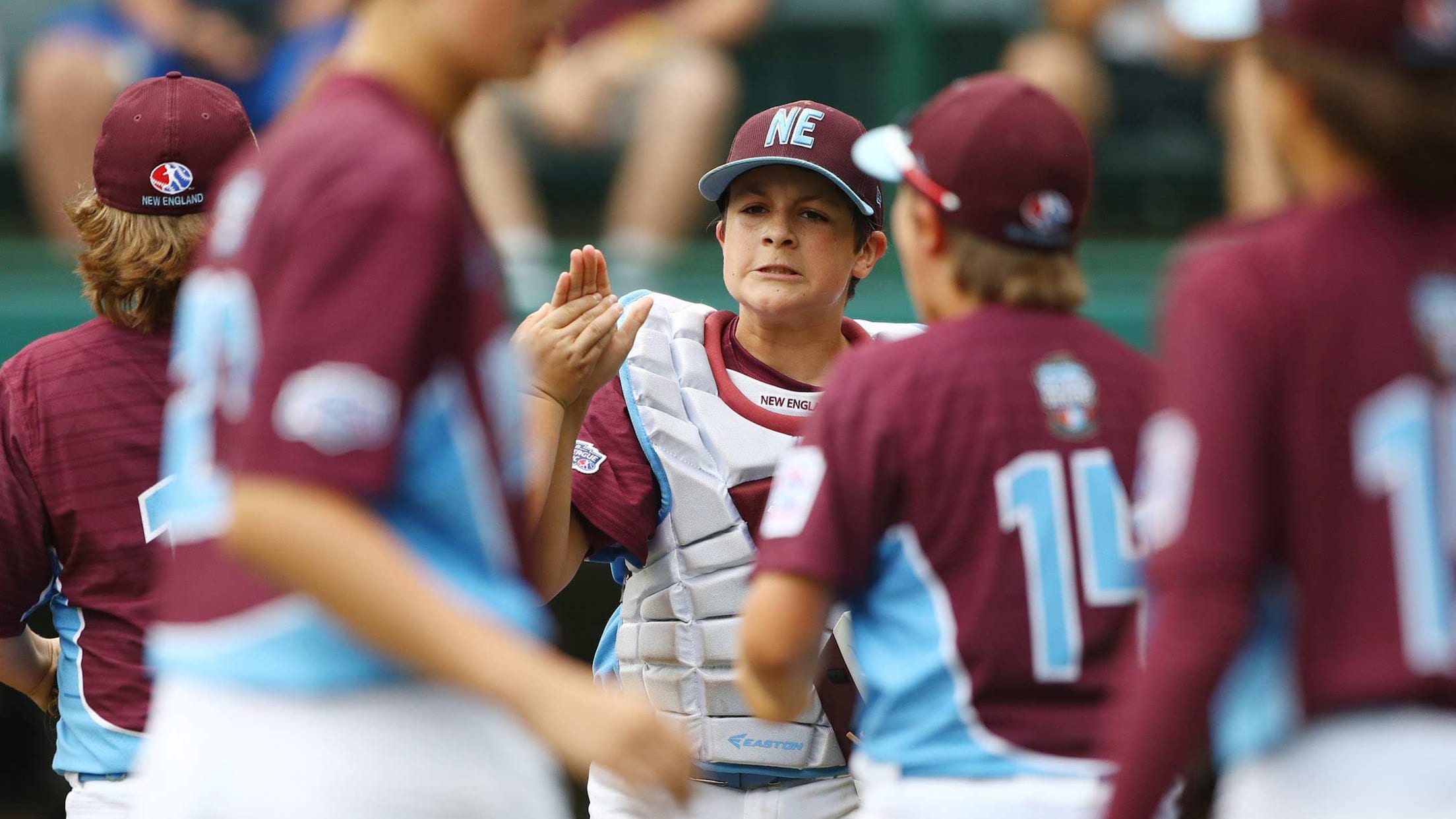 Catcher Aidan Rivera of the New England team from Connecticut celebrates with teammates after winning Game 2 of the 2017 Little League World Series, 7-6, against the Mid-Atlantic team from New Jersey in South Williamsport, Pa. (Alex Trautwig/MLB Photos/Getty)
The Little League World Series got underway Thursday with four games. Here is a recap of what has happened so far and what lies ahead:New England 7, Mid-Atlantic 6 New England (Fairfield, Conn.) held off a fierce sixth-inning rally by Mid-Atlantic (Jackson, N.J.) o win the first matchup of American
The Little League World Series got underway Thursday with four games. Here is a recap of what has happened so far and what lies ahead:
New England 7, Mid-Atlantic 6
New England (Fairfield, Conn.) held off a fierce sixth-inning rally by Mid-Atlantic (Jackson, N.J.) o win the first matchup of American teams.
Trailing by five runs in the final frame, Mid-Atlantic got hits from four of its first five batters, including a home run by shortstop Chris Cartnick. However, Michael Iannazzo and Tyler Bauer were able to end the rally.
The top of the order did most of the damage for New England, with leadoff hitter Ethan Righter getting two hits and scoring twice. After him, Iannazzo reached base three times and scored twice, Matthew Vivona hit an RBI triple and Bauer had a pair of RBI singles.
Southwest 5, Great Lakes 1
Southwest (Lufkin, Texas) was the other American winner, dominating Great Lakes (Grosse Pointe, Mich.) with the arm and bat of Hunter Ditsworth.
Ditsworth threw the first complete game of the tournament, sprinkling two hits and eight strikeouts over six innings. His only damage came on a sixth-inning solo home run by Great Lakes left fielder Will Pflaum.
Center fielder Collin Ross got things started for Southwest with his first home run, a solo shot, in the second inning. The team added four runs in the next inning as Ditsworth, Ross and first baseman Clayton Wigley hit back-to-back-to-back home runs.
Latin America 4, Mexico 1
The first game of the LLWS was a pitchers' duel, and Latin America (Maracaibo, Venezuela) had the edge behind a brilliant performance by starter Jonney Rosario.
The right-hander was excellent over five innings with the only damage coming on a second-inning home run by Mexico (Reynosa, Mexico) first baseman Andre Garza. Rosario struck out seven with only one walk and four hits allowed.
Latin America took the lead for good in the third inning when Mexico starter Jorge Garcia threw a wild pitch and shortstop Juan Faria drove in another run on a single one batter later. They added two more runs in the fifth on Jhann Bozo's steal of home and Faria's second RBI single.
Canada 12, Europe-Africa 2
Canada (White Rock, British Columbia) cruised in its opening game, winning by the mercy rule after four innings, led by a pair of home runs from first baseman Chase Marshall.
Marshall opened the scoring with a solo home run in the first inning. Europe-Africa (Emilia, Italy) tied the score in the bottom of the frame on right fielder Lorenzo Bacci's RBI single, but then the game got out of hand.
Canada added two runs in the second, seven in the third and another two in the third. Marshall hit a grand slam in the third, second baseman Tyler Fluet added three singles and three runs, and leadoff hitter Robert Orr drove in three runs.
Friday's schedule (all times ET):
Australia vs. Japan, 2 p.m.
Northwest vs. West, 4 p.m.
Asia-Pacific vs. Caribbean, 6 p.m.
Southeast vs. Midwest, 8 p.m.
Ben Weinrib is a reporter for MLB.com based in Cleveland.