Brinson's walkoff lifts Rangers over Royals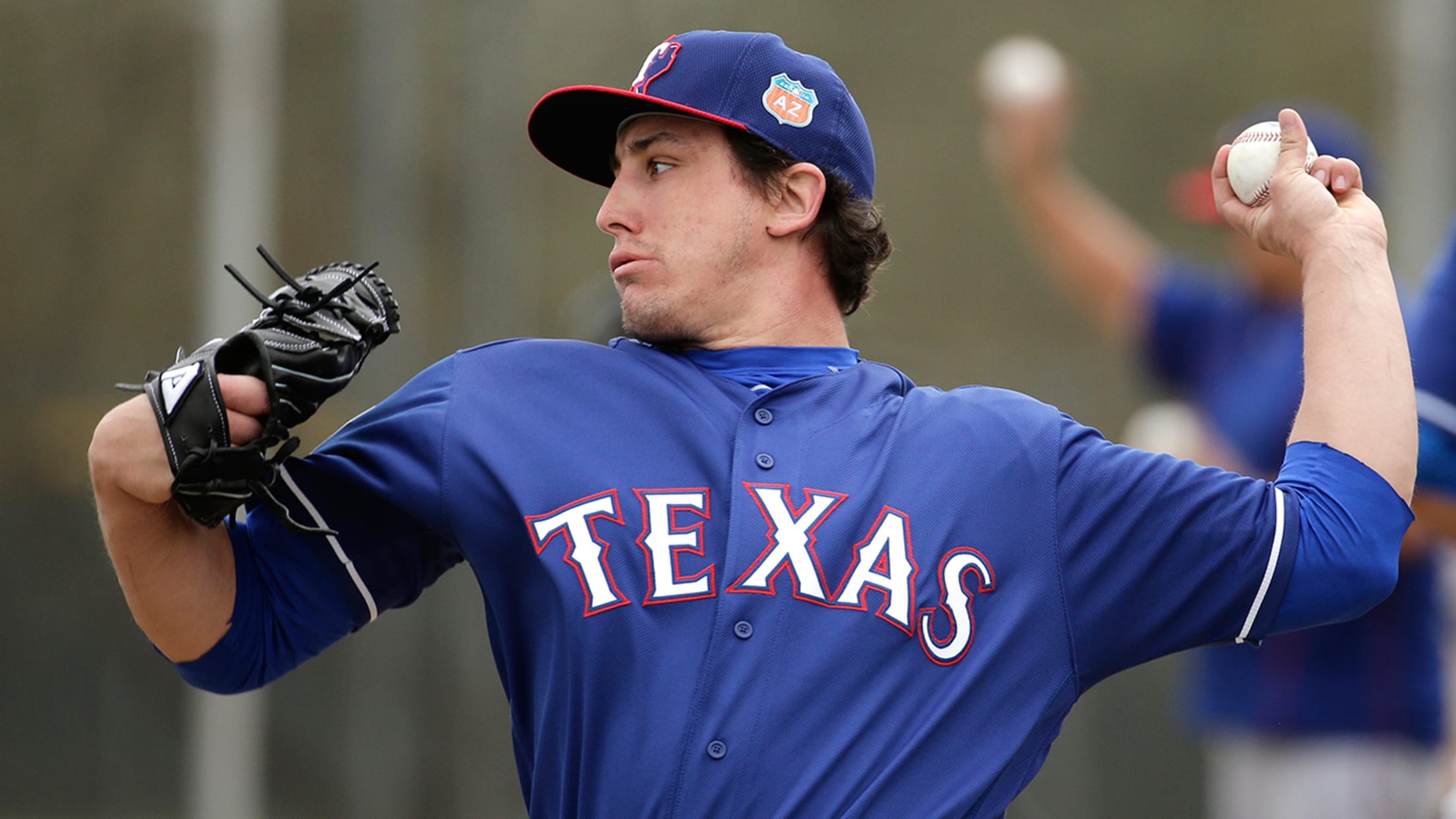 Derek Holland worked 3 1/3 innings Friday in the Rangers' 7-5 win over the Royals at the Alamodome. (AP)
SAN ANTONIO -- In a split-squad game that involved the participating teams traveling approximately 1,000 miles from their Spring Training homes in Arizona, the Rangers topped the Royals, 7-5, in game 1 of Big League Weekend at the Alamodome Friday night.One of the Rangers' top prospects, outfielder Lewis Brinson, launched
SAN ANTONIO -- In a split-squad game that involved the participating teams traveling approximately 1,000 miles from their Spring Training homes in Arizona, the Rangers topped the Royals, 7-5, in game 1 of Big League Weekend at the Alamodome Friday night.
One of the Rangers' top prospects, outfielder Lewis Brinson, launched a walkoff three-run homer that won it for the home team.
The World Series champion Royals are the visiting team for this two-game exhibition series in San Antonio that will conclude on Saturday. The host American League West champion Rangers garnered most of the support of the 27,536 in attendance, although several recognizable members of the Royals -- Salvador Perez and Eric Hosmer, to name two -- were also warmly received by the San Antonio crowd.
Now that Big League Weekend is in its fourth year, the Alamodome's quirky baseball dimensions are not so much an oft-talked-about novelty as they are a briefly mentioned side note. Still, it's worth noting that the area around extreme right field, measuring 272 feet, kept the crowd entertained several times throughout the contest.
Before the game, Rangers manager Jeff Banister surmised the area in right center would probably factor into the game, and he was correct, only off by a few feet from where he guessed balls would land.
In the second inning, Perez and Paulo Orlando went back-to-back with identical solo shots to right- center. There was no "estimated distance" announcement made over the loudspeaker, but it's safe to assume most Major League ballparks would have contained these two fly balls.
Rangers outfielder Jared Hoying, on the other hand, launched a much more conventional homer in the seventh. It traveled to the upper deck in right field and knotted the game at 4.
Whit Merrifield's homer in the ninth -- also a right-field shot -- put the Royals ahead briefly.
Rangers lefty Derek Holland, aiming for a healthy season after two injury-riddled campaigns, allowed seven hits and four runs -- including the two Alamodome-style homers -- with two walks and four strikeouts over 3 1/3 innings.
Royals righty Dillon Gee, a good bet to crack the Royals starting rotation, allowed two runs on six hits over five frames, issuing no walks and no strikeouts.
Big League Weekend concludes on Saturday with first pitch slated for 2:05 p.m. CT.
Up next for Royals: The Royals play the second half of their split-squad, split-state two-game series, facing the Rangers in San Antonio at 2 p.m CT (live on MLB.TV and Gameday Audio) and the Mariners at Surprise Stadium in a 3:05 p.m. start, streamed live via a free, exclusive royals.com audio webcast. It's left-hander Matt Strahm starting for the Royals in Arizona, and Chien-Ming Wang continues his comeback in Texas.
Up next for Rangers: The Rangers will play two split-squad games again on Saturday, with right-hander Chi Chi Gonzalez starting against the D-backs in a 3:10 p.m. CT game in Scottsdale, Ariz., that will be broadcast on Gameday Audio while right-hander A.J. Griffin will take the hill against the Royals at 2:00 p.m. CT in San Antonio. The latter game will air on MLB.TV. Both pitchers are candidates for the fifth spot in the rotation. Keone Kela is expected to follow Gonzalez in Scottsdale, and Cesar Ramos, Tom Wilhelmsen, Alex Claudio and Sam Freemanare down to pitch in San Antonio.