Hardy likely won't be ready by Opening Day
Southpaw would rather take it slow now to prevent missing time later in the season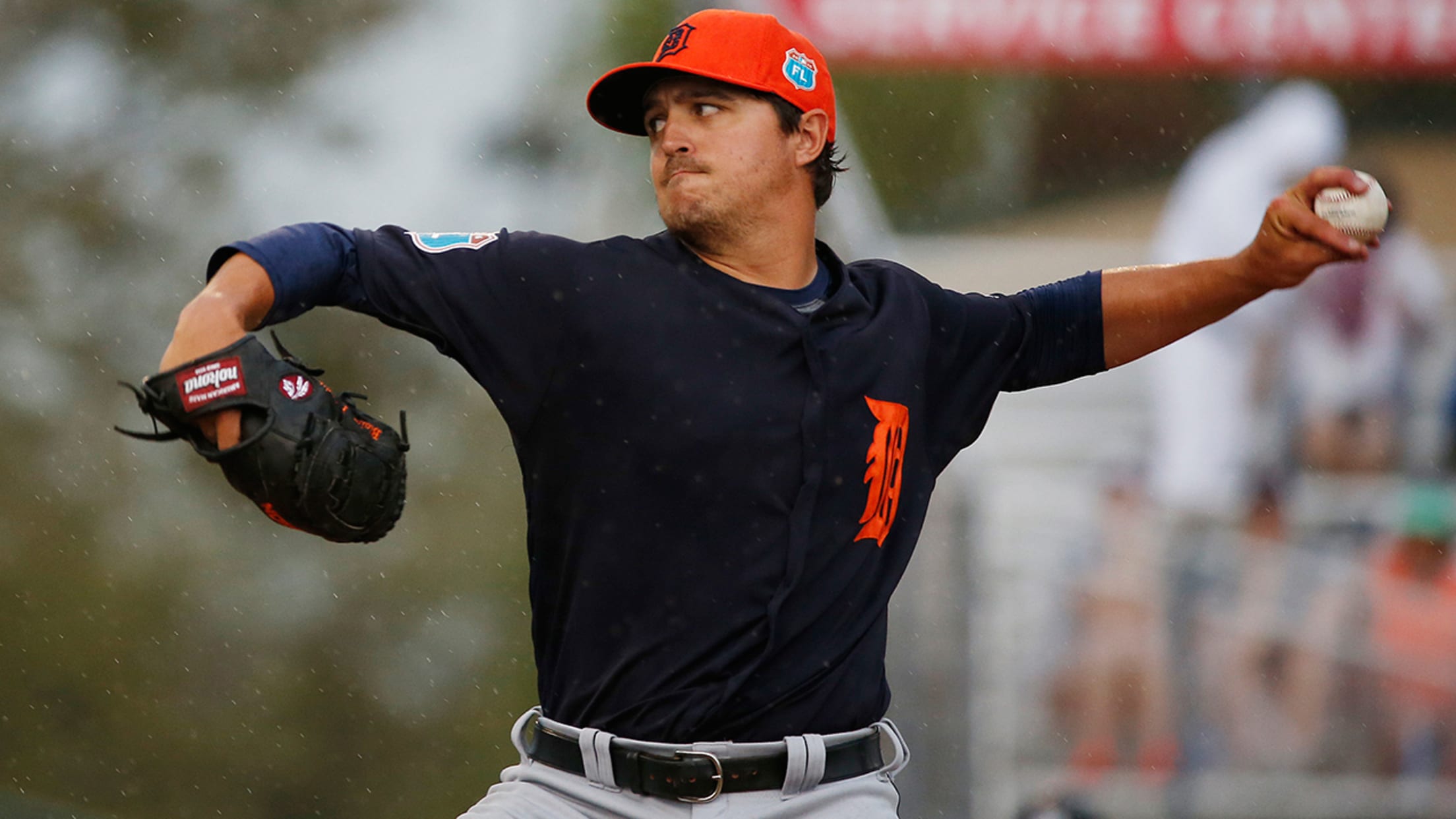 Blaine Hardy's shoulder soreness may cause him to miss the start of the season. (AP)
LAKELAND, Fla. -- Blaine Hardy timed his offseason workouts to round into form during these final days of Spring Training, when Opening Day would be in sight. The left-hander tried to pitch through shoulder soreness, expecting it to subside once he hit his peak.Instead of Hardy's pitching tuning up, his
LAKELAND, Fla. -- Blaine Hardy timed his offseason workouts to round into form during these final days of Spring Training, when Opening Day would be in sight. The left-hander tried to pitch through shoulder soreness, expecting it to subside once he hit his peak.
Instead of Hardy's pitching tuning up, his velocity dropped. And as he readies to resume throwing Monday after being diagnosed with a shoulder impingement, he's ready for the possibility that Opening Day won't be in his future. He's willing to miss the start of the season, though, if it means not missing more time later.
• Spring Training: Tickets | Schedule | More
"I don't want to miss a couple months in the middle of the season because I tried to pitch through something now," Hardy said Sunday morning at Joker Marchant Stadium, prior to the Tigers' 8-3 loss to the Astros.
Though the shoulder issue never worsened, Hardy's pitching did, including a noticeable drop in his velocity. This spring, he allowed seven runs on eight hits over 5 1/3 innings with four walks and four strikeouts, but the greater concern was the pitching behind it. One scout in attendance recently noted Hardy's fastball closer to the mid-80s than the 88-90 mph range he usually pitches in during the regular season.
"I felt normal," Hardy said, "but my velocity was down."
A younger version of Hardy, one that was trying to make a team, might have kept pitching anyway, he admitted. With a role relatively secure, he can look to the long term.
Manager Brad Ausmus isn't ruling Hardy out from Opening Day yet, but he has acknowledged "a little bit" of concern. Given how important of a role Hardy projects to play in Detroit's bullpen, even with Justin Wilson as the primary left-hander, Ausmus is likely to be as cautious with Hardy as he has been with right-hander Alex Wilson.
Wilson, out for the last month with lat soreness behind his shoulder, threw 26 pitches of live batting practice Sunday morning with two hits and three strikeouts in seven batters. He faced Anthony Gose, Wynton Bernard, Andrew Romine and Raffy Lopez.
As long as Wilson feels fine, he'll be cleared for game action this coming week, but he is expected to open the season on the disabled list. As Ausmus acknowledged a few days ago, he would need to pitch on back-to-back days and pitch a multi-inning outing in order to be ready for Opening Day. Though Hardy has six appearances this spring, he has done neither.
Extra bases:
• Victor Martinez played his second consecutive Minor League game Sunday on the back fields at Tigertown, going 3-for-4 as a right-handed hitter. He's expected to get one more Minor League game, likely five at-bats, before being evaluated for a potential return to the big league club Tuesday. Martinez, who homered and walked with two runs scored Sunday, said he did enough running in that game to feel confident his strained left hamstring is no longer an impediment.
• The Tigers made two roster moves Sunday, assigning first baseman/outfielder John Mayberry Jr. and catcher Raffy Lopez to Minor League camp. Mayberry, 5-for-42 with five walks and 13 strikeouts this spring, is expected to serve as the regular first baseman at Triple-A Toledo, though his contract includes an opt-out clause he could exercise later in April. Lopez, 1-for-7 with a walk and a strikeout this spring, could also end up with the Mud Hens to back up or platoon with catcher Miguel Gonzalez.