Lincecum to make one more rehab start
31-year-old working his way back from hip surgery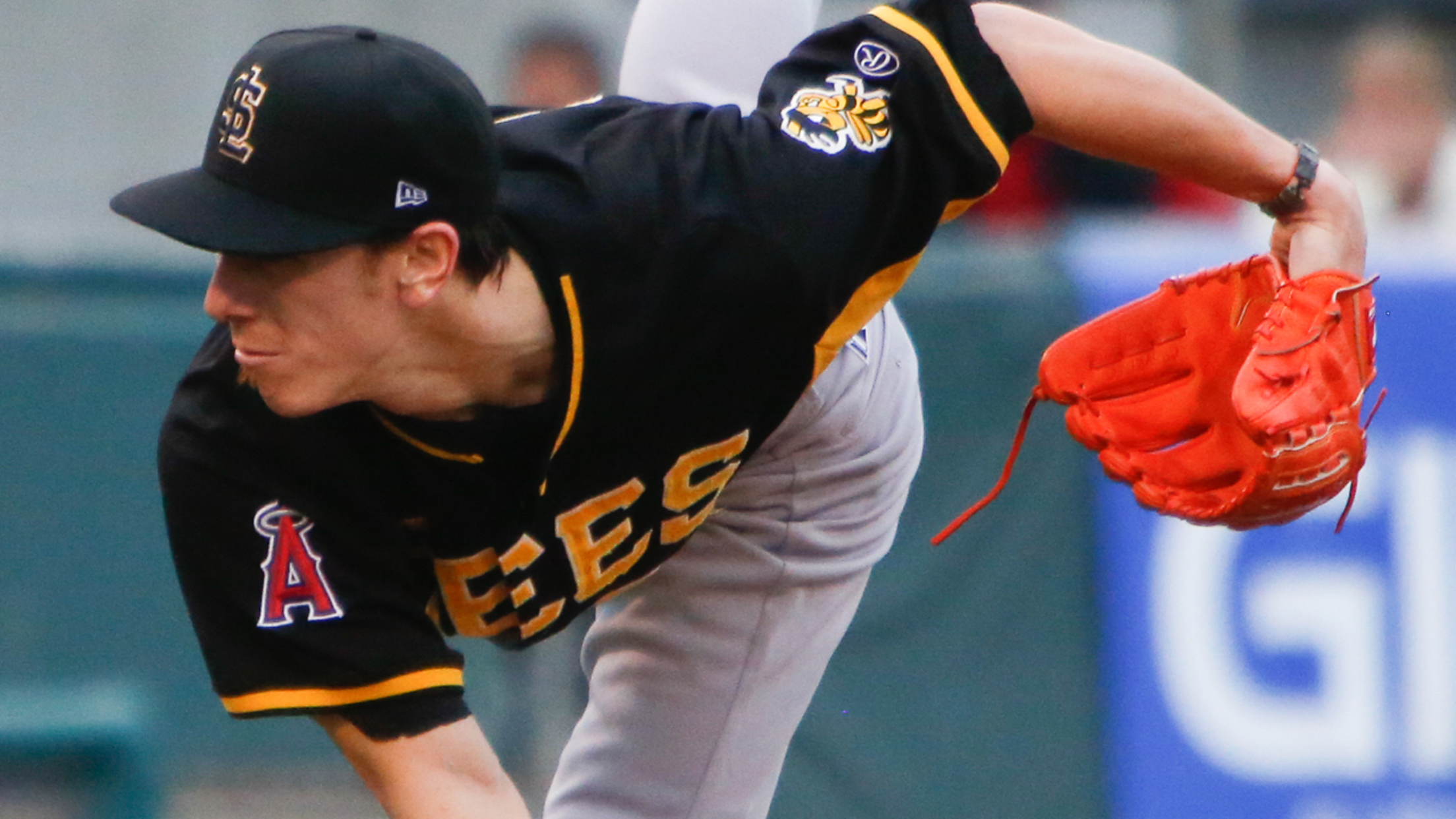 Tim Lincecum threw 95 pitches in Tuesday's rehab start for Triple-A Salt Lake. (MiLB.com/Joshua Bessex) (MiLB.com/Joshua Bessex)
NEW YORK -- Tim Lincecum had what appeared to be another encouraging start for Triple-A Salt Lake on Tuesday, striking out six batters in a five-inning, 95-pitch outing against the Reno Aces -- but apparently he needs more work.Lincecum is lined up to start again on Sunday, the next day
NEW YORK -- Tim Lincecum had what appeared to be another encouraging start for Triple-A Salt Lake on Tuesday, striking out six batters in a five-inning, 95-pitch outing against the Reno Aces -- but apparently he needs more work.
Lincecum is lined up to start again on Sunday, the next day the Angels need a starter, but will instead make his third Triple-A start that day.
The 31-year-old right-hander, nine months removed from hip surgery, asked for more time after an outing in which he gave up four runs (two earned) on three hits and two walks. The soonest Lincecum would now start for the Angels is June 17 or 18 in Oakland, a stone's throw away from the city where he is immortalized.
David Huff made a spot start against the Yankees on Tuesday and gave up five runs on eight hits and a walk in 3 2/3 innings. The Angels could have him start again on Sunday, at home against the Indians. They can also call up someone like Kyle Kendrick, or use only relievers if their bullpen doesn't get taxed too heavily over the next four days.
All four of the runs charged to Lincecum were scored in the bottom of the first, a 41-pitch inning that included two walks, two singles and two errors.
Lincecum settled in later in the game, just like he did in his debut for Triple-A Salt Lake five days earlier. He struck out the side in the second and retired 12 of 13 batters after that first inning. His fastball sat between 88 and 91 mph.
"I'm just trying to stay within myself, not overthrow," Lincecum told reporters after his start. "I've got to start trusting my stuff from the get-go. The first inning, I put myself in a hole, but I bounced back and made better pitches from then on."
Valdez joins in: The Angels acquired right-handed reliever Jose Valdez from the Tigers for cash considerations, designating lefty starter Chris Jones for assignment in order to clear room on the 40-man roster. Valdez, 26, appeared in seven games for the Tigers last season and had a 4.50 ERA in 16 appearances in Double-A and Triple-A this year, adding a 1.60 WHIP and a 1.33 strikeout-to-walk ratio.
Jones, acquired from the Orioles late in Spring Training, had a 7.33 ERA in 50 1/3 innings in Triple-A.
Getting close:Andrelton Simmons (left thumb surgery) went 2-for-3 with a double as the starting shortstop for Class A Advanced Inland Empire on Monday. The plan is for him to start there on Tuesday, take Wednesday off, then play again on Thursday and Friday. He could rejoin the Angels from there, but Scioscia cautioned that Simmons still has some work to do.