56 more players are now free agents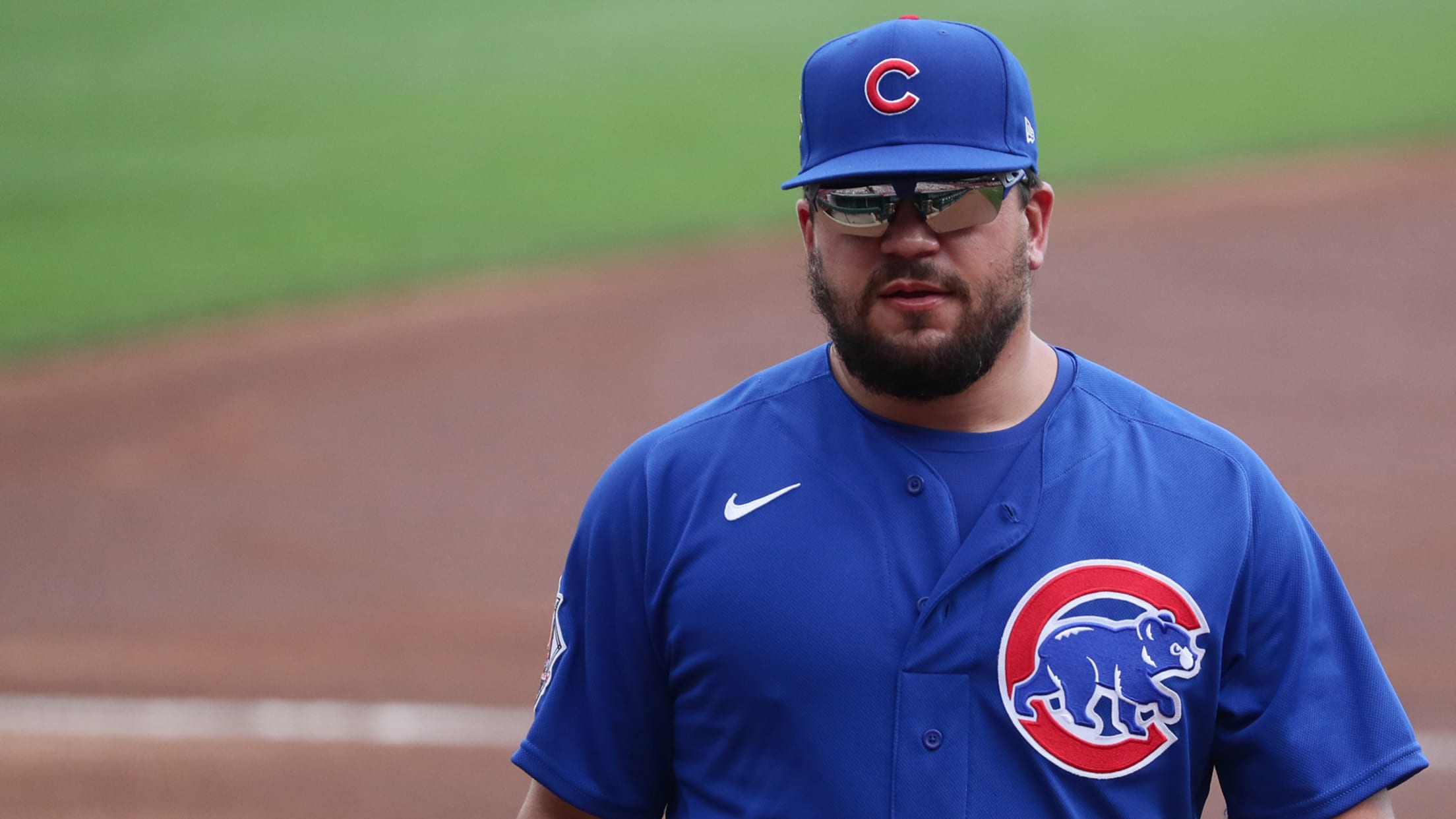 A total of 59 players were non-tendered ahead of Wednesday's deadline, though three immediately re-signed (Kyle Ryan and Dan Winkler with the Cubs, and Kyle Farmer with the Reds), meaning 56 players were added to this offseason's free-agent class. Here is a look at each player who was non-tendered, listed
A total of 59 players were non-tendered ahead of Wednesday's deadline, though three immediately re-signed (Kyle Ryan and Dan Winkler with the Cubs, and Kyle Farmer with the Reds), meaning 56 players were added to this offseason's free-agent class.
Here is a look at each player who was non-tendered, listed in descending order of their combined FanGraphs wins above replacement (WAR) from 2019 and '20. To see the players listed by the teams that non-tendered them, click here.
Kyle Schwarber, LF (3.0 fWAR)
Schwarber was a key part of the Cubs team that won the World Series in 2016, returning from a torn ACL and LCL in his left knee to hit .412 with a .971 OPS in the Fall Classic that year. However, the slugger's production has been somewhat suppressed by his struggles vs. lefties, and he posted a .188/.308/.393 slash line over 59 games in 2020.
Hanser Alberto, 2B/3B (2.5 fWAR)
Once put on waivers four separate times in one offseason, Alberto established himself as a fan favorite in Baltimore. The infielder hit .299 in his two years with the Orioles, including .394 against left-handed pitchers.
Eddie Rosario, OF (2.1 fWAR)
Rosario has been an important contributor to the "Bomba Squad" Twins, earning down-ballot American League MVP Award votes in each of the last two seasons, but his lack of plate discipline and his low on-base rates have capped his overall value. Minnesota might still be interested in retaining Rosario at a lower salary, but now his pop and strong arm in the outfield could attract the attention of other clubs.
Brian Goodwin, OF (2.0 fWAR)
Cincinnati acquired Goodwin from the Angels before the 2020 Trade Deadline, but he struggled to a 47 OPS+ in 20 games with the Reds. He can play all three outfield positions, and he's just one year removed from his best big league season with Los Angeles (17 homers, 108 OPS+).
Archie Bradley, RHP (1.8 fWAR)
The No. 7 overall pick in the 2011 Draft, Bradley flashed his potential as a lights-out reliever after moving to the bullpen in '17 but has a 3.51 ERA in the three seasons since then, with 27 saves. Arizona traded him to Cincinnati on Aug. 31, and he made just six appearances with the Reds.
Curt Casali, C (1.8 fWAR)
He brings some right-handed thump behind the plate, having hit .260/.345/.440 with 18 homers in less than 500 plate appearances spread across three seasons in Cincinnati. Casali owns an .816 career OPS against lefties.
Hansel Robles, RHP (1.7 fWAR)
Robles initially had a resurgence with the Angels, but struggled to find his form in 2020. Claimed off waivers in June 2018, Robles put up a 2.97 ERA in 37 games down the stretch in '18 before recording a 2.48 mark in 71 appearances with the Halos in '19. That mark jumped to 10.26 in 18 games last season.
Danny Santana, UTIL (1.7 fWAR)
Santana was the Rangers' Player of the Year in 2019, when he hit .283 with 28 home runs, 81 RBIs and a .534 slugging percentage. But an elbow surgery that eventually required surgery this past September has left the versatile switch-hitter's Opening Day status in question for '21.
Adam Duvall, OF (1.3 fWAR)
Duvall belted 16 homers and drove in 33 runs in just 57 games for the Braves in 2020, and he posted an above-average OPS+ in each of his two full seasons in Atlanta. Duvall also ranked 16th among hitters in barrel rate in that span.
John Brebbia, RHP (1.3 fWAR)
Brebbia burst onto the scene in 2017, putting up a 2.44 ERA over 50 appearances in his debut season. He followed it up with a 3.20 ERA in '18, then posted a 3.59 mark in '19 before undergoing Tommy John surgery that forced him to miss the '20 campaign.
Greg Garcia, INF/PH (1.2 fWAR)
Garcia ranked among the most effective pinch-hitters of the last several years, and he has started games at second base, third base and shortstop.
Tyler Naquin, OF (1.1 fWAR)
Naquin possesses one of the strongest throwing arms in baseball, but he ranked among MLB's worst outfield defenders by Statcast's metrics in 2020. He also struggled at the plate, slashing just .218/.248/.383 (68 OPS+) in the shortened campaign.
Matt Andriese, RHP (1.0 fWAR)
Andriese has a 4.65 ERA since the start of 2019, though the 31-year-old reliever has struck out 112 batters over just 102 2/3 innings during that span.
Matt Wisler, RHP (1.0 fWAR)
Wisler was not expected to be non-tendered after a breakout 2020 season in which he posted a 1.07 ERA and struck out 35 batters across 25 1/3 relief innings for the Twins. The righty dominated while throwing 81% sliders, allowing a .143 average on that pitch.
Carlos Rodón, LHP (1.0 fWAR)
The White Sox picked him third overall in the 2014 Draft out of North Carolina State and brought him to the Majors the next April. But injuries have hindered Rodón's development, and he has pitched just over 40 combined innings in the past two seasons, with a 5.74 ERA.
Ariel Jurado, RHP (1.0 fWAR)
After posting a 5.85 ERA in 44 games (26 starts) for the Rangers over 2018-19, Jurado made just one appearance for the Mets in '20, allowing five runs in a spot start against the Orioles on Sept. 1.
Delino DeShields, OF (0.9 fWAR)
DeShields stole at least 20 bases in three straight seasons from 2017-19 with the Rangers before being traded to the Indians as part of the Corey Kluber blockbuster last offseason. The 28-year-old outfielder hit .252 with three stolen bases in 37 games in the shortened '20 campaign.
Maikel Franco, 3B (0.8 fWAR)
Franco led the Royals with 16 doubles and 38 RBIs, but MLB Trade Rumors projected that Franco could have more than doubled his $2.95 million salary from 2020 via arbitration. The Royals could still bring back Franco at a lower price, though Kelvin Gutierrez, the club's No. 25 prospect, is waiting in the wings at third base.
Ben Gamel, OF (0.7 fWAR)
Acquired from Seattle at the end of 2018, Gamel played in 174 games for the Brewers over the past two seasons, hitting .245/.331/.381 while playing all three outfield positions.
Nomar Mazara, OF (0.7 fWAR)
Once a top-20 prospect, per MLB Pipeline, Mazara has been a below-average hitter by OPS+ in each of his five MLB seasons despite huge raw power. He hit just .228/.295/.294 in his first season with the White Sox but still is only 25 years old.
David Dahl, OF (0.6 fWAR)
The 10th overall pick in the 2012 MLB Draft, Dahl showed plenty of promise during his time with the Rockies, but he was nagged by persistent injuries, topping out at 100 games played in '19. The 26-year-old appeared in just 24 games this past season, posting a .470 OPS -- down from .867 across 2016-19.
A.J. Cole, RHP (0.5 fWAR)
The 28-year-old tied for second on the Blue Jays' staff in appearances in 2020 (24) and posted a 3.09 ERA while striking out 20.
Jefry Rodriguez, RHP (0.5 fWAR)
The 27-year-old Rodriguez battled through shoulder tendinitis in 2019 before missing the entire '20 season due to back problems. The Indians could still attempt to re-sign him to a Minor League deal, but other teams figure to take a look at Rodriguez with the hope that he'll be fully healthy for '21.
José Ureña, RHP (0.5 fWAR)
Ureña already had been designated for assignment by the Marlins on Monday. He had pitched nearly 600 innings for Miami since debuting in 2015 -- posting a 4.60 ERA -- but lost much of '20 to COVID-19 and a fractured forearm sustained on a comebacker.
Ryne Stanek, RHP (0.5 fWAR)
After producing a 3.55 ERA as a reliever/opener for the Rays, Stanek struggled following a July 2019 trade to Miami (6.03 ERA in 31 appearances). A bout with COVID-19 limited him to nine games this past season.
Tyler Anderson, LHP (0.4 fWAR)
Anderson, who turns 31 on Dec. 30, posted a 4.37 ERA in 13 outings (11 starts) with the Giants in 2020. That came after the southpaw put up an 11.76 ERA while battling left knee issues with the Rockies in '19.
Chi Chi González, RHP (0.4 fWAR)
González struggled on the mound for the Rockies over the past two seasons, recording a 5.66 ERA in 20 appearances (16 starts). In four big league seasons, the righty owns a 5.12 ERA with 99 strikeouts and 84 walks over 160 innings.
Justin Anderson, RHP (0.3 fWAR)
The 28-year-old Anderson posted a 4.75 ERA over 111 appearances for the Angels from 2018-19 before missing the entire '20 season after undergoing Tommy John surgery in July.
Jonathan Holder, RHP (0.3 fWAR)
Holder has been a familiar face in the Yankees' bullpen, compiling a 4.38 ERA and 8.4 strikeouts per nine innings across five seasons in the Bronx. But he has struggled to a 5.86 ERA across the last two campaigns.
Paul Sewald, RHP (0.2 fWAR)
Sewald wasn't tendered a contract after allowing nine runs in six innings for the Mets this past season. The 30-year-old righty owns a lifetime 5.50 ERA over 125 appearances in the Majors.
Chasen Shreve, LHP (0.2 fWAR)
The southpaw reliever is coming off a strong season with the Mets in which he struck out 34 batters in 25 innings, with a 3.96 ERA inflated by two rough outings in late September. Lefties were just 2-for-32 (.063) against him.
Foster Griffin, LHP (0.1 fWAR)
Designated for assignment earlier this week, Griffin tossed 1 2/3 scoreless innings in his MLB debut (and only career big league appearance) on July 27. The 28th overall pick in the 2014 Draft posted a 5.23 ERA in 25 starts for Triple-A Omaha in 2019.
Ryan Tepera, RHP (0.1 fWAR)
Tepera was a trusted member of the Cubs' bullpen in 2020, posting a 3.92 ERA over 20 2/3 innings while notching a career-high 13.5 K/9 rate, albeit with a 5.2 BB/9 average. Now 33 years old, the right-hander will enter free agency with a lifetime 3.66 ERA over 236 big league innings.
R.J. Alaniz, RHP (0.0 fWAR)
He has just 12 career MLB appearances (all in 2019) and spent most of '20 at the Reds' alternate training site.
Keynan Middleton, RHP (0.0 fWAR)
Middleton saved six games for the Angels early in 2018 but then needed Tommy John surgery, not returning until late in '19. The 27-year-old pitched 12 innings for the club in '20 (5.25 ERA) but was sent to the Alternate Training Site at the end of August.
Chadwick Tromp, C (0.0 fWAR)
Tromp made his big league debut in 2020, hitting .213 with four homers in 24 games with the Giants.
Daniel Robertson, INF (-0.1 fWAR)
Robertson had a breakout season for the Rays in 2018, posting a .262/.382/.415 slash line with nine home runs in just 87 games, all while appearing at all four infield positions and left field (and even one appearance on the mound). He has hit just .224 with two homers in 87 games since, though he hit .333 in 13 games down the stretch with the Giants after being acquired from the Rays in August.
Jace Peterson, INF/OF (-0.1 fWAR)
He played all four corner spots plus second base in 26 games for the 2020 Brewers, while posting a .393 OBP.
Alex Claudio, LHP (-0.1 fWAR)
Claudio has owned left-handed batters in his career (.556 OPS) but struggled against righties (.798), making the three-batter minimum a notable issue for Claudio.
Carlos Sanabria, RHP (-0.1 fWAR)
Designated for assignment earlier this week, Sanabria allowed two runs over two innings in his two appearances with the Astros in 2020 before being claimed off waivers by the Royals following the season. He had never pitched above Double-A prior to last season.
Nick Tropeano, RHP (-0.1 fWAR)
Tropeano was excellent in seven appearances out of the Pirates' bullpen in 2020, posting a 1.15 ERA with 19 strikeouts and four walks in 15 2/3 innings. The Mets claimed him off waivers from Pittsburgh at the end of the campaign before non-tendering him.
Clay Holmes, RHP (-0.1 fWAR)
After tossing 50 innings of 5.58-ERA ball in 2019, Holmes made just one appearance for the Pirates this past season, as he missed most of the year with a right forearm strain.
Rangel Ravelo, 1B/OF (-0.2 fWAR)
The 28-year-old Ravelo put up solid numbers for Triple-A Memphis in 2019, hitting .299 with 12 homers and an .856 OPS, but it hasn't translated to the big league level. Ravelo put up a .189/.250/.351 career slash line over 42 games with the Cardinals.
Jimmy Herget, RHP (-0.2 fWAR)
The 27-year-old ranked second in the Rangers in appearances (20) in 2020 and delivered a 3.20 ERA while seeing his first significant big league action.
José Martínez, DH/OF (-0.2 fWAR)
Martínez was a dangerous masher for the Cardinals as recently as 2018, but his bat has slipped over the past two seasons (90 OPS+). Martínez's defensive lapses make him unplayable at times in corner outfield spots and he's best suited as a designated hitter, and so he will likely need to wait to see what happens with the DH in the National League in 2021 to know the breadth of his market.
Hoby Milner, LHP (-0.3 fWAR)
Milner had an incredible rookie season in 2017, posting a 2.01 ERA over 37 appearances with the Phillies, but he's struggled to replicate that success. The southpaw, who turns 30 in January, has a 7.77 ERA in 37 appearances over the last three seasons, including an 8.10 mark in 19 outings with the Angels in '20.
Rico Garcia, RHP (-0.3 fWAR)
The 26-year-old right-hander posted a 5.40 ERA in 12 appearances for the Giants last season. Garcia flashed some potential with Double-A Hartford in 2019, posting a 1.85 ERA and 87 strikeouts over 68 innings, but he struggled after being bumped up to Triple-A.
Erick Mejia, INF/OF (-0.3 fWAR)
A 26-year-old utility player, Mejia played sparingly at the big league level over the last two seasons with the Royals. He went 6-for-36 (.167) with two doubles and a stolen base over 17 games, though he spent the majority of his time with Triple-A Omaha, where he hit .271 with seven homers, 19 stolen bases and a .721 OPS in 2019.
Travis Shaw, 3B/1B (-0.6 fWAR)
Shaw slumped dramatically in 2019 with the Brewers (.551 OPS). He rebounded somewhat this year (.717) but didn't return all the way to his 2017-18 form, when he notched back-to-back 30-homer campaigns.
Scott Heineman, OF (-0.6 fWAR)
He spent time at all three outfield positions and first base in two seasons with Texas but hit just .189/.259/.331 in 139 plate appearances.
Albert Almora Jr., CF (-0.8 fWAR)
The sixth-overall pick in the 2012 MLB Draft, Almora has proven to be a solid defender in center field during his career. But he struggled to a .651 OPS over 130 games in 2019 and logged only 34 plate appearances with the Cubs in '20.
Bubba Starling, OF (-0.9 fWAR)
The fifth overall pick in the 2011 MLB Draft, Starling never hit his stride during his time with the Royals. He made his debut in 2019, hitting .215 with a .255 on-base percentage and four homers in 56 games. The 28-year-old struggled again in '20, slashing .169/.219/.237 in 35 games.
Edgar Garcia, RHP (-1.0 fWAR)
Acquired by the Rays from the Phillies in mid-August, García pitched just 3 1/3 innings for Tampa Bay and allowed four runs.
Tony Wolters, C (-1.1 fWAR)
A defense-first backstop, Wolters hit .238/.323/.319 with seven homers over 391 games with the Rockies from 2016-20. The 28-year-old had a .550 OPS across 109 plate appearances in 2020.
Melvin Adon, RHP (N/A)
The 26-year-old right-hander had a 2.60 ERA over 36 outings with Double-A Richmond in 2019, but he struggled to a 13.94 ERA in 12 appearances with Triple-A Sacramento following a promotion that season.
Jeison Guzman, SS (N/A)
Guzman, who turned 22 in October, spent the last five seasons in the lower levels of the Royals' organization. He has yet to play above Class A and spent the entire 2019 season with Class A Lexington, slashing .253/.296/.373 with seven homers and 15 stolen bases.