Braves host regional Little League HR Derby
Eight East participants slug way to finals in Williamsport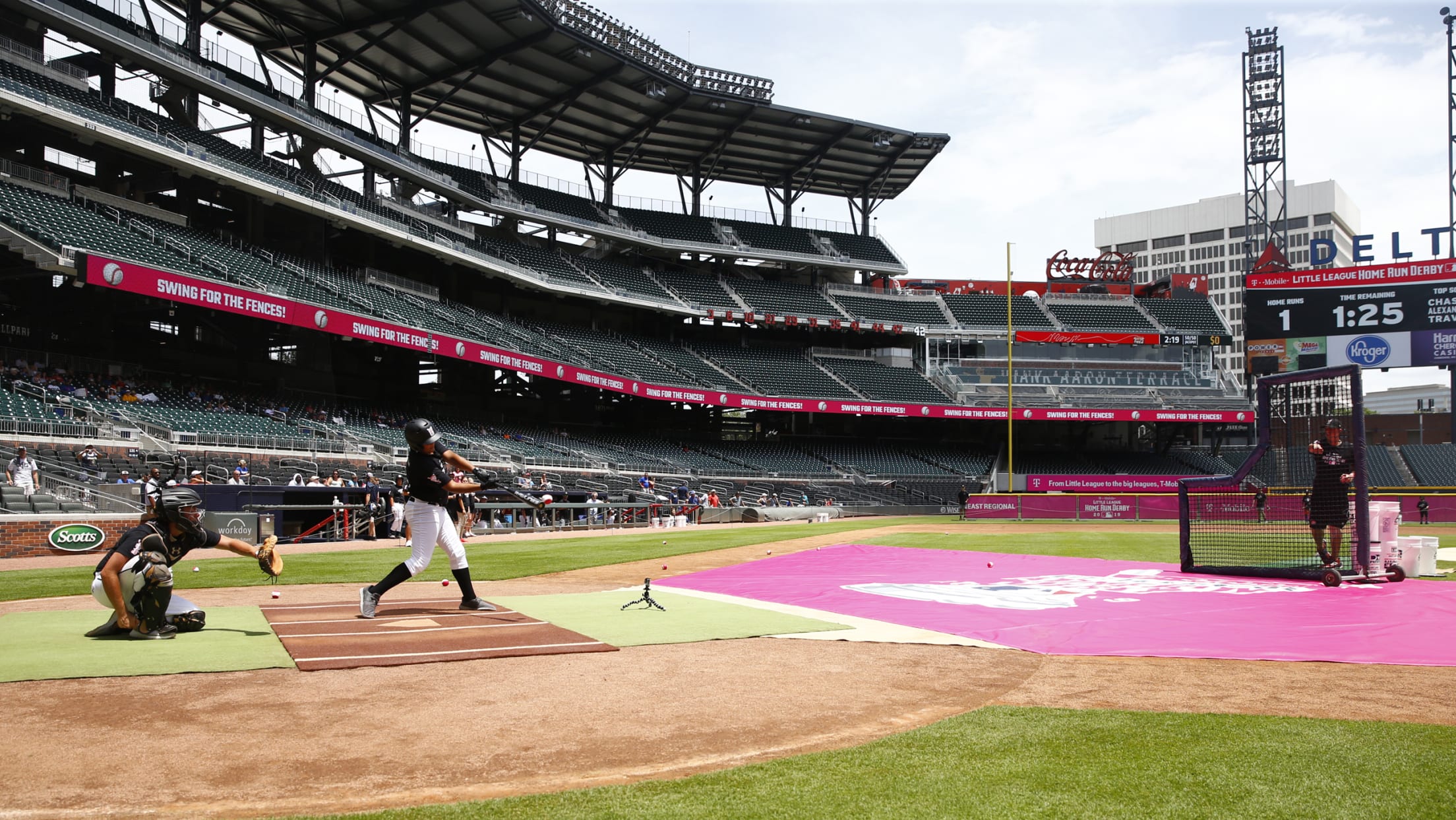 ATLANTA -- From 1966-96 the Atlanta Braves' home field, Atlanta-Fulton County Stadium, was affectionately known -- by hitters, at least -- as The Launching Pad. On Sunday afternoon, the Braves' new home field, SunTrust Park, went retro, with a nod to the days of The Launching Pad, hosting the East
ATLANTA -- From 1966-96 the Atlanta Braves' home field, Atlanta-Fulton County Stadium, was affectionately known -- by hitters, at least -- as The Launching Pad.
On Sunday afternoon, the Braves' new home field, SunTrust Park, went retro, with a nod to the days of The Launching Pad, hosting the East Regional Finals of the inaugural T-Mobile Little League Home Run Derby.
So maybe it wasn't Hank Aaron, Rico Carty, Dale Murphy or Bob Horner taking aim at the fences. But for one day, the kids who took their cuts on shorter fences (they were stationed 180 feet away) put on an entertaining show and lived out dreams of playing the game they love in a Major League ballpark.
For eight children, dreams take on an added dimension as they earned the right to represent the East at Williamsport, at the 2019 Little League World Series. The championship round will be Aug. 17-18 in Williamsport, Pa.
The finalists are:
Boys
Everest Ouellette (East Lake Little League in Tarpon Springs, Fla.)
Nate Hawton-Henley (Fairfax Little League in Fairfax County, Va.)
Cash Compliment (Ashland American Little League in Ashland, Ky.)
Kai LaChance (Plymouth Little League in Plymouth, Mass.)
Girls
Jeylene Joza (Washington Park Little League in Jersey City, N.J.)
Ciana Gaines (Elmer LIttle League in Elmer, N.J.)
Michelle Britt (Tinton Falls Little League in Tinton Falls, N.J.)
Keira Cook (East Greenbush Little League in East Greenbush, N.Y.)
"This was an amazing day, but it actually started a couple of months ago, when our local leagues were implementing their own competitions in anticipation of hopefully getting here," said Liz DiLullo Brown, chief marketing officer for Little League. "We had about 200 local leagues implement their competition and this was sort of the next round. So seeing these Little Leaguers from all over the East Coast get a chance to play on this field was amazing.
"Little League Softball is an equally important aspect of our program," DiLullo Brown added. "We have thousands and thousands of girls participating in that every year. We actually started this new program, Girls With Game, this year that highlights softball and female participants in our program. This is another extension of that."
Under a bright sun, the girls took the first hacks. The first round was frustrating, as none of the six entrants hit the ball over the fence. But things changed in the second round, as the hitters spoke up then put up. Joza blasted four home runs and Gaines and Britt smacked one each.
"I told them, 'You've got to talk to me. Tell me where you want it,'" said pitcher Phillip Rogers, a baseball coach at nearby Marietta High School. "They started saying, 'Faster, higher, inside.'"
The balls started going faster and higher and outside the barriers.
"After I hit the first one, I started to get in my groove," said Joza, who finished with nine overall. "Hearing the crowd got me more excited."
"I always try to keep a positive mindset. It keeps me going," said Gaines, who got the crowd going by going back-to-back in the final round. "I just tried my hardest. It was just keeping your eye on the ball, finding your right pitches, swinging at the right pitches, your eye-hand coordination."
Britt and Cook, both 11, and 13-year olds Joza and Gaines are excited about making the trip to Williamsport, especially with their elders.
"I'm so excited for it," Britt said. "It makes me feel less nervous to have more people with me that I'm close to."
"I really didn't think I was going to make it because I'm one of the youngest," said Cook, who punched her ticket by hitting the longest ball in the final round. "I just kept saying, 'You've got to hit it hard because all you need is just one.' It felt really good."
Up high! #GirlsWithGame pic.twitter.com/Z4fpTqF9ri

— Little League (@LittleLeague) July 15, 2019
The boys had a little easier time finding, and surpassing the range. At times, the 180 feet seemed too easy. Ouellette smashed 15 homers in each of the first two rounds and 14 in the final round. Hawton-Henley blasted 11, 12 and 14, waiting until the final 30-40 seconds in each round to get hot. Compliment hit 11, 6 and 14 and LaChance racked up 8, 13 and 9.
Hawton-Henley, who had a cheering section of more than a dozen family and friends, wasn't awestruck by SunTrust Park. He was thrilled to do damage on the same field that his baseball hero, Nationals third baseman Anthony Rendon, does and where the 2021 MLB Home Run Derby will take place.
"It's great, knowing that I'm there where the greatest players in the world are, hitting on the same field they do," he said, adding he's hoping to be joined in Williamsport by an even bigger cheering section. "I hope my team gets there, too."
Ouellette lamented that his team won't be making the trip to Williamsport, but looks forward to representing them.
"I dreamed of Williamsport because our Little League team was really good, but we didn't win, so now being able to go to Williamsport is going to really be an accomplishment for me," he said. "I'm really excited. I don't want to mess up or anything, but I'd really like to show what I did today at Williamsport."
LaChance admitted that he got caught up in the atmosphere and tried to swing for the big fences.
"Last round, I knew I was going to Williamsport, so I thought I'd try to be early on some pitches and see if I could get it close to the left-field fence," he said, with a laugh. "But then I decided I'd just wait on it and I started hitting it out every time."
He can't wait to hit them out in the finals.
Cash admitted that the energy in the dugout, with everybody supporting each other, was a big reason for all the long balls -- there were 13 rounds with at least eight round-trippers. He's looking forward to bringing that energy and camaraderie to the Little League World Series.
"We really had a good time out here with each other," he said. "I've heard of MLB Home Run Derby but Little League Home Run Derby, I never thought that it would be a thing. I think this is just great. They should continue doing this."
That's the plan, according to DiLullo Brown.
"It's given us another way for us to keep players engaged with Little League," she said. "The idea of having a fun, friendly competition and coming together and meeting each other from different cities has kind of been an amazing experience for these players."