Livan on a jet plane for Game 1? If weather permits
Ex-Expos/Nats pitcher, who's bracing for hurricane in Miami, slated to throw first pitch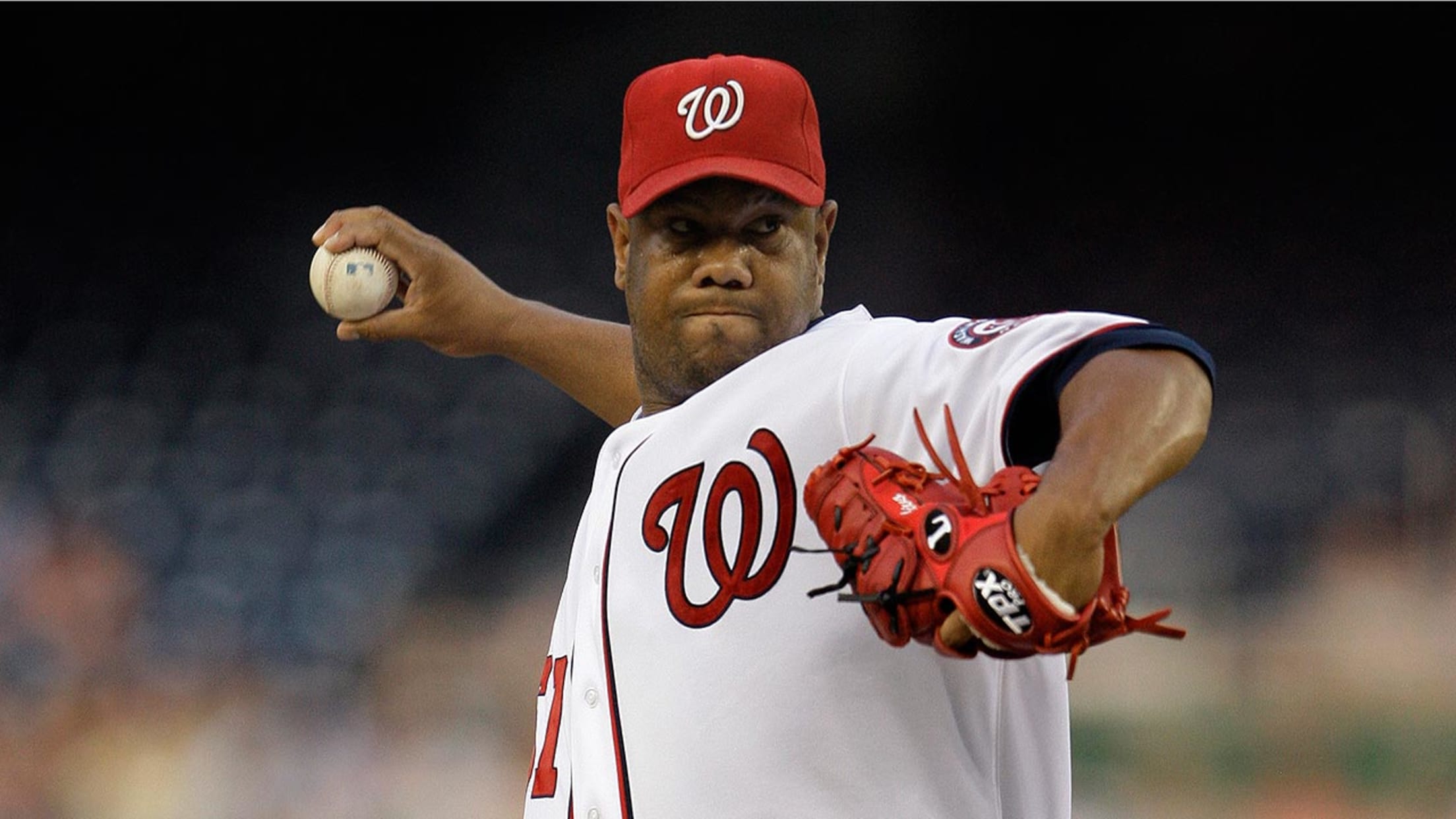 Livan Hernandez played for Montreal/Washington in 2003-06 and again with the Nats in 2009-11. (AP)
WASHINGTON -- Former Nationals/Expos right-hander Livan Hernandez is scheduled to throw out the first pitch before Game 1 of the National League Division Series against the Dodgers at Nationals Park on Friday (5:30 p.m. ET/FOX Sports 1).But Hernandez said he may have a problem getting to D.C. He lives in
WASHINGTON -- Former Nationals/Expos right-hander Livan Hernandez is scheduled to throw out the first pitch before Game 1 of the National League Division Series against the Dodgers at Nationals Park on Friday (5:30 p.m. ET/FOX Sports 1).
But Hernandez said he may have a problem getting to D.C. He lives in the Miami area, which is preparing for the potential impact of Hurricane Matthew. Hernandez is scheduled to leave for D.C. on Thursday.
"We don't know because the hurricane is coming," Hernandez said via telephone. "It's already crazy [in Miami]. The winds [are blowing 20 mph] already. It's crazy. It's not easy to leave the family here. I would love to [throw the first pitch]. Let's see."
:: NLDS: Dodgers vs. Nationals coverage ::
The sports radio station, 106.7 The Fan, reported that former Nationals first baseman Adam LaRoche and his son, Drake, will throw out the first pitch before Game 2 of the NLDS on Saturday (4 p.m. ET/FOX Sports 1).
Ramos to be around Nationals Park
Nationals catcher Wilson Ramos is expected to be with the team for Friday's Game 1.
Ramos is out for the season because of a torn ACL in his right knee. Ramos sustained the injury on Sept. 26 while trying to catch a high throw from first baseman Ryan Zimmerman. The backstop was a key cog in the Nationals' lineup this season, hitting .307 with 22 homers and 80 RBIs.
A source indicated Ramos is trying to figure out which doctor will perform the surgery on his knee, which could happen in two or three weeks. Ramos is waiting for the swelling to go down.
Instructional league season canceled
The Nationals have canceled the remainder of their instructional league season because of Hurricane Matthew, a team spokesman said. The team's instructional league is in Viera, Fla.
"Out of an abundance of caution and with the safety of our players foremost on our minds as Hurricane Matthew approaches Florida, the remainder of the 2016 instructional league has been canceled," a Nationals spokesperson said.
Worth noting
Nationals second baseman Daniel Murphy (strained buttocks) worked out with the team on Wednesday. He was able to run the bases, take batting practice and turn some double plays. Murphy called it a good day.
Asked if he would be ready to play in Game 1 on Friday, Murphy said, "I don't like to predict the future. I've been really poor at it in my career. I felt really good today. Today was a step in the right direction. We'll see how we respond tomorrow. We'll get some more work in tomorrow and then we'll see on Friday."