Rays considering Forsythe as leadoff hitter
Cash likes idea of getting infielder as many at-bats as possible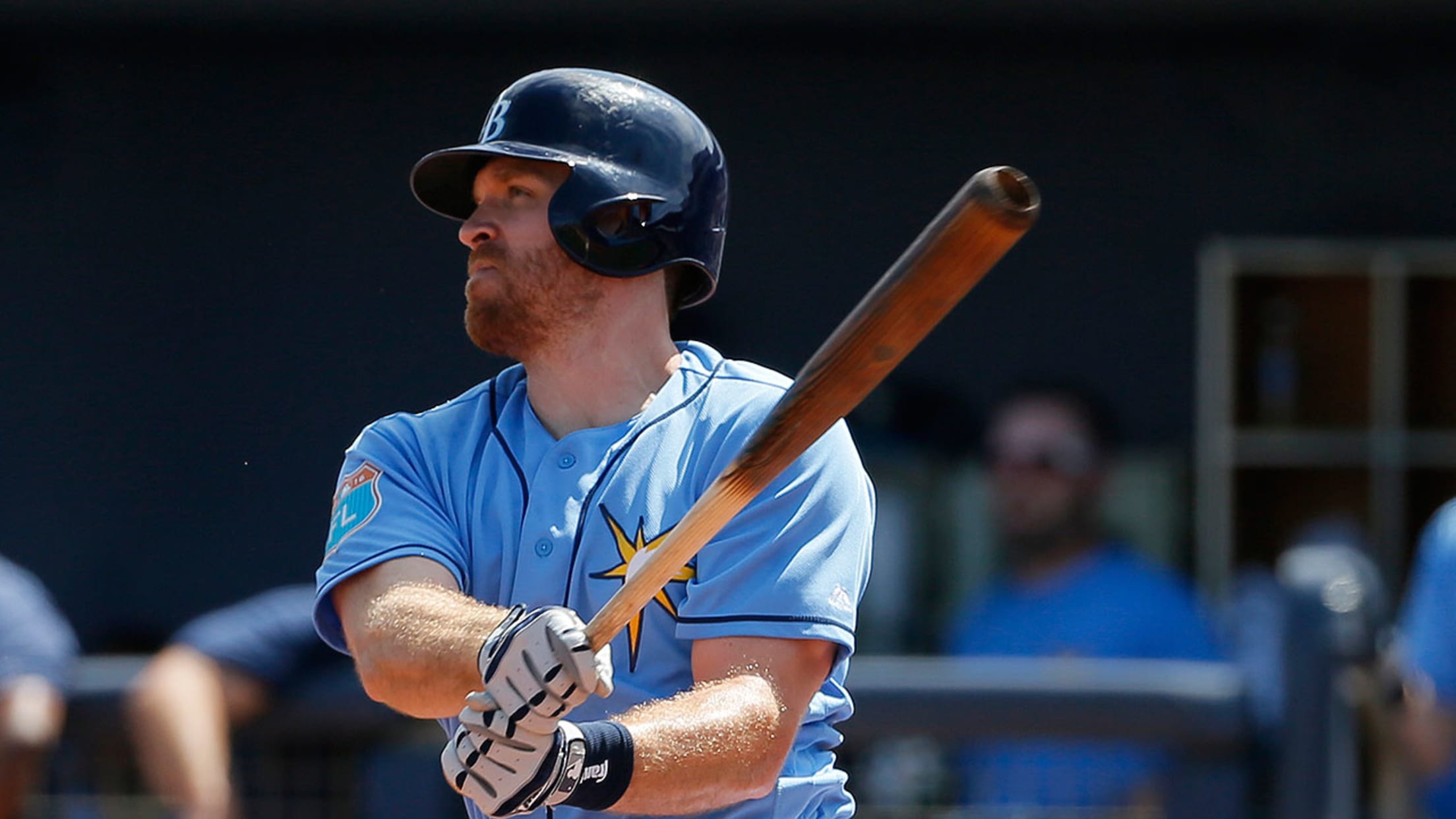 "I want to keep playing with it and get comfortable," Logan Forsythe said of hitting leadoff. (AP)
PORT CHARLOTTE, Fla. -- Logan Forsythe led off for the Rays for the fifth time this spring in Tuesday's 5-2 loss to the Phillies. Manager Kevin Cash said Forsythe is under consideration for becoming the team's leadoff man this season."We're still talking through it," Cash said. "At the end of
PORT CHARLOTTE, Fla. -- Logan Forsythe led off for the Rays for the fifth time this spring in Tuesday's 5-2 loss to the Phillies. Manager Kevin Cash said Forsythe is under consideration for becoming the team's leadoff man this season.
"We're still talking through it," Cash said. "At the end of the day, it gets Logan Forsythe up to the plate probably 75 more times throughout a year. He's a guy we want as many at-bats as possible. He's earned that, and I think what he did last year showed that.
"We can talk about how the lineup flows after that, but ultimately, it gets him to the plate in big situations at the end of the game, whereas maybe hitting fifth last year, he didn't get those opportunities."
• Spring Training: Schedule | Tickets | More info
Cash acknowledged that hitting in the leadoff spot is a different undertaking for a hitter.
"Before talking to him, I probably didn't have too much appreciation [for what it involves]," Cash said. "But hearing him talk, he had a routine hitting fourth and fifth last year. Got to see more pitches, the timing and stuff. This year, so far what's taken place, you don't have that. Get in there and be ready to hit. But Logan's a really good hitter, and he'll adjust."
Forsythe, who left the game after getting hit by an Aaron Nola pitch in his first at-bat on Tuesday, said he is "still getting used to" the leadoff spot.
"It's that first at-bat of the game," he said. "Trying to come in from the field and get things ready, or if we're on the road, trying to get ready so I at least see the pitcher warm up a little bit. It's more of a timing thing for me.
"I've always been in a routine of in the dugout trying to get my timing there before I get on deck. On-deck routine's just shortened up a little bit. [I'm] having some success this spring with it, but I want to keep playing with it and get comfortable."
While Forsythe is under consideration for the leadoff spot, the decision is not a done deal.
"I know there are plenty of guys who like to hit leadoff," Cash said. " ... Brad Miller's a guy who has expressed a little interest in it. He's hit leadoff before. Logan seems to be OK. [Steven] Souza Jr., [Desmond Jennings]. There are a lot of guys who are candidates, but you have to figure out how it balances out the rest of the lineup. ... Once we find that spot, it should smooth things out two through nine."
Steve Pearce (right calf tightness) did not play Tuesday, but he is expected to be back in the lineup for Thursday's game against the Phillies in Clearwater, Fla.
Keeping Pearce off the field on Tuesday "was more our decision," Cash said. "Makes the most sense to give him today off, and we have the scheduled off-day. We actually contemplated not letting him not go to Clearwater. But he's eager to get back out there. He said he wanted to play."
Pearce will DH in Clearwater, then play first against Red Sox on Friday in Port Charlotte.
"He was fine to play today," Cash said. "We're just trying to be smart."
Initially, Pearce said he was concerned about not getting enough at-bats this spring. But the Rays will set him up where he can make up his at-bats in Minor League games played at the Charlotte Sports Complex.
Overall, Pearce appeared pleased about where he finds himself at this point of Spring Training.
"I'd say it's better to get it out of the way now and be ready April 3," he said.
Matt Andriese (tightness in his left abdominal muscle) threw off a mound on Tuesday and feels as though he's close to being back on a regular schedule.
"I threw three innings in Lakeland [on March 8], felt good, didn't feel anything," Andriese said. "The next day, I had normal soreness, then I threw a bullpen after that and I felt it a little bit stronger. That was the day I said something about it because last year I dealt with the same situation. It was a little higher."
Andriese was afraid he might have suffered a hernia.
"That's a long process with the surgery," he said. "Once I ruled that out, I was good."
Since then, he has been doing a lot of core and stabilization exercises.
"Feels a lot better now," Andriese said.
Wednesday will be an off-day for all the Rays except for Jake Odorizzi and Rene Rivera, who will play in a Class A game on a back field at the Charlotte Sports Complex.
"Odo will pitch, and Rene is going to catch him," Cash said. "It's his day to pitch. We don't want him to alter anybody's routine. His routine is as important as anybody's."