LoMo's tune-up? How about Scherzer, Verlander
Secret Florida games gave Morrison and over 30 MLBers important live at-bats, bullpens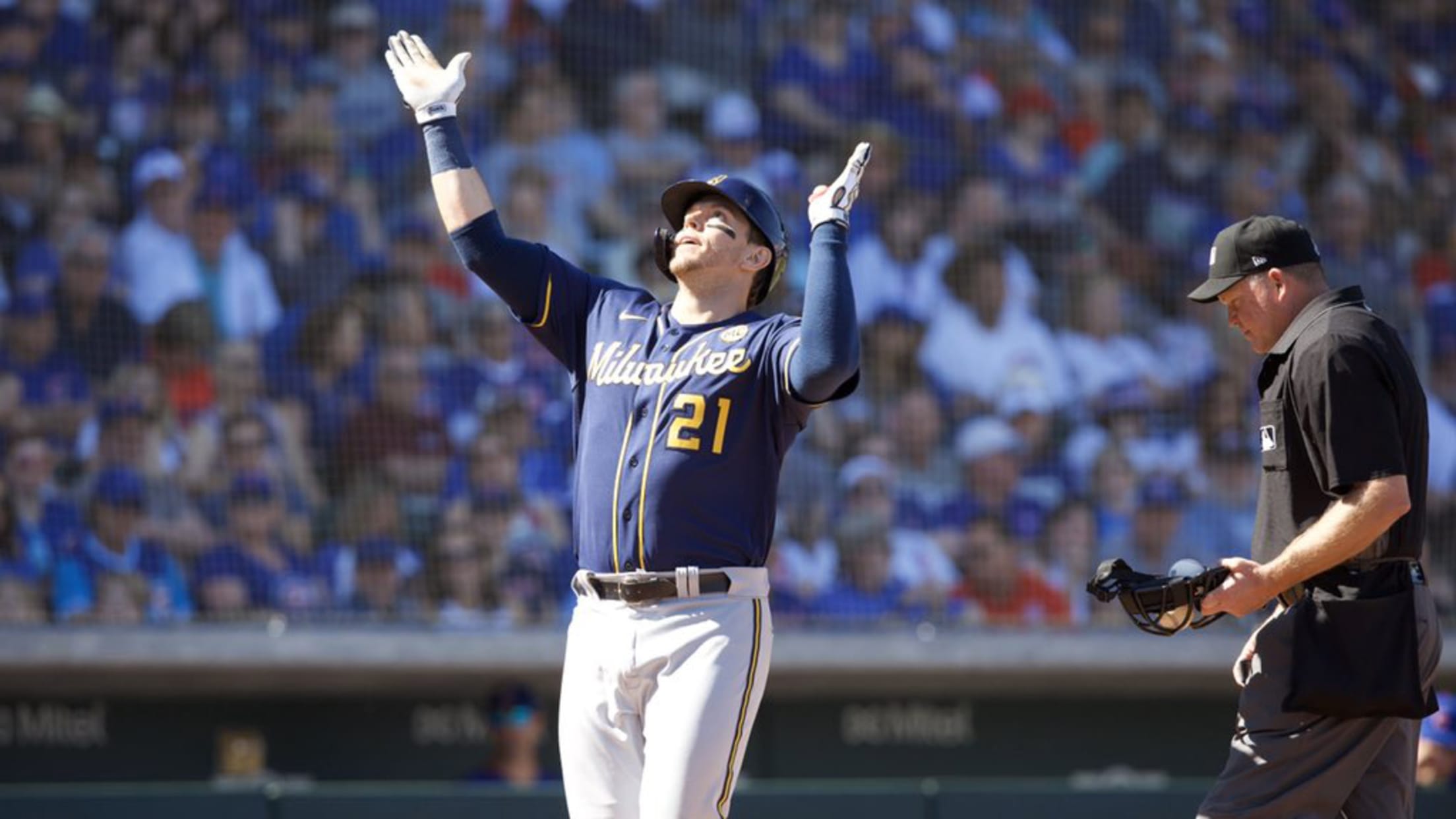 MILWAUKEE -- Logan Morrison dug into the batter's box and looked toward the mound. There was Washington Nationals ace Max Scherzer, grimacing, grunting and glaring at Morrison as if he was trying to scare the slugger back to the bench. This wasn't a scene from some past season. It was
MILWAUKEE -- Logan Morrison dug into the batter's box and looked toward the mound. There was Washington Nationals ace Max Scherzer, grimacing, grunting and glaring at Morrison as if he was trying to scare the slugger back to the bench.
This wasn't a scene from some past season. It was within the past couple of weeks, as Morrison stayed ready to resume his bid for a place on the Brewers' Opening Day roster.
• Here are 3 things to watch in Brewers camp
"It seemed like he was in midseason form, raring to go," Morrison said of the three-time Cy Young Award winner. "I was like, 'Dude, don't hurt yourself. Relax.' But that's the way he is."
That at-bat unfolded during a series of secret workouts in Palm Beach, Fla., which was revealed Thursday by Brittany Ghiroli of The Athletic. She wrote of more than 30 Major Leaguers gathering under the watch of Eric Cressey, the popular workout guru who joined the Yankees organization last winter, who invited the likes of Scherzer, Justin Verlander, Noah Syndergaard, Corey Kluber, Paul Goldschmidt and Giancarlo Stanton to his sprawling facility. They squared off in live batting practice sessions and even played some games at Palm Beach Gardens High School.
Morrison, who lives in nearby Jupiter and had worked out with Cressey in the past, was the only Brewers Major Leaguer to take part. He said he was on the field six days a week during the shutdown, including four days per week of facing live arms. Along with the aforementioned hurlers, All-Star reliever Brad Hand, budding A's left-hander Jesús Luzardo, and Mets right-handers Michael Wacha and Robert Gsellman participated. (Morrison didn't hit against Verlander, but he did stand in for a bullpen session.) Among the other hitters on hand were former Brewers prospects Monte Harrison and Isan Díaz, both of whom were traded to Miami in the Christian Yelich deal.
Every opportunity to see live pitching was valuable. At the end of that impromptu camp, Cressey and his wife, Anna, organized a pair of games, and Morrison played four innings in each of them. It was his first taste of game action since March; he took at-bats against Luzardo, Hand and Wacha.
"I don't know if I put a ball in play," Morrison said. "It's about getting the ABs. I'm not sure how many at-bats we're going to get [in Summer Camp], so that's why it's really important. If this were a normal Spring Training, I wouldn't think so.
"What the fans don't understand, what people outside maybe don't understand, is how stinkin' hard this game is. It is so hard to play baseball. So you want to help guys."
Morrison is one of nine invitees to Milwaukee's summer camp -- which gets underway Saturday -- who is not on the 40-man roster. He was making a strong impression in Spring Training, with nine hits (including three long home runs) in his first 30 Cactus League at-bats, and was trying to fight his way into a first-base mix expected to include switch-hitter Justin Smoak and longtime Brewer Ryan Braun.
• Brewers name 45 to 60-man player pool
Now the path to Opening Day is a bit clearer for Morrison. He would still need a spot on the 40-man, but Opening Day rosters are expanding by four spots, from 26 to 30, for the start of a 2020 regular season. And National League teams will employ a designated hitter in '20, making it even easier to envision Morrison swinging for the fences at Miller Park.
Morrison's understanding of his contract is that he'd have the right to become a free agent if he doesn't make the Opening Day roster. In Spring Training, he made clear he would not accept an assignment to Triple-A. Likewise, he does not intend to be among the extra players this summer at the Brewers' alternate training site in Appleton, Wis.
Morrison feels better positioned to win a job after dropping 20-25 pounds during baseball's three-month pause. He had experimented with a new nutrition and fitness program last winter from trainer, author and podcaster Bill Hartman -- whose followers on Instagram include Brewers pitchers Brandon Woodruff, Josh Lindblom and Zack Brown -- but it wasn't until late March or early April that he perfected it.
"My quality of life improved. I'm going to be ready to go," Morrison said. "It's amazing what can be done when you stop eating sugars. I just feel better. … I can go, go, go, go. In the last three months, I've probably taken four or five days off, and that was to travel. It's not like I'm working out hard every day, but I'm doing stuff every day."
Of his chances to make the Brewers' cut, Morrison said: "I'm not even thinking about it. I'm just trying to be the best version of me. If that means I'm on the team, that's awesome. If not, I'll be tearing it up somewhere else or I'll be at home with my kids. I'm not worried about it."
The experience in Palm Beach was helpful in another way. It proved to Morrison that if players follow strict protocols, which included social distancing and staggered sessions in the weight room, a dedicated group of individuals could get their work while avoiding COVID-19.
"So it can be done," Morrison said. "Just because it can be done doesn't mean it will be done, but hopefully we can do the same thing, right? If we follow the protocols, we can play a whole season -- or at least a whole 60-game season."