Looking back at past Drafts for Phillies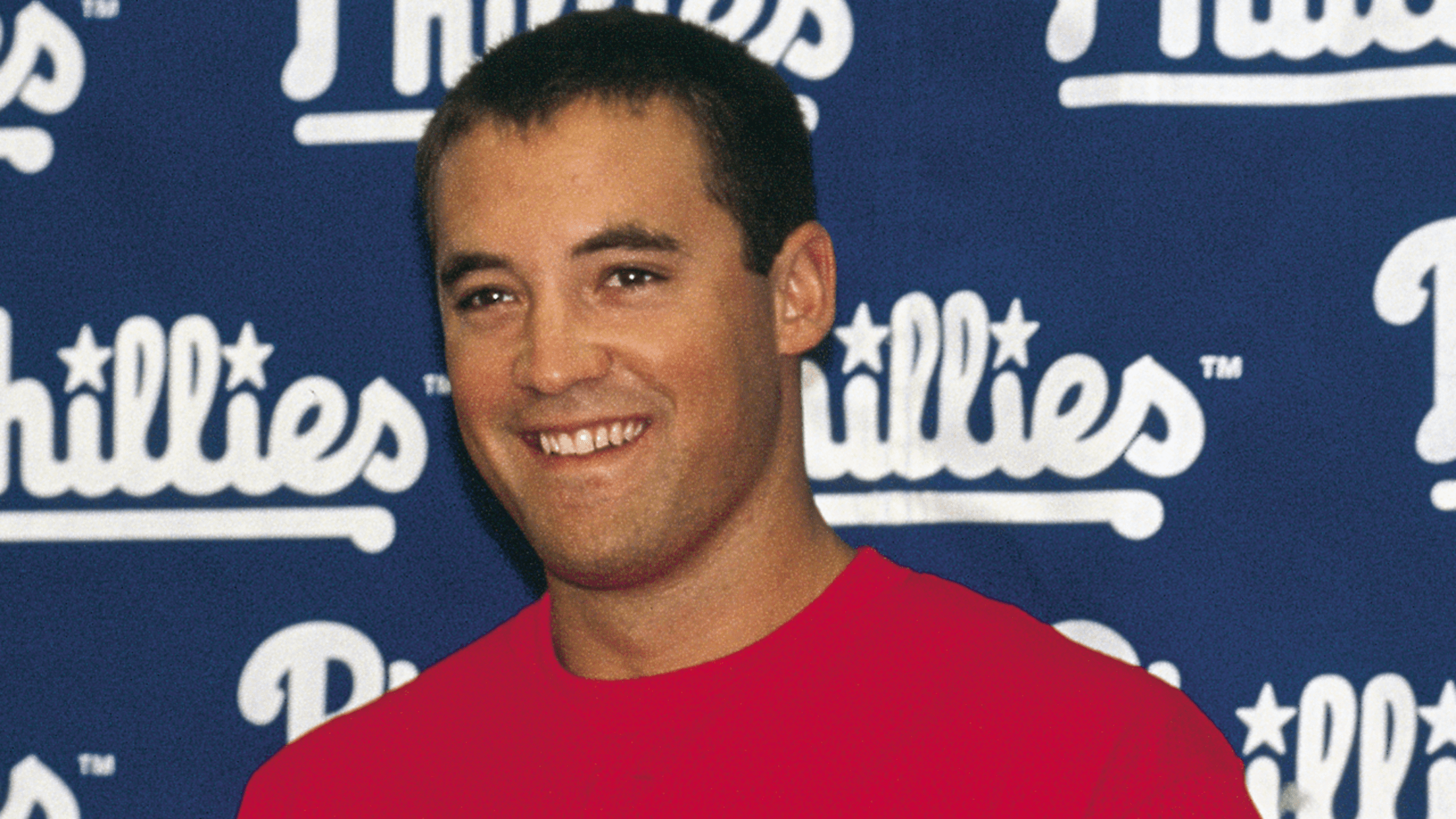 The last time the Phillies had the No. 1 pick in the Draft, they selected Pat Burrell, who hit 251 home runs in nine years with the club. (Phillies)
For the second time in the 51-year history of the MLB Draft, the Phillies have the No. 1 selection. In 1998, they chose Pat Burrell, then a college third baseman from the University of Miami. After the first overall selection on Thursday, the Phils' next two picks are Nos. 42
For the second time in the 51-year history of the MLB Draft, the Phillies have the No. 1 selection. In 1998, they chose Pat Burrell, then a college third baseman from the University of Miami. After the first overall selection on Thursday, the Phils' next two picks are Nos. 42 and 78.
The first Draft took place in 1965 in the Commodore Hotel in New York City. Each team was assigned to a round table. Former general manager Paul Owens conducted the Draft for us. There was a lot of buzzing going on that day. Teams were selecting players on which other teams didn't have scouting reports. Everyone seemed to be kind of nervous.
Outfielder Rick Monday was the first player selected by the A's, who were then playing in Kansas City. He made it. High school pitcher Mike Adamson was the Phillies' first pick, 18th overall. He never signed with the Phils, was drafted later by Baltimore and wound up pitching in 11 games for the Orioles over parts of three season.
First round (Minimum seven seasons in the Majors, although in some cases, their greatest success came with teams other than the Phillies)
• 1B Greg Luzinski (1968), high school (11th overall)
• OF Mike Anderson (1969), high school (6th)
• RHP Roy Thomas (1971), high school (6th)
• RHP Larry Christenson (1972), high school (3rd)
• C John Stearns (1973), college (2nd)
• OF Lonnie Smith (1974), high school (3rd)
• C John Russell (1982), college (13th)
• 1B Ricky Jordan (1983), high school (22nd)
• RHP Pete Smith (1984), high school (21st)
• C Mike Lieberthal (1990), high school (3rd)
• RHP Wayne Gomes (1993), college (4th)
• RHP Adam Eaton (1996), high school (11th)
• 3B Pat Burrell (1998), college (1st)
• RHP Brett Myers (1999), high school (12th)
• 2B Chase Utley (2000), college (15th)
• RHP Gavin Floyd (2001), high school (3rd)
• LHP Cole Hamels (2002), high school (17th)
• C Travis d'Arnaud (2007), high school (37th)
Second round (Again, minimum seven seasons in the Majors)
• OF Larry Hisle (1965), high school (38th overall)
• SS Mike Schmidt (1971), college (30th)
• LHP Tom Underwood (1972), high school (27th)
• RHP Lance McCullers (1982), high school (41st)
• RHP Marvin Freeman (1984), college (49th)
• LHP Bruce Ruffin (1985), college (34th compensation selection)
• SS Kevin Stocker (1991), college (54th)
• 3B Scott Rolen (1993), high school (46th)
• 2B Marlon Anderson (1995), college (42nd compensation)
• SS Jimmy Rollins (1996), high school (46th)
• LHP Randy Wolf (1997), college (54th)
High on the radar from the past five Drafts are first-rounders OF Cornelius Randolph (10th overall, 2015), RHP Aaron Nola (7th, 2014) and SS J.P. Crawford (16th, 2013); and second-rounders 2B Scott Kingery (48, 2015), LHP Matt Imhof (47, 2014), C Andrew Knapp (53, 2013), OF Dylan Cozens (77, 2012 compensation) and SS Roman Quinn (66, 2011), now a center fielder.
25th round
Not much attention was paid to the 1980 Draft. Philadelphia's focus was on the Phillies' road to their first World Series championship. In the 25th round (629th overall selection) that summer, the Phils selected a 170-pound catcher out of Arkansas City, Kan., Darren Arthur Daulton. He was the fourth catcher the Phillies selected that day: Lebo Powell (first round), Doug Maggio (third) and Jerome Kovar (10th). All three signed professionally but never advanced beyond three years of Minor League baseball.
Never drafted
Then, there's Larry Bowa, cut from his high school team and not drafted in 1965, when 824 players were.
Eddie Bockman, the late Phillies' scout, had seen Bowa play at various levels of amateur baseball in the Sacramento, Calif., area. He knew Bowa had basic baseball tools, knew he had heart, knew he was a competitor, knew he had a temper and thought it worthy of bringing Paul Owens (director of the farm system then) into the picture. They signed Bowa for $1,200 in October 1965.
Burrell, on the other hand, signed a five-year, $8 million contract, the highest amount ever given to an amateur player at the time.
Larry Shenk is in charge of alumni relations and team historian for the Phillies.