Cain reflects on decision to not play in 2020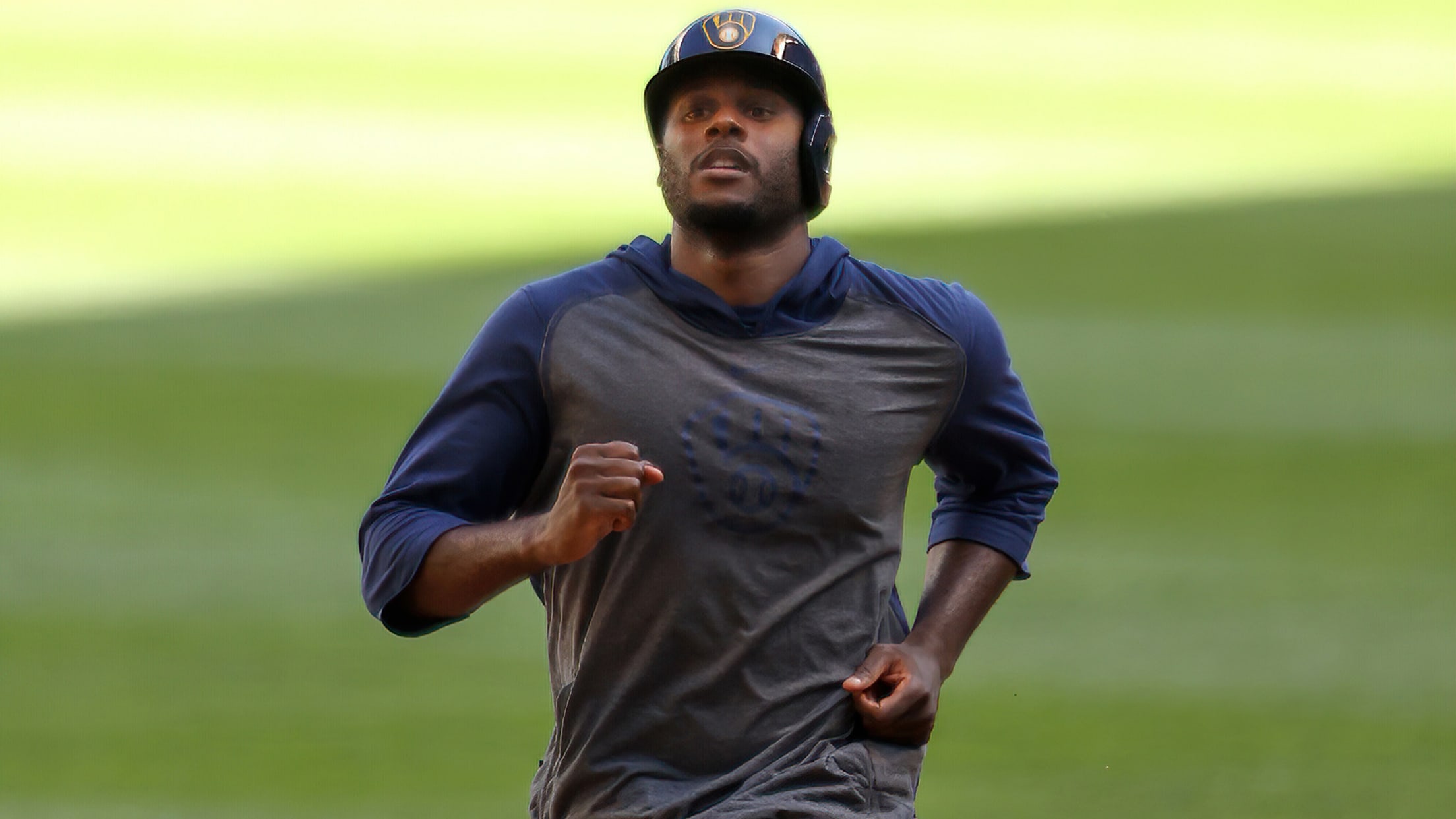 MILWAUKEE -- There have been days in recent weeks, Brewers outfielder Lorenzo Cain said, when he has second-guessed his decision not to play the remainder of 2020. "It really hurt me. It hurt me to leave," Cain said. "Honestly, that's all I've been thinking about. I honestly have been thinking
MILWAUKEE -- There have been days in recent weeks, Brewers outfielder Lorenzo Cain said, when he has second-guessed his decision not to play the remainder of 2020.
"It really hurt me. It hurt me to leave," Cain said. "Honestly, that's all I've been thinking about. I honestly have been thinking about opting back in; I wish I could sometimes. But at the end of the day, I know what I need to do, not only for myself, but for my family."
For the first time Thursday, Cain explained why he made the decision to join pitcher Shelby Miller as the only Brewers players who elected not to play in the 2020 season. Cain had been thinking about it for a while, he said, and his concern grew when the team went on the road for the first time, a trip to Chicago for an exhibition at the White Sox followed by regular-season series at the Cubs and at the Pirates. When the Brewers returned home from that trip, their series against the Cardinals was postponed due to positive tests for COVID-19 within St. Louis' traveling party.
And there was another reason.
"I do want to say this," Cain said. "This lifestyle and everything that's going on in 2020 has definitely opened my eyes. So I felt the need to opt out not only for the COVID reasons, but also trying to get my life right with God. That's something that -- I'd put God on the back burner. And with this lifestyle and everything that's going on, I decided to seek God and get closer to God. That's just something I felt like I needed to do, not only for myself, but for my family as well."
Cain said he has spent a lot of time talking with his pastor about religion, in addition to talking with friends, family and Brewers teammates about social-justice issues unfolding in Wisconsin and elsewhere.
"I need to continue to grow as a human being," Cain said. "Like I said, 2020, it's changed my life. It's opened my eyes to a lot of different things. It's been tough. I know the team hasn't been playing great. They picked up the last few games here, but I know the team hasn't been playing great. Nothing pains me more to see that; when the team is struggling and I am not there. But it's something I need to do, not only for my kids and my family, but for myself, more importantly, so I could help my family grow and kind of rub off on other people as I grow as well."
Worth noting
• The Brewers activated reliever Justin Grimm from the 10-day injured list to serve as the "29th man" for Thursday's seven-inning doubleheader against the Reds at Miller Park. Grimm had been on the IL since sustaining a cut on his right index finger during an Aug. 12 outing. He was scheduled to pitch an inning at the team's alternate training site on Wednesday night, but the Brewers backed off that plan after Wednesday's game was postponed and moved to a Thursday twin bill.
• On Thursday, the Brewers released utility man Brock Holt, who had been designated for assignment last weekend after beginning his Milwaukee tenure 3-for-30. Holt signed in February for one year plus a club option for 2021, so the team owes the remainder of his prorated $2.5 million salary this season plus a $750,000 buyout.
• American Family Insurance and Brewers Community Foundation, the club's charitable arm, announced a joint $200,000 donation to the Milwaukee Public Schools Foundation #ConnectMilwaukee initiative to provide internet access and equipment to thousands of students as virtual learning continues into the new school year.