Tigers call up side-winding reliever Coleman
Club hoping veteran can give opponents a different look from 'pen; Cano impressed by Candelario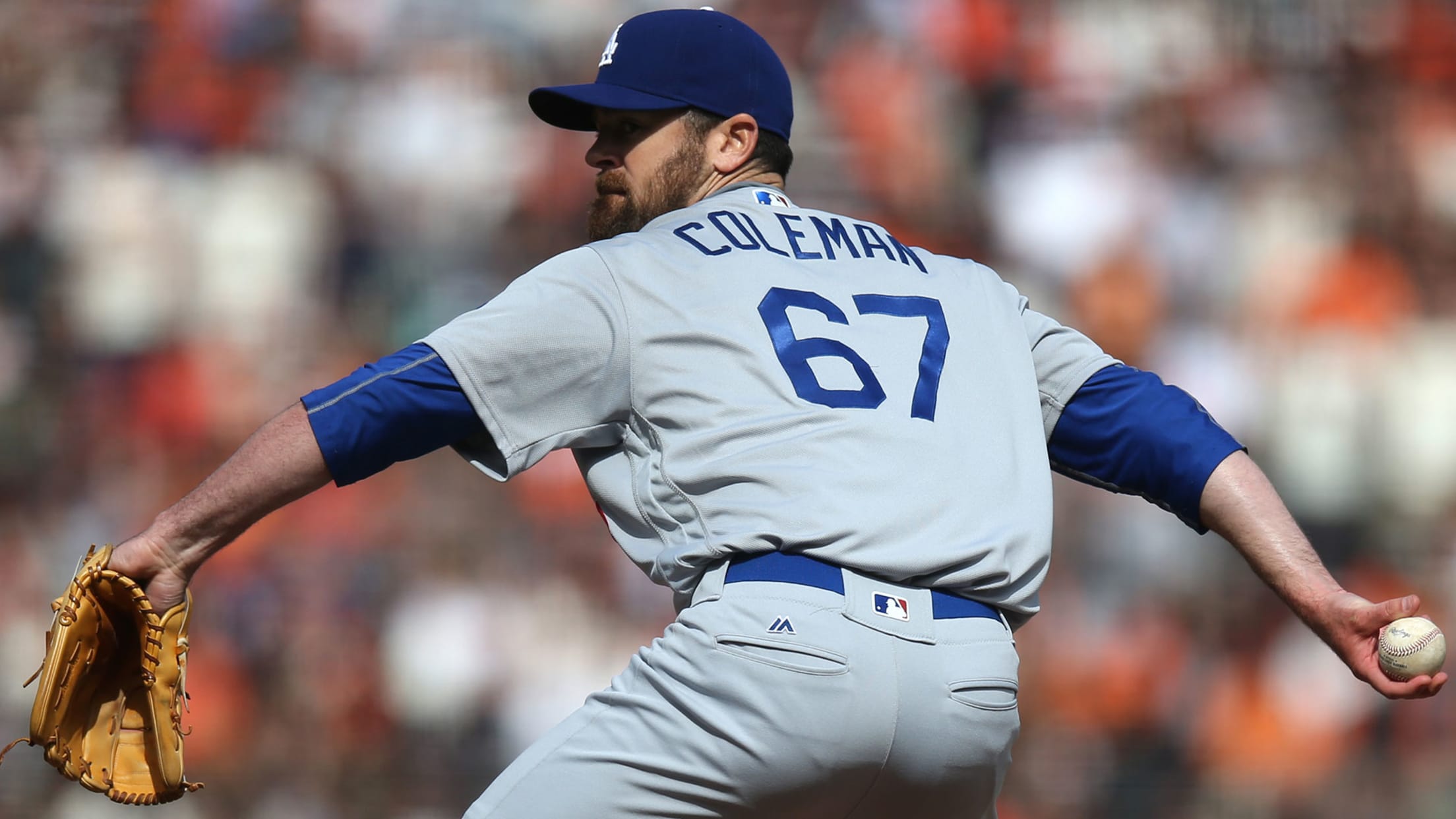 DETROIT -- Louis Coleman has made 213 Major League appearances since his debut for the Royals in 2011, but like many older middle relievers, he was having trouble finding a chance to compete in a big league camp as Spring Training approached.His college coach at LSU, Paul Mainieri, called his
DETROIT -- Louis Coleman has made 213 Major League appearances since his debut for the Royals in 2011, but like many older middle relievers, he was having trouble finding a chance to compete in a big league camp as Spring Training approached.
His college coach at LSU, Paul Mainieri, called his former assistant coach from his days at St. Thomas University. Al Avila didn't have any spots to offer in Tigers camp, but they kept in touch. A couple weeks later, Coleman was in Lakeland, signing a Minor League deal without a big league invite.
"By the time I had signed, I was looking for anything," Coleman admitted. "I felt like I still have a lot of baseball left in me, and I just wanted to prove it. If I needed to start in Minor League camp, I would do that."
Little more than a month into the season, Coleman is at Comerica Park, his name stitched onto a jersey with number 19 on the back after the Tigers purchased his contract from Triple-A Toledo. Coincidentally, the 32-year-old right-hander will be the 19th different player to pitch for the Tigers this season.
Coleman is also the lone right-hander in the Tigers' bullpen with a sidearm delivery, and in a league where more relievers are throwing harder than ever, the Tigers hope Coleman can give them something different -- a different look that makes not only him effective, but also throws off opponents' eye levels, which would help Detroit's other relievers, too.
"You can have guys coming out of the same arm slot with the same pitches too many times," manager Ron Gardenhire said. "It's nice to have different looks. It's nice to have a guy throwing 98 [mph], too."
Coleman replaces Johnny Barbato, who was optioned to Triple-A Toledo after Friday's rainout. Left-hander Ryan Carpenter also was called up as a 26th player for the second game of Saturday's doubleheader.
With Blaine Hardy in the rotation for a spot start on Sunday, Coleman is the only Tigers reliever over 30. He's had a strong start at Toledo, allowing four runs on eight hits over 15 innings with five walks and 15 strikeouts. His eight saves rank second in the International League.
Coleman had similar Triple-A success last year in the D-backs' and Reds' organizations, but never got the call to the big leagues. He hasn't pitched in the Majors since he spent most of the 2016 season in the Dodgers' bullpen, which might have contributed to his struggles finding a camp invite last winter.
At this point, Coleman's game is pretty well-known. It's a matter of finding a fit.
"Playing against Detroit over the years, they've always been a good organization," Coleman said. "I just like the way they run everything. But ultimately, it came down to there weren't very many options. Just grateful that they gave me an opportunity, and I'll make the most of it."
Cano praises good friend Candelario
Robinson Cano and Jeimer Candelario aren't family, but they're close -- their fathers grew up in the same hometown in the Dominican Republic. They would train together when Cano was an up-and-coming prospect in the Yankees' system and Candelario was a teenager. When the Tigers called up Candelario for the first time last August after his July 30 trade from the Cubs, one of his first text messages of congratulations came from Cano. They still talk almost daily.
This weekend marks their first chance to play against each other in the Majors. But while they're opponents for the next couple days, they're also supporters of each other.
"I'm happy that he gets a chance," Cano said, of Candelario's everyday role with the Tigers. "For him to get a chance, I tell him, 'You've got to take advantage. They're giving you this opportunity. Now take advantage. Never got that in Chicago, you're getting it here, so just go out and work hard.'"
Quick hits
• Alex Wilson said Saturday that he's out of the walking boot and moving around in his progression from a ruptured plantar fascia in his left foot, but he doesn't expect to be ready to pitch when he's eligible to come off the 10-day disabled list next Friday.
• To make room for Coleman on the 40-man roster, the Tigers designated Chad Bell for assignment. The 29-year-old lefty swing pitcher went 0-4 with a 7.11 ERA in 31 appearances for the Tigers in 2017 and '18, allowing 95 hits over 69 2/3 innings with 33 walks and 64 strikeouts.