Gurriel, Soto named July Rookies of Month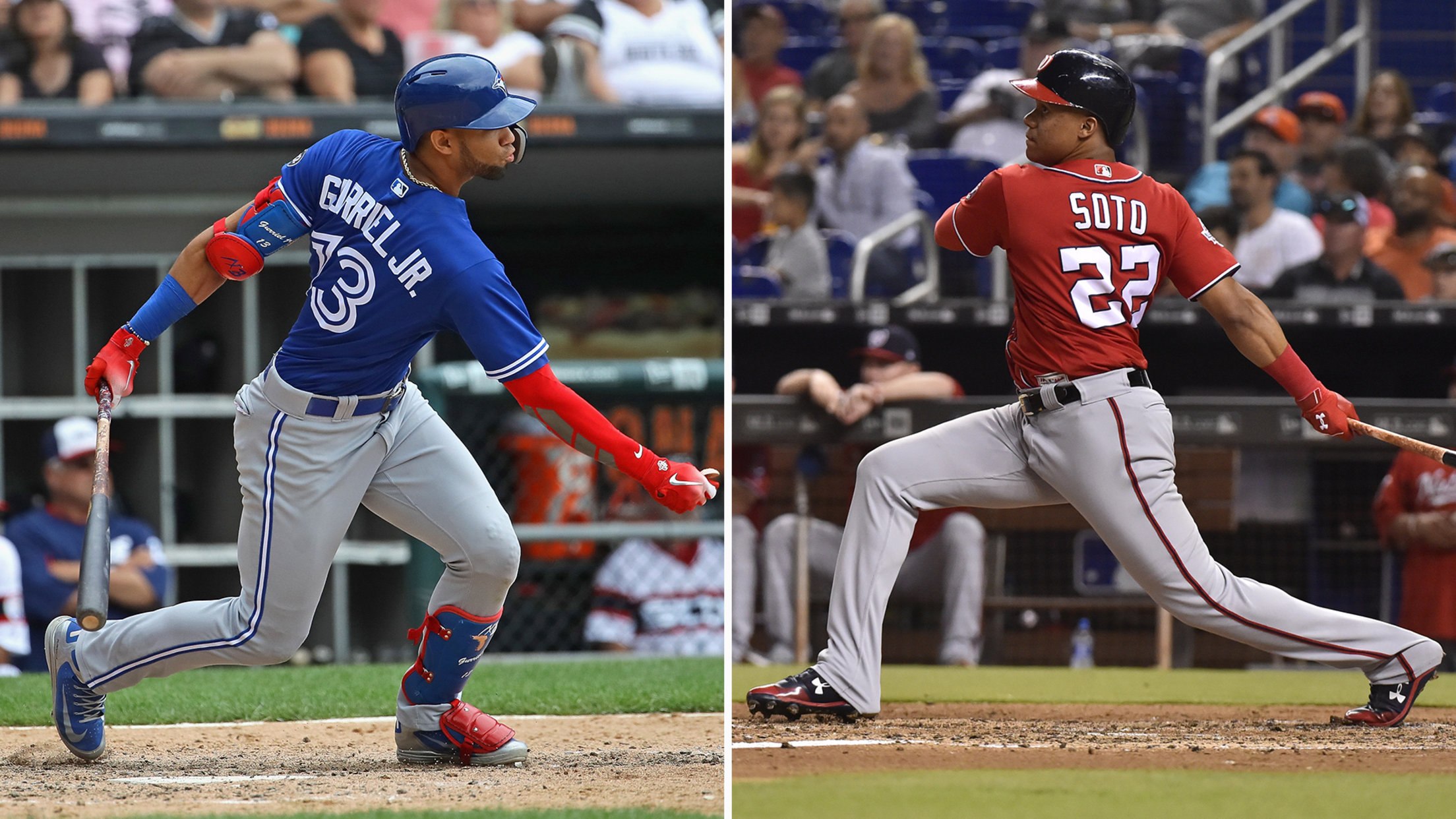 Major League Baseball honored Blue Jays infielder Lourdes Gurriel Jr. and Nationals outfielder Juan Soto on Thursday as July's American and National League Rookies of the Month.Gurriel made the most of his playing time last month after a June sojourn to Triple-A Buffalo, slashing .423/.438/.648 for a 1.086 OPS that
Major League Baseball honored Blue Jays infielder Lourdes Gurriel Jr. and Nationals outfielder Juan Soto on Thursday as July's American and National League Rookies of the Month.
Gurriel made the most of his playing time last month after a June sojourn to Triple-A Buffalo, slashing .423/.438/.648 for a 1.086 OPS that ranked ninth among all Major League players with at least 50 plate appearances. That included a breathtaking stretch from July 11-29, during which Gurriel rattled off 11 straight multi-hit games to set a Blue Jays franchise mark and become the seventh player since 1900 -- and the first since Hall of Famer Tony Perez in '73 -- to record such a streak. Gurriel's 11 straight multi-hit games tied Shoeless Joe Jackson ('12) and Sam Rice ('25) for the AL record.
Overall, Toronto's young infielder recorded a hit in each of his past 17 starts before hitting the disabled list Monday with a left ankle sprain.
"I feel much better. I feel more confident right now," Gurriel told MLB.com through an interpreter. "Game through game, I have a little bit more experience, and I learn a little bit more about the game. When I go out there, I'm ready for every pitch."
Soto, meanwhile, has ranked among MLB's most impressive hitters, rookie or otherwise, since his mid-May callup -- and that continued in July. Washington's left fielder hit .299 and slugged .564 over 25 games last month, knocking five homers and driving in 15 runs as the Nationals battle to remain in the National League postseason picture.
Soto -- still just 19 -- etched his name beside a legend along the way, as his 13 home runs this season tied Hall of Famer Mickey Mantle for the sixth-most by any teenager in history. Soto's .415 on-base percentage ranks second to Joey Votto among NL hitters with at least 250 plate appearances, and his .559 slugging percentage ranks eighth in that group.
Soto's incredible freshman campaign has drawn rave reviews from his peers, including one of the league's best hitters -- his teammate, Daniel Murphy.
"It's really special," Murphy said of Soto. "I've actually had the best seat in the house, because I've been on-deck the last couple days to watch him. His swing is so fundamentally sound that he can do damage from foul pole to foul pole, which is unique for anybody, much less a 19-year-old.
"It seems like he rarely goes out the zone. Takes his walks. And really doesn't strike out a lot. It's really special to watch."