For 2nd time, Gilbreath a Rockies Draft pick
Colorado native was also selected by organization in 2014 before going to college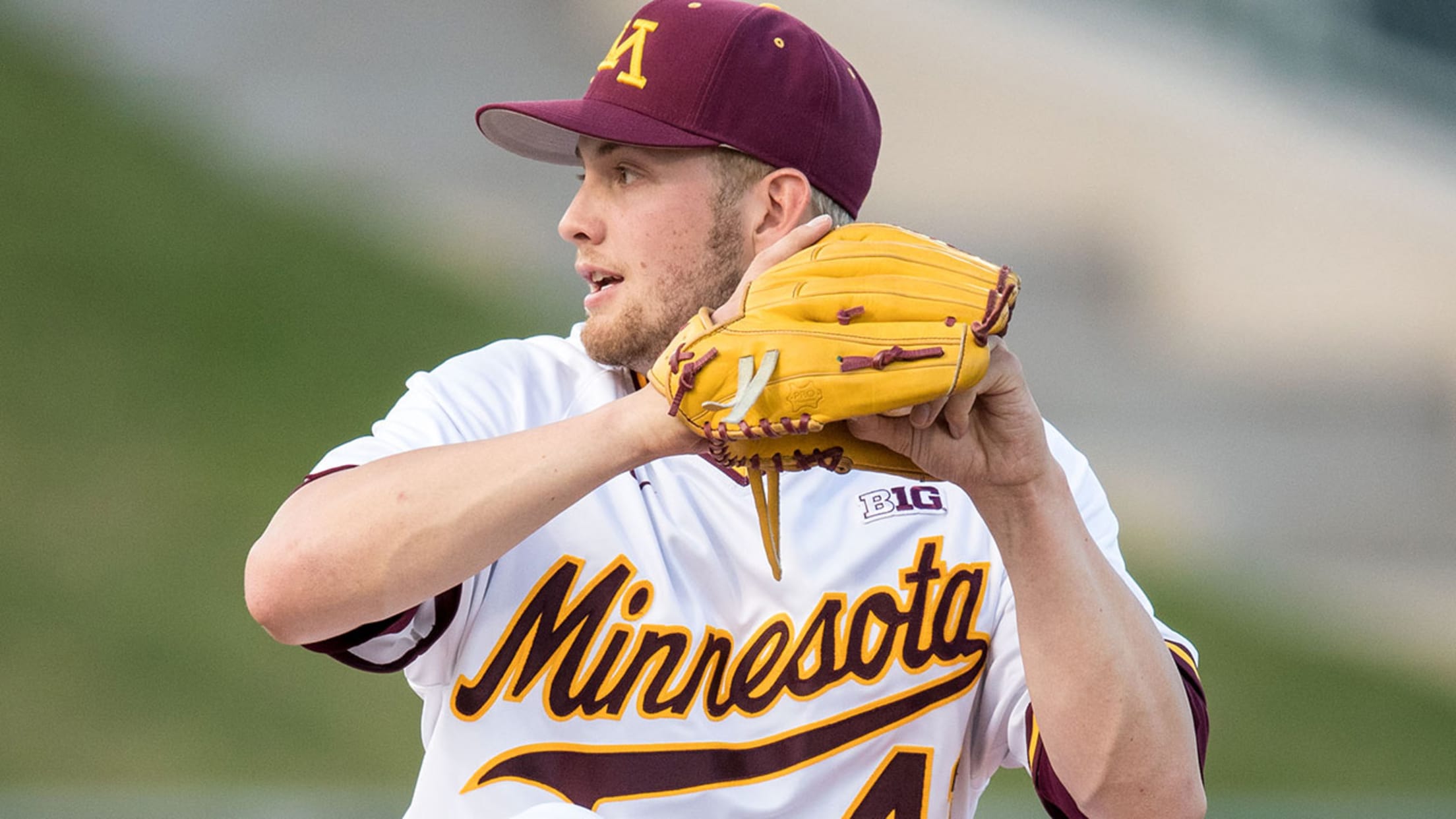 "It found a way to work out," said Lucas Gilbreath about being drafted by the Rockies. (University of Minnesota)
DENVER -- Left-handed pitcher Lucas Gilbreath grew up in Westminster, Colo., roughly 20 minutes from Coors Field, and it seems forces worked together to make him the Rockies' seventh-round pick Tuesday in the 2017 MLB Draft.As a teenager he played for the Rockies Scout Team. One of his teammates was
DENVER -- Left-handed pitcher Lucas Gilbreath grew up in Westminster, Colo., roughly 20 minutes from Coors Field, and it seems forces worked together to make him the Rockies' seventh-round pick Tuesday in the 2017 MLB Draft.
As a teenager he played for the Rockies Scout Team. One of his teammates was Andrew Schmidt, son of Rockies vice president of scouting Bill Schmidt. Along the way he estimated he met half the front office, and many of the pro and amateur scouts. The Rockies took him in the 36th round in 2014 out of Legacy High in Broomfield, but Gilbreath needed growth and signed with the University of Minnesota.
:: 2017 MLB Draft coverage ::
"The whole time I was thinking about what it would take, and hoping and praying for the Rockies, and it found a way to work out," Gilbreath said.
Having converted from relief pitching to a starting role this year, Gilbreath has even found a Rockies role model -- Denver native and lefty pitcher Kyle Freeland. That's because Gilbreath has a fastball and a cutter. Like Freeland, those pitches allow him to work inside against righties. And, like Freeland, his changeup is developing.
"That's what my pitching coach [Ty McDevitt] said -- that's something to strive for, but I've got a lot of work to do to be Kyle Freeland, and it's something to look forward to," Gilbreath said.
Gilbreath, 21, worked in relief for all but one of his 34 appearances for the Golden Gophers in 2015 and '16. Last summer, he played in the Cape Cod League for the Hyannis Harbor Hawks and made 13 relief appearances (17 2/3 innings, 4.58 ERA, 19 strikeouts to 11 walks).
Noting that the Cape Cod experience pitted him against quality competition and helped give him tools to "adapt," he made a big leap at Minnesota with 14 starts in 2017 (5-2, 2.66 ERA, 92 strikeouts to 32 walks in 81 1/3 innings).
"We like his upside and we'll see where it goes," Bill Schmidt said. "We'll start him -- that's what he did this year -- then we'll watch his innings."
The Draft concludes on Wednesday, with exclusive coverage of Rounds 11-40 beginning on MLB.com at 10 a.m. MT.