Perdomo looks to light it up out of 'pen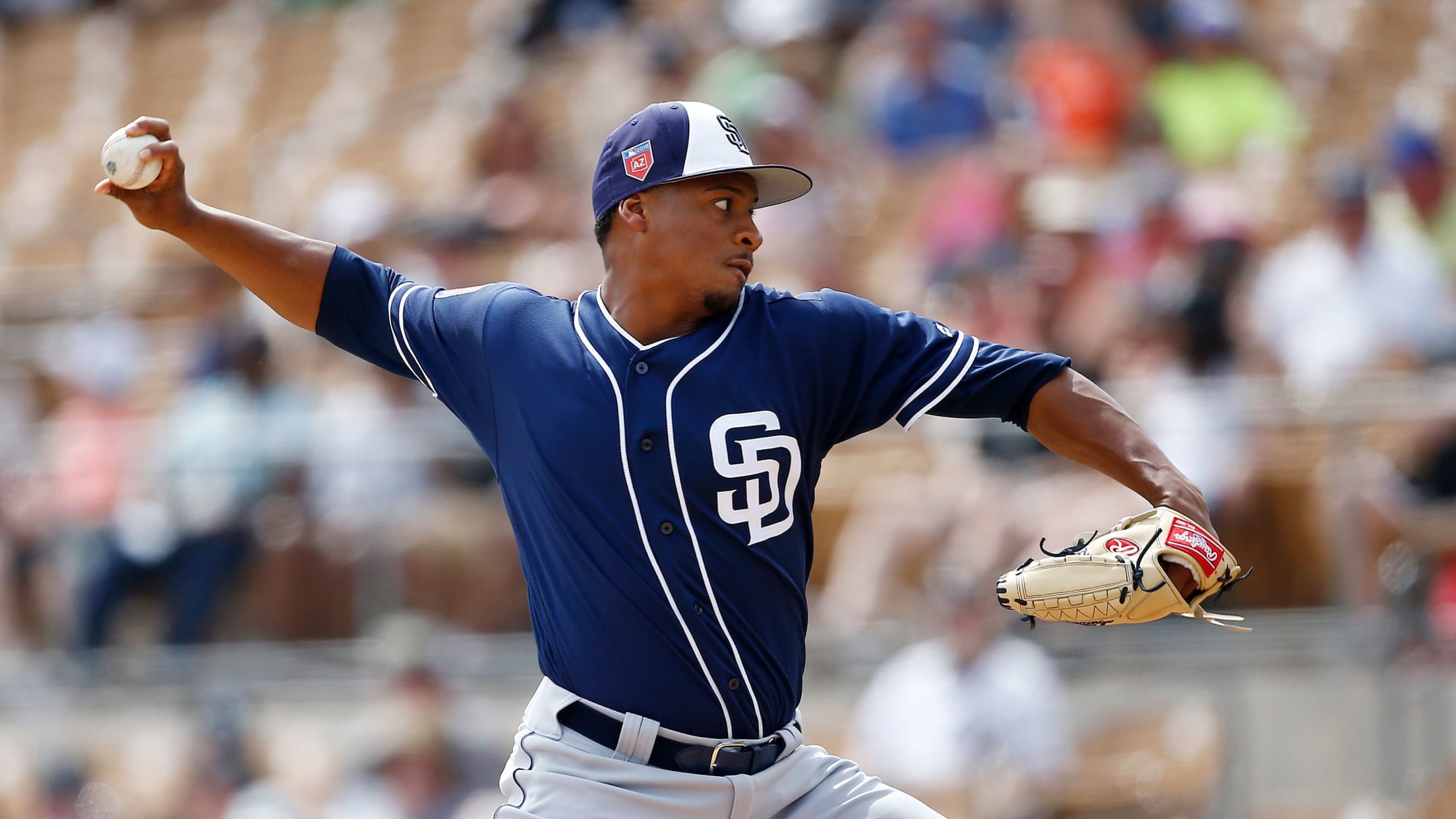 PEORIA, Ariz. -- If Luis Perdomo breaks camp with the Padres, it won't be as a starter. It might not even be as a long man. Lately, the Padres have begun experimenting with Perdomo as a one-inning option out of their bullpen. They want to see Perdomo use his slider
PEORIA, Ariz. -- If Luis Perdomo breaks camp with the Padres, it won't be as a starter. It might not even be as a long man.
Lately, the Padres have begun experimenting with Perdomo as a one-inning option out of their bullpen. They want to see Perdomo use his slider almost exclusively as his put-away pitch, and they want to see if his fastball plays better in short bursts.
The early results weren't good, as Perdomo coughed up two runs and four runs in his first two one-inning outings. But the 25-year-old right-hander bounced back on Thursday. He was the only bright spot in an ugly 12-0 loss to the Dodgers, pitching a hitless seventh inning with a strikeout.
"His slider's really good," said Padres manager Andy Green. "It's a pitch that's been effective for him. ... He's got enough arm strength that you hope the velo plays up in one-inning stints."
Thus far, Perdomo hasn't come out of the gate touching 96-plus mph. But he's reached that high velocity after a few batters.
"How does he get to that spot sooner to be the live-arm guy with the really good slider?" Green said. "And then how versatile is he, when he can do that?"
If he's going to make the roster, Perdomo has a lot to prove in a short amount of time. It seems likelier he starts the season at Triple-A. Once viewed as a Rule 5 success story, Perdomo regressed last season and posted a 7.05 ERA with the highest hard-hit rate in the National League, according to Statcast.
Of course, Perdomo might not have reached the big leagues yet if not for his Rule 5 status in 2016. Were that the case, his evolution would be playing out in a far less public manner. Perdomo is still young, and the Padres are doing their best to find a spot that best suits his strengths.
"His role is really yet to be determined," Green said. "He's fighting to make the club."
Padres react to three-batter minimum
Major League Baseball unveiled a series of rule changes that will go into effect over the next two seasons. In the Padres' clubhouse, the three-batter minimum for relievers drew the most chatter.
Closer Kirby Yates came out in stark opposition, noting the effect it'll have on late-game strategy and the jobs of relievers. (Essentially, specialists trained in retiring hitters from one side of the plate will be devalued.)
"I'm not a fan, but it's out of my control," Yates said. "I think, in a weird way, changing it to three guys just feels like a lot more than changing it to two. There are going to be games that are dictated by that rule."
Green also called for a two-batter minimum rather than three, but his reasoning was different.
"That's the one to me, out of all of them, that's the hardest for a manager to digest, and it's not in a sense that you can't match up," Green said. "It's that every single one of us that's sat in this seat, you see a pitcher take the mound, and you know he doesn't have it. You can get him out within a batter or two. Now you're stuck."
But Green was quick to acknowledge the even playing field.
"There will be 30 teams going through that," he said. "It's even ground. It's not the greatest feeling in the world when you know somebody's off, someone's not feeling well and you can't get him out of the game. That's probably the hardest one to digest, but we'll adjust. ... Really smart organizations will find ways to take advantage of [the new rules]."
Oh, Manny! #HangAStar on that one ⭐️#PadresST pic.twitter.com/DdA7VaI50P

— San Diego Padres (@Padres) March 15, 2019
Covering the bases
First: Right-hander Brett Kennedy underwent an MRI exam on Wednesday that revealed a lat strain in his throwing shoulder. Kennedy, who was shut down last month, will be sidelined until mid-April, when he will start from scratch with his throwing program.
Second: Lefty Robbie Erlin was hit hard over three innings on Thursday night, allowing eight runs on eight hits. Erlin is vying for a starting role, but his splits were much better as a reliever last season.
Third: Facing his former team for the first time, Manny Machado went 0-for-3 against the Dodgers. But he made an excellent barehanded play on a sixth-inning chopper to rob A.J. Pollock of a hit.
Home: Ian Kinsler missed his second straight game with a jammed finger in his right hand. He took grounders and went through a shortened workout.
Up next
The Padres send two lefty rotation favorites to the mound on Friday for their game against the Brewers at American Family Fields of Phoenix. Matt Strahm has been arguably the best pitcher on staff this spring, and he gets the ball first. Eric Lauer, whose last two outings have come in back-field games, will follow. First pitch is slated for 1:05 p.m. PT.