Severino not letting ALDS blip affect him
Yankees righty alters offseason workouts, ready to work on pitch-tipping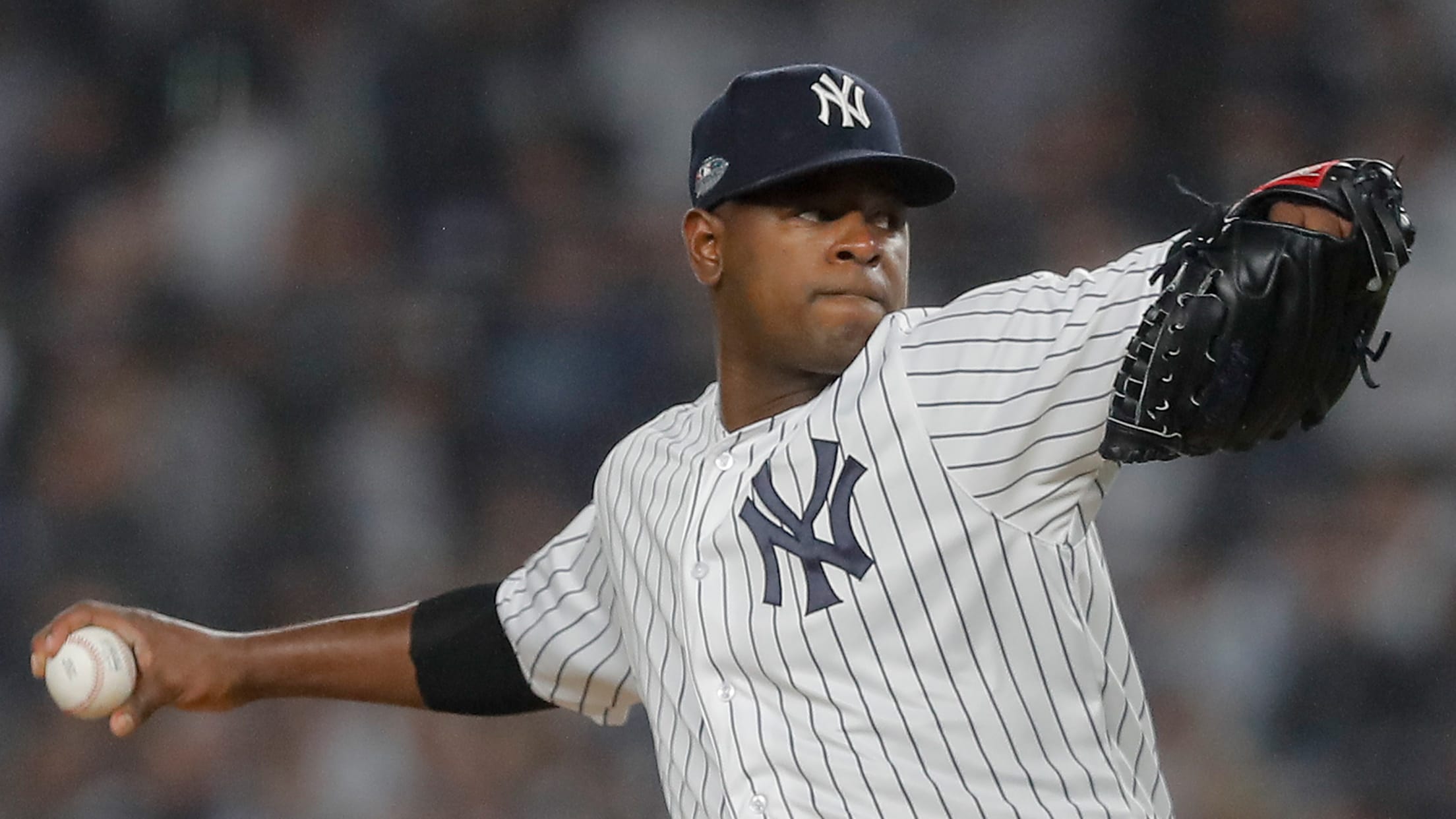 TAMPA, Fla. -- The Red Sox hit Luis Severino so hard in Game 3 of the American League Division Series, it was as though they knew what was coming. In fact, a video clip that showed Jackie Bradley Jr. correctly predicting pitches from the third-base dugout at Yankee Stadium suggests
TAMPA, Fla. -- The Red Sox hit Luis Severino so hard in Game 3 of the American League Division Series, it was as though they knew what was coming. In fact, a video clip that showed Jackie Bradley Jr. correctly predicting pitches from the third-base dugout at Yankee Stadium suggests that was exactly the case.
Severino was sent the clip in the offseason, long after he allowed six runs in an abbreviated effort that resulted in a 16-1 Boston victory. Severino said while he isn't completely sure he was tipping pitches, he is eager to get to work and correct any problems.
"I'm looking forward to that," Severino said. "If I see something, I will definitely change it. … I looked [at videos] a little bit. I didn't find anything consistent. I will keep looking. I'll talk to the Yankees and see what they say."
:: Spring Training coverage presented by Camping World ::
In the widely circulated clip, Severino is working in the second inning against Boston's lineup. Perched on the dugout railing next to Mookie Betts, Bradley is holding a fist in front of his mouth but appears to say, "Fastball," right before Severino pumps a 98-mph heater toward Brock Holt, who fouled the pitch away.
"This is the game," Severino said. "You have to do anything to win. This is the playoffs. If we saw that on another pitcher, that's our advantage. We need to win."
General manager Brian Cashman acknowledged shortly after his team's elimination that they believed Severino was tipping pitches, an issue pitching coach Larry Rothschild had been working on even before the playoffs.
"It's not like it hasn't been addressed," Cashman said. "But sometimes you revert back to some bad habits, and they played out in a certain way. My educated guess was he telegraphed things at times, it threw his mojo off and threw him off a little bit.
"So it was a physical thing that led to a mental thing, and he had to battle through it, which he did. He got back on track eventually, but every now and then … it got around the league about what was going on, so he had to deal with it. It's a constant effort on his part to try to counteract that."
Severino said he altered his offseason workout program, believing he grew fatigued toward the end of the year. Severino was a leading candidate for the AL Cy Young Award through the season's first four months, going 14-2 with a 2.12 ERA through 19 starts. From July 12 through the end of the year, Severino was 5-6 with a 5.69 ERA in 13 starts.
"It was tough," he said. "I had a great first half, and then all of that happened. I knew it was just that I struggled for a little bit. I know the pitcher that I am. I know I can come back. I know I can pitch well again."
Severino said he is excited about the Yankees' rotation, with left-hander James Paxton having been added in a November trade with the Mariners. New York also re-signed left-handers J.A. Happ and CC Sabathia, joining right-hander Masahiro Tanaka in the projected starting five.
"We have a great rotation," Severino said. "Paxton, I think he's going to be great for us. Also, CC is back. For me, CC is the mentor of the pitchers. Any question that we need to ask about anything, he's there for us. I'm really excited to be back and play with those guys."