Gregerson's Team USA eagle up for auction
Money raised from statue to benefit St. Jude Children's Hospital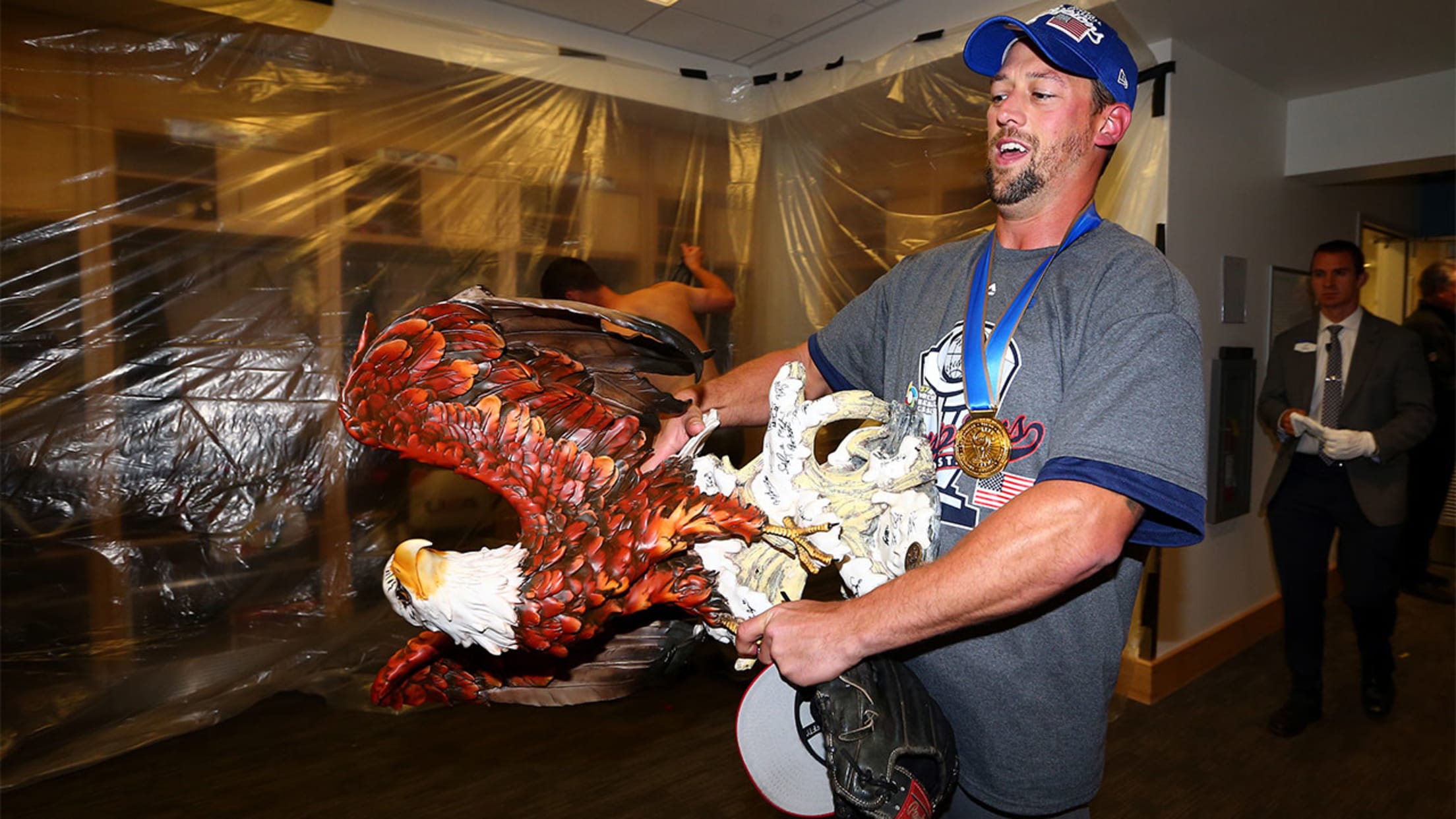 Luke Gregerson shows off his bald eagle statue after Team USA won the World Baseball Classic in March. (Alex Trautwig/MLB)
HOUSTON -- Astros pitcher Luke Gregerson hopes to raise thousands of dollars for St. Jude Children's Research Hospital this month by auctioning off the ceramic eagle statue that became the de facto mascot for Team USA on its run to the World Baseball Classic title in March.The eagle, which belonged
HOUSTON -- Astros pitcher Luke Gregerson hopes to raise thousands of dollars for St. Jude Children's Research Hospital this month by auctioning off the ceramic eagle statue that became the de facto mascot for Team USA on its run to the World Baseball Classic title in March.
The eagle, which belonged to Gregerson's father-in-law, was plucked out of the Houston reliever's garage in Orlando, Fla., after the players said they wanted an eagle symbol for a mascot. It followed the team around the tournament and was brought onto the field after the Americans won the championship. The 45-pound statue is signed by 28 members of the team.
"We just happened upon an interesting situation here, a random eagle sitting in my house that belongs to my father-in-law became an instant sensation with this whole World Baseball Classic stuff," Gregerson said. "Somebody kind of brought it to my attention, the amount of attention the eagle was getting, and we were discussing to try to do something to benefit anything."
All the money raised from auctioning off the eagle will benefit the hospital, Gregerson said. St. Jude, based in Memphis, Tenn., specializes in pediatric treatment and research of cancer and doesn't charge the families of those affected.
The veteran pitcher lost his father to cancer on Jan. 1 and his mother-in-law to the disease nine years ago.
Live bidding begins May 20 at goldinauctions.com.
"[St. Jude's] is something that both of our families are very fond of," he said. "It's an organization that has done a lot of great things, obviously, for children especially and cancer in general. We thought we could raise money and help them along their fight in their search for researching, knowledge and understanding."