It's time to stop doubting Luke Voit
After half a season in the Bronx, Voit has all the looks of a star hitter
Luke Voit's .333/.405/.689 slash line with the Yankees over the final two months of the 2018 season was a performance that demanded skepticism. That was hardly Voit's fault; he did everything right in his first cameo in pinstripes. But as a 22nd-round pick from the 2013 Draft who was never
Luke Voit's .333/.405/.689 slash line with the Yankees over the final two months of the 2018 season was a performance that demanded skepticism.
That was hardly Voit's fault; he did everything right in his first cameo in pinstripes. But as a 22nd-round pick from the 2013 Draft who was never a top prospect -- and whose trade to New York from St. Louis was viewed as a minor footnote at last summer's Trade Deadline -- Voit knew he'd have to keep performing to convince the small-sample-size skeptics.
"Some people are doubting me; 'last year was a fluke,'" Voit told NJ.com last month. "But I've always hit. You're always going to have haters. People are always going to doubt you."
We're roughly 25 percent of the way through the 2019 season, and it's time to stop doubting Voit. New York's first baseman is carrying a 127 weighted runs created plus (wRC+) in 2019, meaning he's hit 27 percent better than the average big leaguer, adjusting for league and park factors. But optimism for Voit goes beyond that one figure: his underlying Statcast metrics are profiling a sustainable slugger -- one who's aggressive but discerning, and one who's showing a keen sense of how to contact pitches.
Swinging for the "heart"
One way Mike Trout, Mookie Betts and Alex Bregman have become three of MLB's best hitters is by being extremely stingy; each of them ranks in baseball's bottom 10 in total swing rate. That's not Voit's approach; he's actually swinging about two percent more than the average hitter, and is one of the sport's most active swingers on the first pitch. But Voit closes the gap with selective aggression. When pitchers attack him in the strike zone, he's been as willing as anyone to let it rip.
Highest swing rate against pitches in "heart" of strike zone, 2019
Min. 100 pitches seen in "heart" of zone (214 hitters)
1) Chris Taylor (LAD): 90.2%
2) Franmil Reyes (SD): 90.0%
3) J.D. Martinez (BOS): 87.1%
4) Voit: 86.9%
5) Jeff McNeil (NYM): 86.4%
"Heart" of zone: Areas 1-9 on Statcast's Attack Zones breakdown
With pitchers as dominant as they are today, hitters are talking more about focusing on the zones they can handle. That appears to be part of Voit's strategy. Check out how concentrated his swings have been less than 40 games into the season: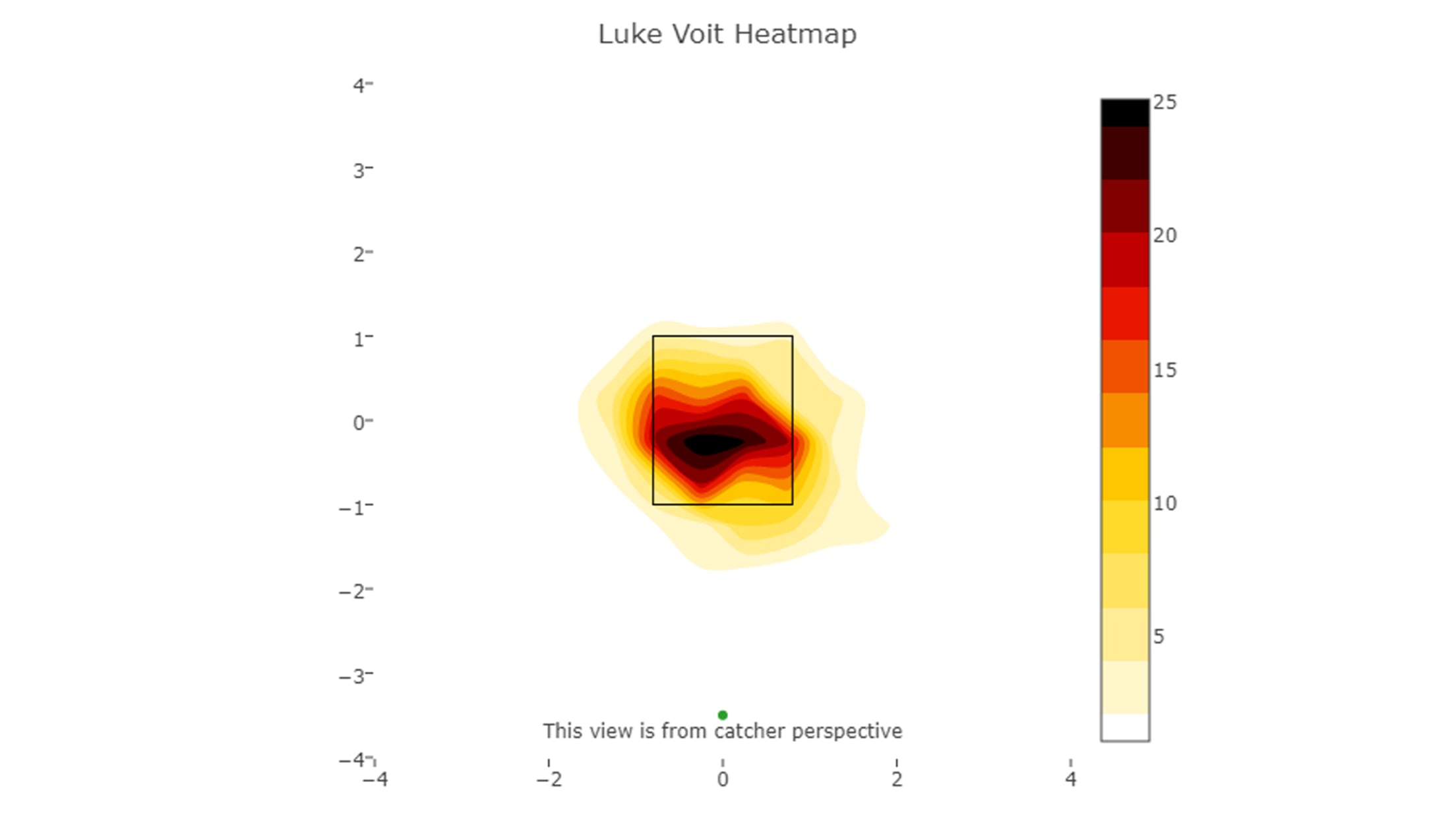 Voit is matching his aggression against pitches in the zones with restraint outside the borders. He's offered at 16% of pitchers' deliveries in Statcast's "chase" and "waste" zones (Areas 21-39 here), giving him a similar profile to several of MLB's most consistent hitters:
Voit: 87.2% swing vs. "heart" pitches | 16% vs. "chase/waste"
Freddie Freeman (ATL): 85.4% vs. "heart" | 14.4% vs. "chase/waste"
Corey Seager (LAD): 84.8% vs. "heart" | 15% vs. "chase/waste"
Khris Davis (OAK): 84.7% vs. "heart" | 18.4% vs. "chase/waste"
Christian Yelich (MIL): 82.0% vs. "heart" | 12.7% vs. "chase"/waste"
"Sweet" contact
Voit's sky-high 54% hard-hit rate (i.e. batted balls hit 95-plus mph) from last year was due for regression, and it has indeed dipped to 38.1% to begin '19. That's still slightly above league average (37.5%), but Voit has remained at the very elite end of the scale in how he's launching the ball, which is arguably more important.
Highest "sweet spot" rate, 2019
Min. 50 batted balls (269 hitters)
1) Brian Goodwin (LAA): 47.6%
2) Austin Meadows (TB): 47.5%
3) Rowdy Tellez (TOR): 46.5%
4) Voit: 46.4%
5) Yadier Molina (STL): 46.2%
Sweet-spot rate: % of batted balls hit with launch angles between 8-32°
Statcast's sweet spot designation encompasses line drives and fly balls that lead to the most productive contact for hitters. Today's "launch angle" mindset doesn't mean hitters are trying to sky the ball straight up in the air, but rather over the infielders and to the gaps or, most ideally, over the fence. The league is batting a collective .595 and slugging 1.156 on sweet-spot contact in 2019, and Voit is connecting on as many of those air balls as anyone else in the game. Better yet, he's averaging a 97.6 mph exit velocity on his sweet-spot contact, higher than anyone else in the top 10 on the sweet-spot-rate leaderboard except Cody Bellinger. Voit's lofting the ball, and he's doing so with authority.
He could get even better
What if we told you that Voit's .496 slugging percentage should actually improve as the season goes on? Based on the way he's striking the ball, it seems perfectly feasible.
We've already referenced Voit's prolific amount of line drives and fly balls above, but let's winnow down to barrels -- the very best contact of all for hitters. Barrels are balls hit the most optimal combinations of exit velocity and launch angle that most often go for extra-base hits (the league is slugging 2.652 on barrels this season). Voit knocked a ton of barrels during his late-summer breakout last year, and he's doing more of the same in 2019.
Highest barrel-per-batted ball rate, since Aug. 1, 2018
Min. 150 batted balls (207 hitters)
1) Joey Gallo (TEX): 25.3%
2-T) Voit: 19.5%
2-T) Trout: 19.5%
4) Yelich: 18.9%
5) Jose Abreu (CWS): 16.9%
Voit: 18.6% barrel rate in 2019 (10th in MLB, min. 50 batted balls)
Obviously that's great company to be in, and when one couples all of those drives with Voit's reasonable 24.7% strikeout rate, his expected slugging percentage -- based on his quality of contact and those punchouts -- stands at .564. That ranks 16th among 216 hitters with at least 100 plate appearances.
All of the metrics above are hard enough for a player to put together for just one month, but Voit's been doing this for about half a season dating back to his Yankees debut. New York's front office deserves full credit for finding a talented hitter without an opportunity in St. Louis, and it's hard to imagine where this year's Yankees -- sans Didi Gregorius, Aaron Hicks, Aaron Judge and Giancarlo Stanton -- would be without Voit's emergence.