Maddon has playoff rotation in mind, not ready to reveal yet
Manager wants to first have final conversation with front office, coaching staff, players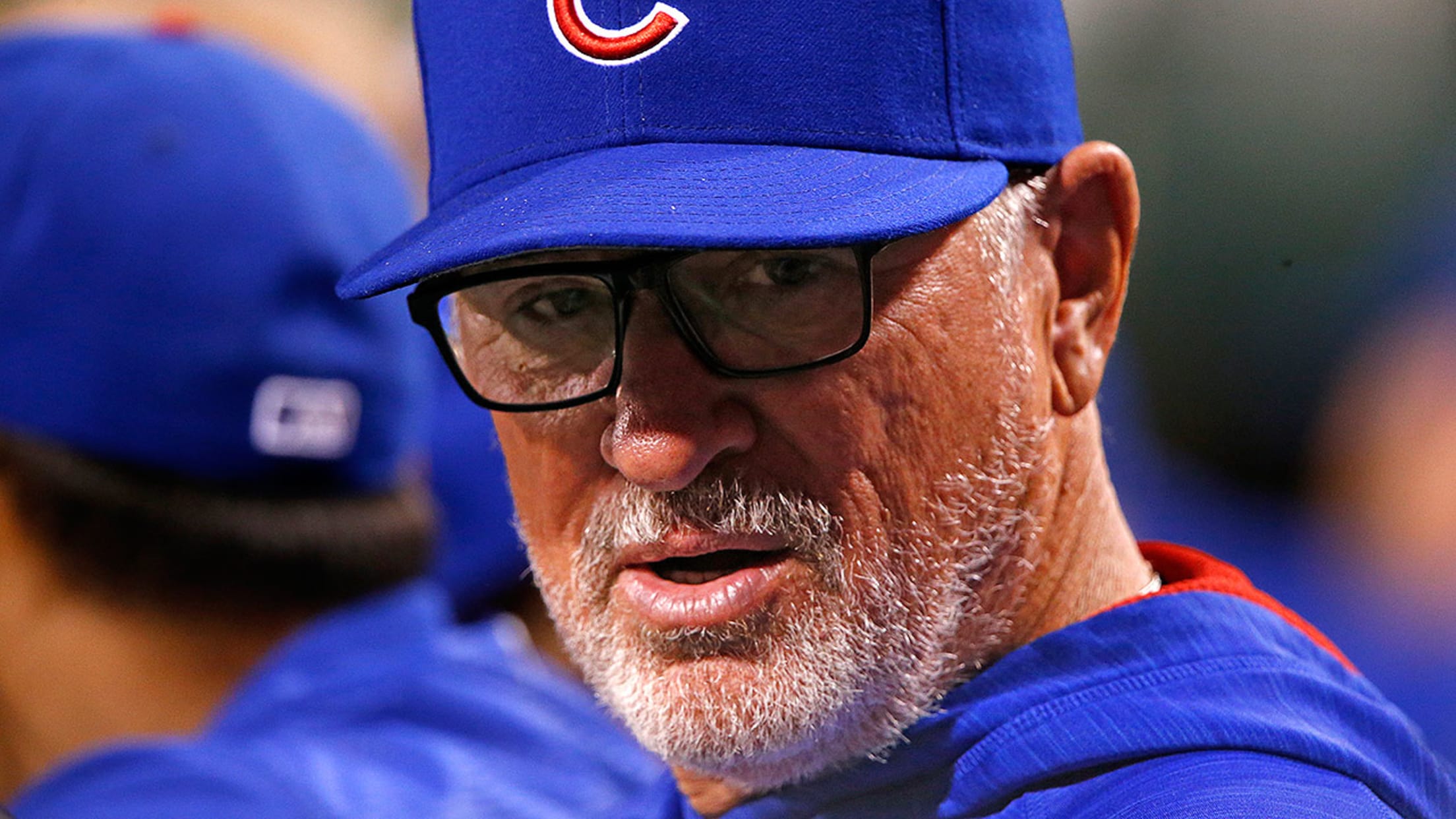 Joe Maddon said he likes to "talk to the players first before they have to read about it in the newspaper." (AP)
CINCINNATI -- Manager Joe Maddon admitted on Friday that he's had the Cubs' postseason rotation set in his mind for about a week, but he was not ready to reveal it until he can meet with the front office and the coaching staff."We haven't had that final conversation with president
CINCINNATI -- Manager Joe Maddon admitted on Friday that he's had the Cubs' postseason rotation set in his mind for about a week, but he was not ready to reveal it until he can meet with the front office and the coaching staff.
"We haven't had that final conversation with [president of baseball operations Theo Epstein] and [general manager Jed Hoyer] and everybody else, all of our coaches," Maddon said. "What I like to do under these circumstances is talk to the players first before they have to read about it in the newspaper."
With Jason Hammel missing his start on Friday because of tightness in his right elbow, he could be the odd man out, leaving Jake Arrieta, Jon Lester, Kyle Hendricks and John Lackey.
The Cubs, who clinched the National League Central in mid-September, won't know who they will face in the NL Division Series until the Wild Card Game is played on Oct. 5. The NLDS begins with Game 1 at Wrigley Field on Friday (FS1, 9 p.m. ET/8 CT). Would Maddon change the rotation depending on their postseason opponent?
• Postseason schedule | Gear
"At this point, I don't think it really does [matter]," Maddon said. "We haven't finalized it. We have the right to change things."
Whoever starts Game 3 on Oct. 10 will have an extended break.
"You do your best to meet the challenge," Maddon said. "You don't make excuses, you don't cry about it, you just do it."
Worth noting
• Rob Zastryzny is most likely the first pitcher ever to make his first Major League start, have the game end in a tie and then have to wear a cheerleader outfit. The skirt-and-sweater combo was part of the Cubs' annual rookie dress-up trip after Thursday's game.
#ROOKIES pic.twitter.com/vAeX8e95Wn

— David Ross (@D_Ross3) September 30, 2016
"I think [John] Lackey said if I pitch well enough, I might have to wear a cheerleader outfit for every start," Zastryzny said.
The lefty gave up one unearned run on two hits and two walks over 3 2/3 innings against the Pirates, and the game was suspended after five innings because of rain at PNC Park. It will not be made up, resulting in the Cubs' first tie since May 28, 1993, against the Expos.
"I heard a quote a long time ago that tying a baseball game is like kissing your sister, and that's kind of how it felt," Zastryzny said. "Someone said if the game doesn't count, the stats don't count. I was like, 'Oh, man, I want to have 16 even innings.'"
If that was Zastryzny's last outing of the year, he finished with 16 innings, which is a nice, even number. His mother was able to make it to Pittsburgh for the game.
"I was really excited with how everything turned out this year," Zastryzny said. "I'm excited that if it is my last outing, I got to start and I can build off that going into next season. I have a real good idea about what it takes to be a starter in the big leagues.
"I know what it takes to be here, and I know what it takes to stay here. It's the greatest experience I've ever had in my life, and I don't want it to end."
• Jorge Soler took batting practice on Friday, but he most likely won't start until Sunday. Soler has been bothered by discomfort in his right side, and he has had two MRIs, but both have come back clean. The plan was to re-evaluate Soler after Friday's workout. His status for the postseason may be in doubt if he isn't healthy.
• David Ross, who played for the Reds from 2006-08, was presented a gift basket by the team that included pine tar soap, which does smell like, well, pine tar. Ross was a backup on the Reds at that time, but he became Bronson Arroyo's personal catcher. He also belted 21 home runs in 90 games with the Reds in '06.

"This is where I learned the backup role was my gig," said Ross, 39, who is retiring after this season and has been feted by the teams he played with.
The Reds planned on a video tribute to Ross on Sunday, as well.